Candidate Profile
Mary Becker
District 1 Assembly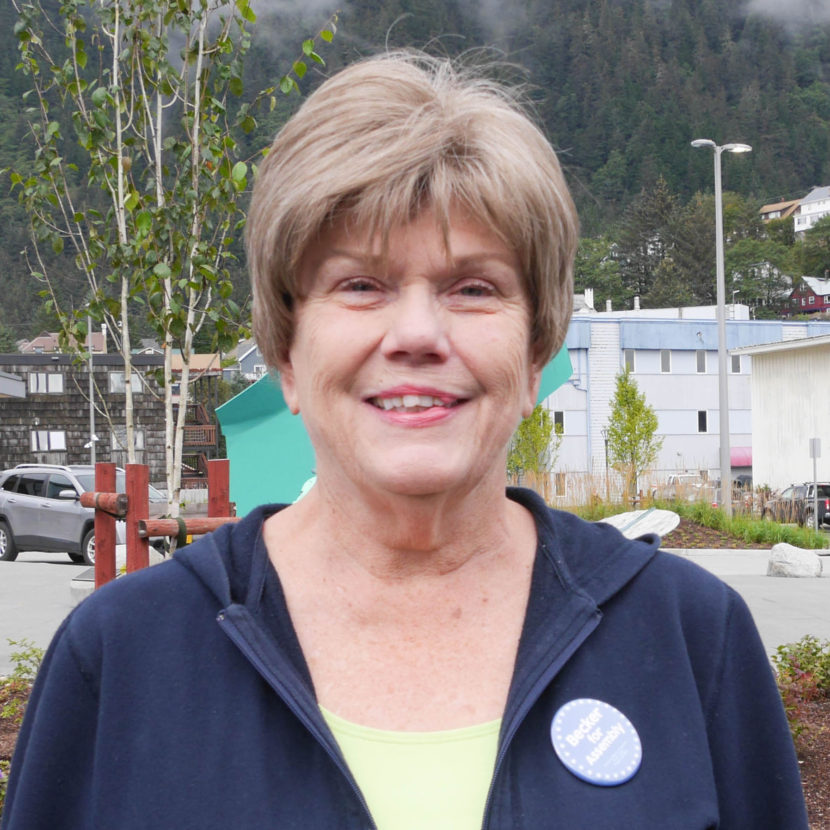 About
Mary Becker
Age: Declined to answer 
Family: Husband, daughter, two sons and two grandchildren
Occupation: Retired teacher after 30 years
Current community involvement: Juneau Assembly, member of Northern Light United Church, lifetime member of the National Education Association
Previous government or other relevant experience: Current assembly member
Highest level of education: B.A. in elementary education
Quick Hits
Who are you voting for in the presidential election?  I don't know for sure. I'm going to listen up until the very day (of the election).
Do people cause climate change? Absolutely, maybe it's the machines we use that actually cause it, but we are working the machines.
Are you for or against building the road? I'm definitely for it, completely for it.
Salmonberries or blueberries? Blueberries. I think they're a little easier to pick and they are firmer so when you pick them they don't squish in your fingers so much, and I like the flavor of them and I think you have more choices in what you can put them in, but that may be that I just don't know all the ways you can use salmonberries.
Positions on Juneau Issues
Finance officials recently estimated the City and Borough of Juneau is facing a nearly $5 million deficit in the current budget year because of issues at the state level. How should the city deal with budget volatility?
We are (at) a $4.8 million deficit, and part of that is school deficit in transportation, which kind of is subtracted from our $4.8 (million), but we're saying $4.8 (million) because we do feel responsibilities toward the school. I'm not sure how we're handling that. At the last budget cycle, not the 16-17 (fiscal year) but the 14-15, we did do a lot of cutbacks. We did some combining of departments, we did not fill positions, we did all kinds of cost savings that we could. And because of that we have a healthy enough savings and reserve account, that we can cover that debt by using savings and reserves. Reserves have to be paid back, and of course we'd like to pay back savings, too. But reserves is a standard that we do have to comply with.
Then in the next cycle, the 18-19 cycle, that's when we'll really have to start to think about what are we really going to do to … make a balanced budget, without hurting the community too much, without doing things that are really bad for people in town. But it will require probably some cutting back on maybe some of the services. There may be some things that we want to do, that we won't be able to do for awhile until things improve with the state. We also will go to the state and lobby them to go ahead and pay us what they've pretty much have been (promising) the districts, these cities, that they would pay the school debt and they're not paying the school debt and that's where $3.1 (million) of our deficit came from, is they didn't pay the school bond debt. We think that they should, we think that they should do a retroactive, and then continue to do it every year. That will help us a lot if we do that, as we think they should.
---
How will you vote on the ballot question to make 3 percent of Juneau's "temporary" sales tax permanent? Why?
I voted to put that on the ballot because I thought the people ought to decide that — it is a tax — they need to decide that. I haven't totally decided, to tell you the truth. I look at it both ways. One way, as an assembly person who has to help make the budget and approve the budget, it would nice to know we'd be secure in that 3 percent, when you're secure in it and you don't have to wonder every year, or every five years, it makes it feel better. You can think, OK, I'm going to have the 3 percent. Then you have to figure out how much money will that be and what can I do with it?
On the other hand, if you have a public vote, there's the accountability part that seems to be important to a lot of people, and I think it is important. And so if you don't approve the 3 percent and there's a reason not to, that's a very serious accountability vote. So I have mixed feelings about it. On one hand I know it would be easier, (it) would be easier on the budget, be easier on the finance director, be easier on us as we're doing a budget to have it secure — 'cause it's things like roads, waters and sewer. It's not building buildings, it's infrastructure. So, that would make it a much easier thing for us to figure out, but we do have to always be accountable to our public.
---
How will you vote on the ballot question to tax marijuana an extra 3 percent? Why?
I will vote yes on that, because it is something that we do for alcohol and it seems to me that that should be a similar way. I think marijuana has a potential of having extra costs to us as a city, and we should probably have enough money to cover those costs.
---
Juneau has an opioid addiction problem. What role should the city have in combatting it?
I think we need to support our police and and we need to support our hospital, and we need to support any way that we can find help for the people to get over their addictions, that probably is the most important and make it possible in town.
---
With the downturn in state government, Juneau's economy is likely contracting. How would you encourage diversification or growth in the local economy?
Well, I think that we should look at all the ways that we can encourage building, make sure our codes are reasonable, and a builder is able to build working under our codes. We need to look at some of the ways that we can diversify. One thing we haven't finished studying is the AJ Mine, and we were going to finish studying that when Lemon Creek water supply was increased, and so it's probably time maybe to look at that. I think that we need to look at ways to help parents with babysitting, child care, because that keeps them working and when they're working they can afford to live here. I think that's something we can work on. I think there are jobs that we can encourage, and we should do that. I want to encourage young people to stay in Juneau because I have young people in my family and I have young grandchildren and I want them to stay. So, I believe we should look at all aspects and we should ask the public to help us on this one.
---
The city's being sued by cruise ship interests over the collection and use of passenger head taxes. What's your take on the lawsuit?
It is an active lawsuit, and so I really can't discuss that.
---
Juneau is one of the few places in Alaska where using personal fireworks aren't explicitly banned or severely restricted. Do you think that should change?
We're (the assembly is) talking about that, too. … I think there are two sides of that story. The ones who have animals, and they hear fireworks at 2 o'clock in the morning, it's disturbing, wakes them, disturbs their animals. And then there are people, and the rights of people to enjoy our celebrations at Fourth of July and New Year's. I think those two time periods should not ever be taken away. I think we need to have those, those are almost American, like apple pie. And so I think we should have the right to have fireworks during that time. I think we can either force our noise ordinance to be actually really complied with and enforced by our police, or we should do a time frame when fireworks are acceptable and we will be discussing that at the assembly, that'll be a decision we'll have to make. And again, we have heard from many, many people in the public and I think it's really good to hear from the public on this one.
---
What are you doing to prepare for serving on the Juneau Assembly?
Of course I'm reviewing the issues again, because all of the forums have the questions and I want to be up to date on everything, and I think I am. I'm just doing the jobs of the assembly. … The meetings have not stopped because there's an election season. So I'm continuing with all my jobs.
More Candidate Profiles
Compare Responses by Issue
District Areawide Assembly
District 1 Assembly
District 2 Assembly
School Board (2 positions open)
Assembly issues
School Board issues