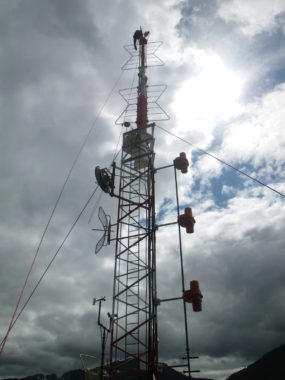 Broadcasting in Southeast Alaska presents some unusual challenges. That's why you'll find us in several spots on your radio and TV dial, as well as on local cable systems, Dish Network and DirecTV.
If you have a question or a reception problem, send an email message to info @ ktoo.org.
And here's a note for television viewers in Juneau. All of KTOO's TV services, including KTOO 360TV (Formerly 360 North), are available over standard free broadcast TV in downtown Juneau. Our transmitter is in the KTOO building at 360 Egan Drive (Between Centennial Hall and the APK State Museum).
The type of antenna you'll need will depend a little on your exact location. If you are nearby or have a direct line of site to the KTOO building, you can get away with less. If you are a bit more tucked away in downtown behind large buildings, then you might need a little bigger.
We broadcast on VHF channel 10, so you'll want to make sure your antenna supports VHF (most do). If you are in a good spot, one of those low profile flat antennas that you can put in a window or even hang behind your TV can work quite well. If that doesn't work, then a more traditional larger antenna should work. We don't recommend "rabbit ears" unless you are near our building.
Sometimes moving an antenna just a couple of feet or changing the way it's pointing can have a large effect if you are in a border-line area. It is often a case of a little bit of experimenting to see what works best for your specific location. Once you are up and running, when you scan for over-the-air channels with your TV, you could find up to about a dozen channels available in downtown Juneau. KTOO has 7 channels available on our service: PBS, Create, KTOO 360TV, PBS Kids, and our 3 radio channels (KTOO-FM, KRNN-FM, and KXLL-FM). They are all on the same signal, so if you get one, you should get them all.
Here's a list of channels to help you find us:
KTOO News
Downtown Juneau – 104.3
Mendenhall Valley – 103.1
Hoonah – 91.9
Gustavus – 88.1
Excursion Inlet – 89.9
GCI Cable Juneau (stereo) – Channel 871
KRNN
Juneau – 102.7
GCI Cable Juneau (stereo) – Channel 872
KXLL Excellent Radio
Juneau – 100.7
GCI Cable Juneau (stereo) – Channel 873
KTOO-TV Digital Channels – Over the air and on GCI Cable in Juneau
PBS/Alaska Public Media: Channel 3.1 (channel 10 or 657 in HD on GCI Cable)
Create: Channel 3.2 (channel 94 on GCI Cable)
KTOO 360TV: Channel 3.3 (Channel 18 on GCI Cable)
PBS Kids: Channel 3.4 (Channel 97 on GCI Cable)
KTOO-FM: Channel 3.5 (Channel 871 on GCI Cable)
KRNN-FM: Channel 3.6 (Channel 872 on GCI Cable)
KXLL-FM: Channel 3.7 (Channel 873 on GCI Cable)
Public Radio in Southeast Alaska