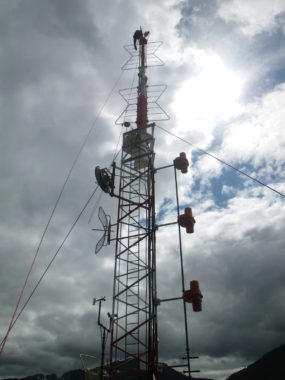 Broadcasting in Southeast Alaska presents some unusual challenges. That's why you'll find us in several spots on your radio and TV dial, as well as on local cable systems, Dish Network and DirecTV.
Here's an update for KRNN and KXLL listeners:
In September we moved KRNN and KXLL to a new transmitter site on Auke Mt. Our lease ended at the old tower on Blueberry Hill in Douglas, giving us the opportunity to improve and expand the signal coverage for KRNN and KXLL. (KTOO's main transmitter is located on the Federal Building in downtown Juneau, and wasn't part of the move).
Since then, we continue to have reports of poor reception from some listeners in downtown Juneau, West Douglas and Douglas. In December, our attorney in Washington, D.C. filed applications with the FCC to increase the power from 300 to 1,100 watts, which should significantly expand our coverage. We have two brand new transmitters here at KTOO and ready to go as soon as the FCC grants permission.
We are still working on a plan to add low power repeaters to serve parts of downtown Juneau shadowed by terrain. We will continue to keep you updated.
If you have a question or a reception report, send an email message to info @ ktoo.org.
Here's a list to help you find us:
KTOO News
Downtown Juneau – 104.3
Lemon/Switzer Creek – 101.7
Mendenhall Valley – 103.1
Hoonah – 91.9
Gustavus – 88.1
Excursion Inlet – 89.9
GCI Cable Juneau (stereo) – Channel 871
KRNN
Juneau – 102.7
GCI Cable Juneau (stereo) – Channel 872
KXLL Excellent Radio
Juneau – 100.7
GCI Cable Juneau (stereo) – Channel 873
KTOO-TV Digital Channels – Over the air and on GCI Cable in Juneau
PBS/Alaska Public Media:  Channel 3.1 (channel 10 or 657 in HD on GCI Cable)
Create:  Channel 3.2 (channel 94 on GCI Cable)
KTOO 360TV: Channel 3.3 (Channel 18 on GCI Cable)
PBS Kids: Channel 3.4 (Channel 97 on GCI Cable)
KTOO-FM: Channel 3.5 (Channel 871 on GCI Cable)
KRNN-FM: Channel 3.6 (Channel 872 on GCI Cable)
KXLL-FM: Channel 3.7 (Channel 873 on GCI Cable)
KTOO-TV Analog Channels (throughout Southeast Alaska)
Angoon – Channel 9
Sitka – Channel 10
Petersburg – Channel 9
Wrangell – Channel 9
Kake – Channel 12
Public Radio in Southeast Alaska