Become A Sponsor
Our program sponsors, or Underwriters come in all kinds, from community non-profits to large corporations. They all share an interest in reaching a local public media audience while also supporting the valuable resource that is KTOO.
Our suite of radio, television, digital and event sponsorship opportunities deliver your message in a clutter-free environment directly to a highly desirable audience – one that is more likely to support you because you support us.
Ways to Sponsor:
KTOO 104.3 on-air announcements
KRNN 102.7 & 103.1 on-air announcements
KXLL 100.7 & 101.7 on-air announcements
Challenge grants during on-air membership drives
KTOO 360TV pre-produced television spots which can be centered around various programming including legislative coverage with Gavel Alaska, or local arts and lecture programming
Digital advertising including streaming audio pre-rolls for our KTOO, KRNN and KXLL web streams, as well as website tiles and smartphone banners for ktoo.org.
Sponsorship for local events and special programming. Examples include KTOO hosted events like David Sedaris, Paula Poundstone, and Tig Notaro, or KTOO's Red Carpet Concert Series, KTOO's Seafood Festival and many more
What Sponsorship Provides:
Name recognition for your brand message among other professionals and business leaders brought to the listener in a clutter-free environment
Appreciation from public radio listeners who will recognize your commitment to the community and support of KTOO
Introduction to the largest audience in Juneau through the three stations offered by KTOO, and a statewide audience reached through KTOO 360TV
If you are interested in corporate sponsorship, or if you are a non-profit 501c3 or governmental agency and would like to find out more about underwriting, please give our Business and Community Support Manager a call during regular business hours at (907) 463-6417 or send a message through our contact form. For event-related PSA inquiries please fill out the form here.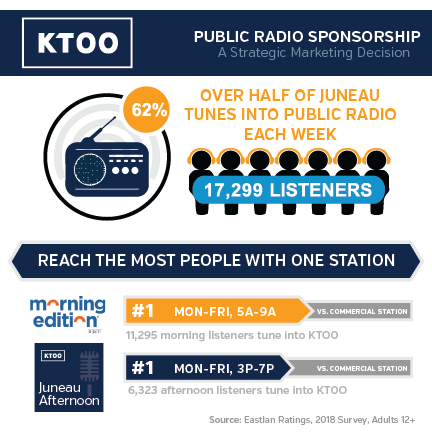 Contact Us
Let us know if you have questions or comments about KTOO.
Frequently Asked Questions
Answers to many common questions are available here.
By Phone
907-586-1670
9 a.m. – 5 p.m. weekdays
Online
Use our contact form
By Mail
KTOO
360 Egan Drive
Juneau, AK 99801