In Juneau, quirky people, untold stories and little mysteries are as abundant as the rain. For the things about Juneau you can't Google, why not work with a KTOO reporter to satisfy your curiosity?
Introducing a new KTOO news feature: Curious Juneau. Starring you and your questions.
Curious Juneau is a recurring news feature driven by questions and reporting from our audience.
---
Are you curious about Juneau? The history of Alaska's capital city, its places and its people? Or if you just like to ask questions, then ask away!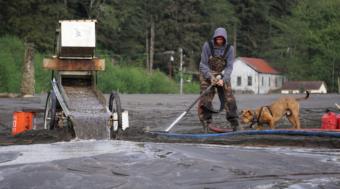 One Curious Juneau listener has noticed janky-looking rafts and unnatural pits proliferating in recent years at his go-to fishing spot. So we asked one of the raft owners what they're up to.
Read More »