Candidate Profile
Arnold Liebelt
District 1 Assembly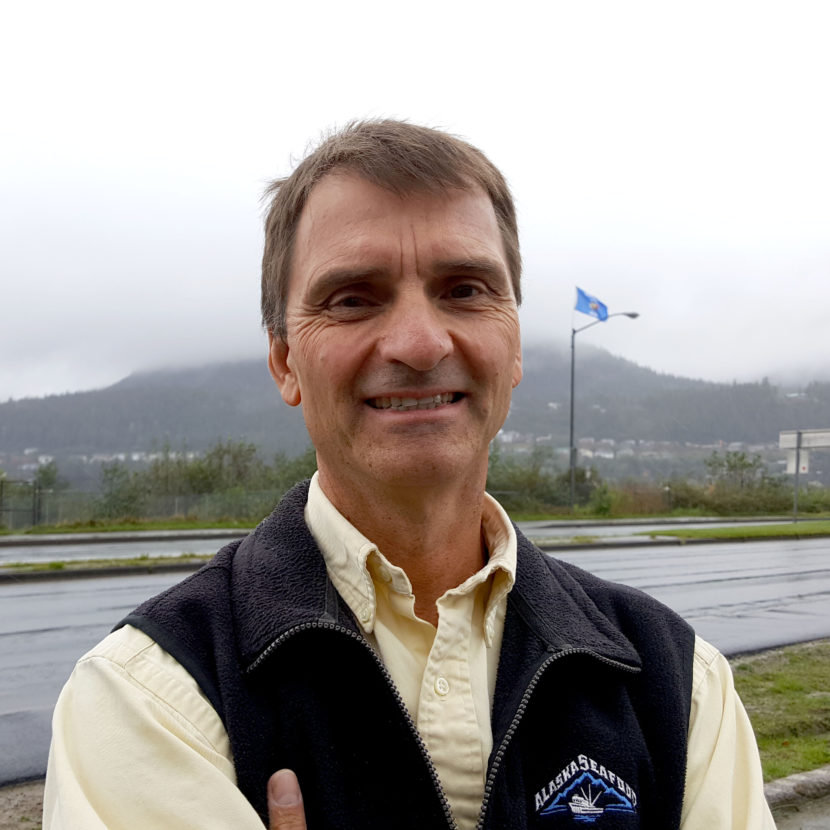 About
Arnold Liebelt
Age: 52
Family: Married to wife Molly McCormick for 23 years; daughter Leah, 19, attending college at Northern Arizona University studying mechanical engineering; son Ryan, 18, senior at JDHS; and son Greyson, 15, attending high school in Whitehorse where he plays with the U16 Elite Hockey Team for one year
Occupation: Former senior policy analyst with governor's Office of Management and Budget, currently taking time off and returning to the workforce this fall
Current community involvement: Member of the Douglas Advisory Board. Past president and board member of the Juneau Douglas Ice Association, certified youth hockey coach with the Juneau Douglas Ice Association
Previous government or other relevant experience: 18 years in the Facilities Section of the state Department of Health & Social Services, four as Facilities Section Chief; managed over 1 million square feet of space, compiled capital budget, testified in front of finance committees, part of a planning team for studying bed expansion for pioneer homes, and safety and security deficiencies at the state's four oldest youth facilities
Highest level of education: B.S. in mathematics and secondary teaching credential in math
Quick Hits
Who are you voting for in the presidential election?  I'm not voting for Donald Trump.
Do people cause climate change? I believe that the human race contributes to climate change, yes.
Are you for or against building the road? The road is such a difficult issue to answer yes or no, to. If you're asking me do I support a road going up east side of Lynn Canal that takes us to a ferry terminal at Katzehin, takes us to another shuttle ferry, my answer would be no.
Salmonberries or blueberries? Oh, I'd have to go with blueberries, but the salmonberries are so abundant and they make a great jelly. I'm going to go with the blueberries though, I like my blueberry crisp.
Positions on Juneau Issues
Finance officials recently estimated the City and Borough of Juneau is facing a nearly $5 million deficit in the current budget year because of issues at the state level. How should the city deal with budget volatility?
This is a good question, and this is the primary reason why I am seeking the office of city assembly. Unfortunately, I think at the state level that the legislature in the last session was unable to come up with a sustainable fiscal plan, as a result all the communities in the state including Juneau have to deal with the shortfall of that and as a result of some of the vetoes that took place at the governor's office. Right now, the city manager is proposing that the shortfall – about 4.5 to $5 million — be covered out of the savings account that the city has established, and there's about a $15 million balance in that account. I reluctantly agree that this is the right move forward. I say reluctantly because it's going to take about 30 percent of what we have in that account and we don't know what the future years are going to hold. But I agree with it because we need to have adequate time to address a long-term plan for how we are going to address this shortfall. And by covering it out of the savings account now, that buys us a year to address the longer term impacts of this. But we also not only have to balance the budget for the future years, we need to come up with a plan on repaying the 4.5 million back to the savings account. So this is going to be very challenging. I don't want this process to be rushed any more than we have to because we really need to look at all options on the table on how to do this, so I think using the 4.5 million out of the savings is the right move.
---
How will you vote on the ballot question to make 3 percent of Juneau's "temporary" sales tax permanent? Why?
I will vote to make it permanent. And I've gone back and forth on this. Originally I thought I would do this as a temporary extension for three years. But when I look at what that sales tax, that 3 percent sales tax is for and how it is composed — the first 1 percent is basically for public safety for police officers, for EMTs, for vital services that are provided through the city; 1 percent is provided for CIP projects, which is capital construction projects, which is really important to our construction industry in this community; and the third, the other 1 percent, is also used for construction projects, but that is more voted on by the assembly on projects that may arise that that can be used for. Knowing what this money is going to be used for, I think it's important that we put predictability into the equation. And so I am going to vote that it be approved and that it be approved permanently so that in this time of uncertainty in the state budget we at least have predictability in the city budget.
---
How will you vote on the ballot question to tax marijuana an extra 3 percent? Why?
I think that was the intent of the, I'm not sure it's the ballot measure, but that was the intent when we went through this legalization process for marijuana, that it be treated like alcohol. So my answer is yes, I think we should tax it at the same rate that we tax alcohol. The intent again was to treat it as if it were alcohol and it would be regulated in such a manner. So it makes sense to do so.
---
Juneau has an opioid addiction problem. What role should the city have in combatting it?
The city's role should be education and working closely with the police force and working closely with Bartlett Hospital and working closely with nonprofit service organizations in this community that can have a positive effect on it. Opioid drug addiction is not the first type of drug of choice that we have seen in this city. I remember a long time ago, cocaine was a drug of choice. Crack became a drug of choice. Painkillers became a drug of choice. Unfortunately, this is what we're dealing with now. I think the education that has come out on this and the open discussions that are taking place are very positive and having a good effect, a positive effect. It's going to take more of this … . We received a postcard in the mail, which I thought was really, really good in its example of how we can improve communication on this. Basically it said on the front that "bacon is 100 percent better than heroin," and I just thought that was a real great slogan. I see these types of things all over town regarding heroin.
---
With the downturn in state government, Juneau's economy is likely contracting. How would you encourage diversification or growth in the local economy?
Unfortunately, having the state capital here in Juneau can be a double-edged sword. We've had it very, very good with high state employment. We have the federal government here. We have the Coast Guard here. We have CBJ workers here. So it's been very good, but every once in awhile in time, the other side of this double-edged sword is when there's a downturn in state government, it's the working class that's working for the state that are going to be losing their employment, and the bulk of those employees are going to be right here in Juneau and there's very little that the city can do about it. The city is actually in very good shape right now, financially with the $15 million savings account that we have. Not everyone realizes it but we have an airport, an international airport, which is owned by the City and Borough of Juneau. Bartlett Hospital is owned by the City and Borough of Juneau. These are tremendous assets. We have a very strong tourism industry in Juneau.
So I think what we have to do is to continue to diversify in these regions. I think housing can … play a part of that in diversification. One program or project that I can think about is that there's a plan on building an 88-bed assisted living home in the valley – a $25 million project. We need to be looking at projects like this, and those are win-win projects because it's addressing part of the demographic change that is taking place here in Juneau. It is also creating jobs and construction jobs. I think diversification of our economy is something that we always have to be aware of. I think in this situation it's going to be a little tougher because it's a little bit more sudden. But Juneau has done the right steps and we just need to continue to do the right things.
---
The city's being sued by cruise ship interests over the collection and use of passenger head taxes. What's your take on the lawsuit?
I was very disappointed in this lawsuit, specifically in the Cruise Line Association (of Alaska) as well as John Binkley, particularly. The way I saw this is this was the perfect opportunity, I would say CBJ has even teed it up  for the industry to take credit, to take partial credit for this project and to show what a partner the cruise line association can be with local communities in Juneau, as well as local communities throughout Southeast. And rather than saying something like I would of liked to hear, such as, "This is an example, this project is an example of what can be done in a partnership. This is going to be enjoyed by our passengers, this is going to be enjoyed by the locals, this is a wonderful partnership using some CBJ funds, private funds, head tax, and we're very proud to be a part of it." But instead, they chose not to do that. I think their strategy is intimidation. I'm not supportive of it whatsoever. I believe CBJ is going to fight this aggressively, and I have full confidence that they're going to win this lawsuit.
---
Juneau is one of the few places in Alaska where using personal fireworks aren't explicitly banned or severely restricted. Do you think that should change?
This is a really interesting issue. I did not realize the size of the population that was so passionate about this position, but as a candidate I'm becoming very well aware of that. I don't think this is a difficult issue to solve. I think it takes a common sense approach and with reasonable people in the room, we should be able to reach reasonable decisions. I'm not sure exactly what they would look like. I know one of the sticking factors would be if possession would be illegal, and the police department was speaking to that at one of the assembly meetings, but I do believe there is a common sense approach. We can make it illegal for the possession and for the using of fireworks at certain times of the year – be that around the New Year's, be that around the Fourth of July and then not allow it at other times. I think that's a very reasonable approach to it. I don't support banning it 100 percent, but I do think it has come to a point where we do need to tighten it up and change it.
---
What are you doing to prepare for serving on the Juneau Assembly?
I'm not sure what any candidate can do to really prepare. What I'm doing is looking at all the issues, the big issues that are facing the city right now, and my priorities are a sustainable budget for the years to come, making sure we're funding education to the cap and we're doing everything we can to give our kids a quality education, and to take care of affordable housing and access to more housing wherever we can possible. So in preparing I'm looking at those issues because those are very important to me. I'm looking at the structure of the assembly right now and I know I will need to build bridges and I believe I can do that with every member out there. I think we have a good city assembly. I think we have a great city manager right now.
So it's a matter of making sure I have the time, which I do, and a matter of getting up to speed on as many issues as I possibly can. I think for any person stepping into this role it's a very steep learning curve but if elected it's a three-year term, so getting up to speed will take a little bit of time but this is not unlike other positions I have been in, even though they were employment positions not public office. But it's just a matter of getting in there, understanding the situation, understanding the issues, talking to as many people as I can, being informed and moving forward.  
More Candidate Profiles
Compare Responses by Issue
District Areawide Assembly
District 1 Assembly
District 2 Assembly
School Board (2 positions open)
Assembly issues
School Board issues