Candidate Profile
Maria Gladziszewski
District Areawide Assembly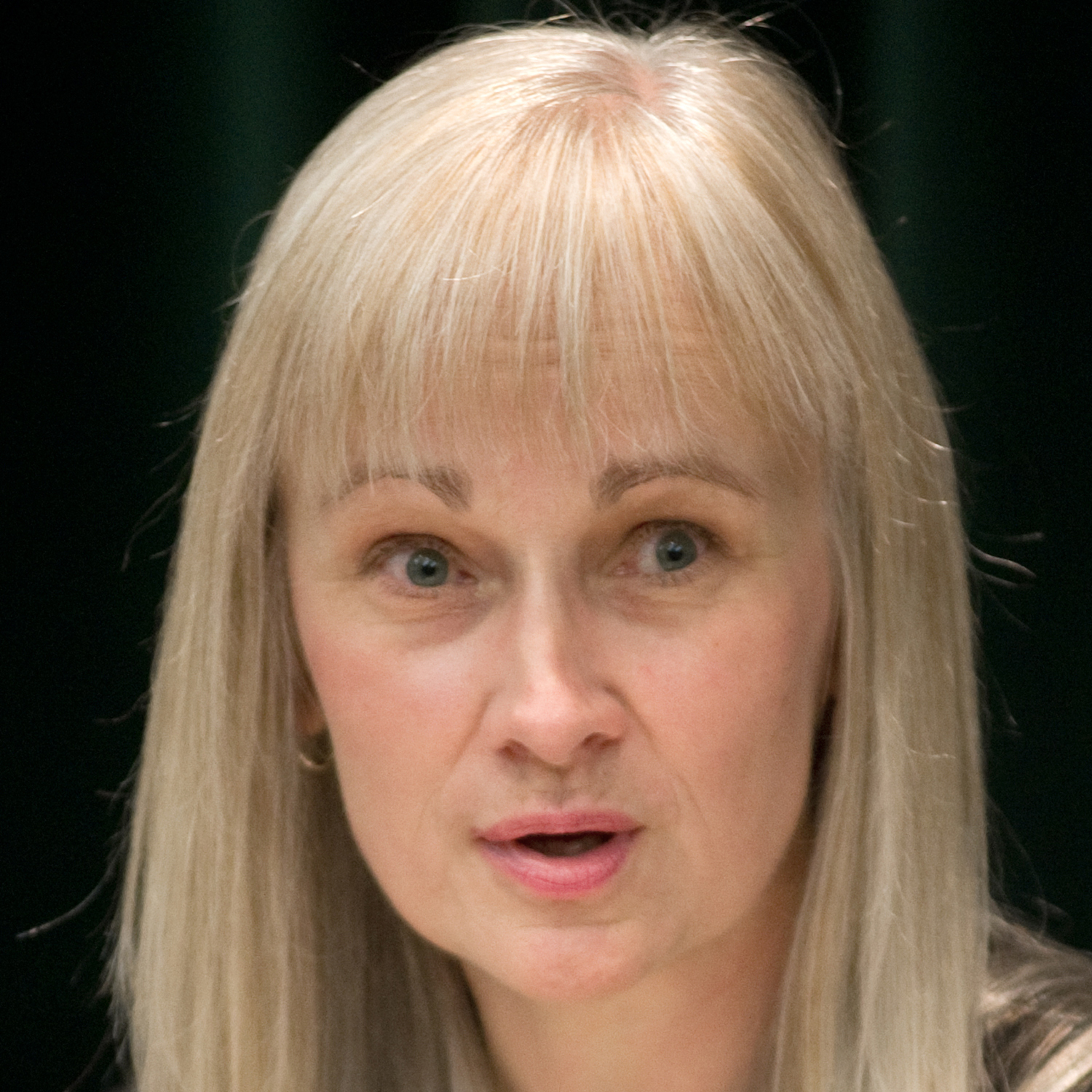 About
Maria Gladziszewski
Age: 57
Family: Married for 20 years to Eric Kueffner
Occupation: Deputy Director, Division of Wildlife Conservation, Alaska Department of Fish & Game
Current community involvement: Assembly member
Previous government or other relevant experience: Planning Commission for 11-plus years, including three as chair; Perseverance Theatre Board of Directors, including a stint as president.
Highest level of education: Master's degree in science, technology, and public policy
Quick Hits
Do you support the Juneau Access Project (extending the road to the Katzehin River and a future ferry terminal)?
 No, not as currently planned.
Do you support continuing to budget for the statutory maximum in local funding for Juneau's school district? Yes
Do you support the city's planned Pederson Hill subdivision? Yes
Stance on Proposition 1? I support it
Stance on Proposition 2? I support it
Halibut or salmon? Halibut.
Positions on Juneau Issues
There's an organized group pushing for the full sales tax exemption for seniors to be reinstated. Where do you stand on this issue?
I support maintaining the current exemptions for all seniors for essentials including food and utilities, along with a rebate program to ensure that lower income seniors continue to pay no sales tax on any purchase in Juneau. The previous full exemption for all seniors on all purchases was unsustainable given the projected growth in the senior population. It would have meant more and more people paying no sales tax at all, thereby shifting the tax burden to all non-seniors in the community. Prior Assemblies had looked at this issue many times over the years and analyzed various options to consider. One option was keep the full exemption for any senior currently getting it but eliminate it for any new senior. Instead, I favored the option of keeping a reduced exemption for all current as well as future seniors and instituting a rebate program for lower income seniors. This compromise garnered the support of seven Assembly members as we all recognized that changes to this sales tax exemption were necessary if such a program was to be sustainable into the future. It is fundamental to the job of an Assembly member to balance competing interests — in this case, supporting our seniors by maintaining the exemption on essentials while keeping an eye on the needs of the entire community — and make decisions with the needs of all in mind.
---
The Juneau Assembly passed a controversial anti-camping ordinance to deal with people sleeping in downtown alcoves. Do you feel this ordinance has worked as intended?
I'm not exactly sure what was intended other than the hope that the individuals sleeping in doorways would somehow miraculously disappear. Instead, those individuals moved to places like Marine Park and elsewhere equally visible. I voted against the ordinance even though I recognized that many downtown property owners and residents were rightly frustrated with an ever-worsening situation. Forcing those with no place to sleep out into our public parks has had the upside benefit of daylighting this issue for more in our community so in that way you could say the ordinance was helpful. The only way to improve things is to work on long-term solutions.
The best suggestions I can make regarding how to improve things for those experiencing homelessness as well as improve life in our downtown core are based on strategies outlined by the Juneau Coalition on Housing and Homelessness (JCHH) including: 1) fund scattered-site Housing First programs; 2) hire a homeless coordinator (CBJ has already applied for a grant to fund this position for three years) to streamline the work of JCHH agencies, secure additional grants to fund services, and help implement a coordinated entry system for persons experiencing homelessness. Even though emergency shelters and campgrounds are not ultimate solutions to alleviate homelessness in our community, we must work on them as temporary measures while we pursue other long-term options.
---
The mayor has appointed a task force to look at rewriting the community's mining ordinance. Proponents say the existing review is duplicative of state and federal permits. Opponents say it would strip away protections from impacts on the community. Where do you stand?
The existing mining ordinance was the result of concerted community effort and was adopted unanimously by the Assembly in 1989. Any revisions to the ordinance should keep provisions sufficient to ensure local control over local impacts. In order to have a stable environment for a mining company partner, the goal for any revisions should be broad agreement on the Assembly and broad agreement in the community. Anything less will signal to a potential partner that the community isn't ripe for investment because it cannot agree on where mining fits into its future. I believe mining should remain in Juneau's future and would seek revisions appropriate to ensuring that future. If the current task force recommends that improvements be made to the ordinance, then I would consider them, but a valid argument for wholesale elimination of the current ordinance has not been made.
A transparent process for community engagement is crucial to moving forward on a mine in the heart of our town. We must assure all members of the community that their interests and concerns are being represented and considered fairly. As the Report of the AJ Mine Advisory Committee says, "the bitter divisiveness of the previous debate will be less likely if we as a community keep returning to our underlying common interests."
---
This year the City and Borough of Juneau passed a $335 million budget without any staff layoffs or closing any facilities. It did this by drawing on more than $800,000 from its reserves and slowing down its debt repayment schedule. What would you propose to balance the budget next year?
I voted against most of the increments to the budget when they came before the Finance Committee this spring. The manager proposed basically a balanced budget then the Assembly subsequently added over $400,000 of spending to it. There are lots of needs in our community, and while all the added funding/projects had merit, the funds in the budget reserve shouldn't be spent for day-to-day operational needs. The Assembly and city management have done much in the past three years to correct an unsustainable budget trajectory so we are on solid footing but we must also be nimble enough to react to changing circumstances. We must budget conservatively in these times with additional losses of state jobs likely and state and federal revenues on the decline.
During the next budget cycle, we should improve on the priority-based budget process used this year. We need fuller community engagement on the choices ahead, not just advocates coming out when their favorite item is threatened. Assembly members should fully participate in those meetings to have confidence in the results and then would be more likely to take the recommendations of the process. Hard as it may be to consider, we must review whether we can continue to maintain all the facilities we currently run including 3 libraries, 11 schools, 2 pools, and numerous parks. We are a community of roughly 33,000 people and we must live within our means.
---
Hurricanes on the Gulf Coast and retreating glaciers close to home show the impacts of climate change are widespread. Following the Trump administration's repudiation of the scientific consensus over the human causes of climate change, the Juneau Assembly had difficulty this year deciding how it would respond – if it all. What do you think is the appropriate local strategy in the face of climate change?
As they say, climate change is a global problem and climate action is a local solution. It all starts with us, our neighbors, our community. We must do what we can locally and Juneau has been on such a path for over a decade. We need to continue to implement Juneau's existing Climate Action Plan and as part of that, adopt and implement the Renewable Energy Strategy drafted by the Juneau Commission on Sustainability. Juneau's electricity is from 100 from renewables but that's only 20 percent of our total energy use. Juneau already ranks among the top communities in the nation for per capita electric vehicle ownership and we are also installing an increasing number of heat pumps. The Juneau Renewable Energy Strategy proposes an ambitious long-term goal of increasing renewable energy use from 20 percent to 80 percent by mid-century to prepare our community for the future and increase the economic and environmental benefits achievable from renewable energy.
Going forward, the CBJ should take concrete actions and adopt strategies that reduce the city's own use of fossil fuels and thereby save taxpayers' money. The city should also explore public-private partnership energy successes in other cities that might work in Juneau. Reducing our community's energy costs keeps dollars circulating in the Juneau economy while also contributing to solutions to the global climate crisis.
---
Juneau's real estate market is among the tightest in the nation. Single family homes routinely sell in less than 30 days. What role – if any – do you see local government in supporting the availability of affordable and workforce housing?
We need to continue our practice of making city land available for development, look for ways to streamline permitting, and promote infill development and increased density in places lightly developed on the bus line. In the last few years, the CBJ has offered land sales near D-Z school and we are in the process of developing Pedersen Hill. We can continue our effort to make sure our building and land use codes are not obstacles to good, affordable housing developments. We should continue to look for ways to partner with the private sector for a continuum of housing choices for all ages (e.g., look for ways to assist the development of a senior assisted living facility) and implement the strategies listed in the Housing Action Plan including growing the Affordable Housing Fund to a meaningful level. CBJ's chief housing officer has been diverted to working on issues of homelessness of late and needs to get back to the tasks he was hired to do: work with developers, community organizations, banks and other partners to implement the strategic housing strategy called for in the plan.KTOO solicited the candidates' answers by email. We've edited their written responses for typos, grammar and news writing style — but not for length or substance.
---
---
More Candidate Profiles
Compare Responses by Issue
District Areawide Assembly
District 1 Assembly
District 2 Assembly
School Board (2 positions open)
Assembly issues
School Board issues