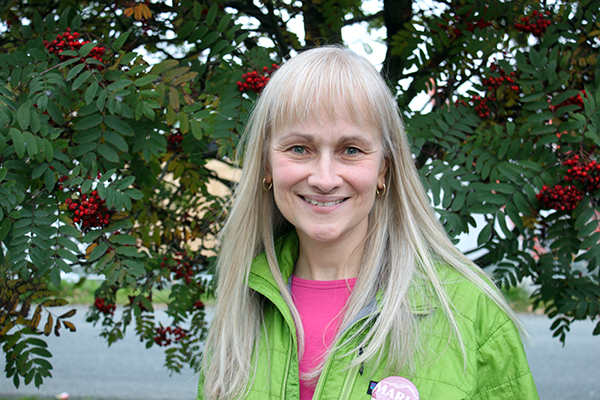 Maria Gladziszewski
Age: 54
Family: Husband, Eric Kueffner
Occupation: Assistant Director of the Division of Wildlife Conservation at the Alaska Department of Fish & Game
Current Community Involvement: President of Perseverance Theatre Board of Directors
Hobbies/Interests: All things outdoors – hike, kayak, sail, fish, hunt, pick berries, cross-country ski.
Previous government experience: Juneau Planning Commission (11.5 years) – Chair for three years; AJ Mine Advisory Committee; staff to the U.S. House Committee on Science, Space, and Technology; analyst for the Alaska legislature; CBJ Special Projects Officer
Positions on Juneau Issues
Housing
According to a 2012 Juneau Economic Development Council report, the capital city needed to add about 700 fair market homes or rental units and nearly 450 subsidized rental units to achieve a healthy housing market. What can the Assembly do to encourage new housing development that meets the needs of Juneau residents?
The Assembly can do several things to encourage housing. One of them is to increase the density along corridors that are served by public transit and that have city sewer and water, and encourage infill in those areas. That's an area that I'm deeply familiar with from my time on the Planning Commission and it is something the Assembly can do today. While I was on the Planning Commission, I helped shepherd through several of those density increases that we sent to the Assembly for their action. So that's one thing the Assembly can do. And I know that there are some new housing units coming along just permitted recently in the Douglas area on Vista Drive.
The other thing the Assembly can do is work to get on the market flat developable land. Again, as a former Planning Commissioner, I know too well that land for industrial uses and commercial uses particularly are in very short supply. If there was, for example, some young entrepreneurs who wanted to start, say, a brewery right now, they would have a difficult time finding land to do that. We need to get some more flat, developable land and West Douglas is one good opportunity for that.
Homelessness
What are your thoughts on a Housing First facility in Juneau, where chronic inebriates can live and access services, such as Karluk Manor in Anchorage? What role, if any, should the city play in pursuing such a facility? I think the Housing First model is a great model to pursue. Those people who need that facility, need that facility. The city can encourage that development and should continue to encourage that development. I think that's a great model and I'm really happy to hear that people in the community have come together around that idea to pursue that.
Downtown Revitalization
Recently a group called the Downtown Improvement Group (DIG) organized a cleanup day in Juneau. What solutions would you offer to make the center of Juneau a better place for residents and visitors alike? The Downtown Improvement Group as well as the Downtown Business Association as well as the Juneau Economic Development Council are all great steps toward improving downtown. It's going to take a collaborative effort where people pitch in and work together and that is exactly the kind of forum that is necessary for that to happen. It's going to have to be everybody coming together and it's such a great thing that that happened. The City Assembly can continue to encourage that, can provide forums for that, can publicize those things, can provide incentives for businesses to clean up their facilities and their storefronts. All of those things are helpful. The other thing that is vital is to get people living downtown again. There are facilities in downtown that are vacant apartments and of course we all know about the Gastineau Apartments that burned down. To encourage downtown vitality, people need to be living downtown in greater numbers again.
Transportation & Infrastructure
What's your take on the Juneau Access Project (aka the Road)?
I think that we have tremendous opportunities and challenges as a community and the Juneau Access Project is one that people don't agree on. About half the town thinks it's a good idea and the other half of the town doesn't think it's a good idea. I'm concerned as a municipal official – should the people elect me to be so – about the costs to our community from such a road. We would have to provide ambulance services far out the road. I would like to see us develop and improve transportation on things we can agree on and I'm concerned about two ferry terminals being built and having to be operated – one in Katzehin, one in Auke Bay – they would both need to be still there. So, I would like to see us focus on development projects that have the potential of increasing housing, increasing our economic base – things like developing the West Douglas property, North Douglas extension. I think we can agree on those things and do good for our economic development by pursuing those projects.
For years, the city pursued a second crossing between Juneau and Douglas Island. In 2010, Juneau voters rejected a local bond measure that would have paid for the project, and it has not been as high a priority since. Do you support the second crossing, and if so how should it be financed?
I absolutely support a North Douglas crossing. As a former Planning Commissioner, again, I know that development on Douglas cannot happen with the current bridge. The traffic fails at the current bridge. I think that when the community voted on that the last time, people heard that it was about getting to Eaglecrest faster or getting to Fred Meyer faster, and really what it's about is having a place for our community to grow. So I would encourage us to reopen that project, get people talking about it again and making sure that it is understood that the reason we need that project is for developing land, flat well drained land, that can grow our community and have a port out there and housing and another place for people to live. Again, one of the main concerns that everybody has is housing of all varieties and the North Douglas or West Douglas is an opportunity for that to happen.
One of the things about financing is there has to be a transportation reason – not just a local transportation reason – for federal and state funding to come. If we would talk about a port out there, those kinds of things, that would enable us to get those funds. Again, that whole thing needs to be opened up again and discussed to educate everyone and ourselves about the opportunities out there.
CBJ Budget
The CBJ's finance experts are projecting multi-million dollar budget shortfalls in upcoming fiscal years. How would you address the shortfalls?

The challenges with the city budget are large, but they also present opportunities. My basic wheelhouse is one of a practical problem solver. If it's a complicated problem, people give it to me to help solve. So, it happens to be a thing that I'm actually quite good at. I look forward to looking at the budget line by line, finding places that there can be efficiencies.
So, first we have to spend what we have well. We also have to look at where the revenues are, for example sales tax exemptions. We have $25 million of exemptions on the books. We need to look at that as a whole package and see where we can find new revenues. For example, one of the ones is, there's a $7,500 cap on sales tax put in place years ago for, particularly, to encourage automobiles to be sold here. That's now being used for that, but as well as for jewelry stores are using that exemption. Even if we just went with inflation, it would be up to $12,000 or $14,000 – those kinds of things. There is no silver bullet. It's going to take small pieces all over the place and that's one example.
By the same token, we can't cut our way to a vital community. We have to look for ways to grow our economy. We have to make sure we're the best capital city. We have to continue to fight capital creep. Those are good high-paying jobs that we need to keep in this community. Same thing with the federal – I know the federal government is cutting. We need to bring Alaska's fisheries jobs back here, research jobs that are for Alaska's fisheries here. Each of those things are pieces of the puzzle that we need to pursue vigorously.Which city services are your priorities to maintain?
Education is a vital piece of our community. People want to live here when they can educate their kids well. It just should be done and it's also good for economic development. If a business is to locate here, they want to know that their kids get a good education, so that is a high priority to maintain that funding, is education. And, of course, police and fire – the basic city services – streets, maintenance, sewer, water – those are vital to keep the community a livable place and to keep people wanting to live here.
School Funding
For the first time in years, the Assembly this year did not fund Juneau schools to the maximum amount allowed under state law. Do you categorically support funding to the cap? Why or why not? I would like our community to fund education to the most that we can. I would like us to go back to funding to the cap. It might not be immediately. I think it is absolutely something we need to pursue. Again, I'm a very practical, detailed problem solver and won't make promises categorically. I will tell you that is vital to me. I am here because of education. I'm here because I got an education and I want that for our community, for our kids and for our grandkids to be able to live here.
Economic Development
The Assembly has hired a consultant to come up with a Juneau Economic Development Plan. What ideas do you have to diversify Juneau's economy? The Juneau Economic Development Plan – I've read all the current drafts. It is a great start. It is starting to look like a good blueprint for Juneau's future. We need to keep the capital city a vital capital city. Over 4,000 jobs are here because of state government. That is a huge part of our economy. One vital economic engine is the state capital and government jobs. By the same token, pieces of the rest of our economy also are pretty diverse. Tourism, mining, manufacturing, finance – all of those things bring pieces of economic vitality to our town and we need to maintain all that we have and look for ways to grow those things. Again, the land base is one of the places that the Assembly can help in that regard. Encouraging infill development, increasing density on land, on the bus line, in the sewer and water – those kinds of things – to bring housing costs down to enable entrepreneurs, people to come and locate here and young people to stay here and build this community. How do you feel about the city facilitating the reopening of the AJ Mine? I was actually on the AJ Mine Advisory Committee. I was among the people tasked with that task – under what circumstances should the city reopen the AJ Mine? I think as part property owner of those lands, it is simply prudent that the Assembly and the city look at those opportunities. We own part of that land. We should do everything we can to see what can be developed there. Now, it has to be done in a cautious way, in a way that does not hurt the environment or harm or even threaten the water supply. We're working on alternative water supplies, we're working on making sure that if such a thing is developed, that we can do it in a way that is prudent. Now, it's land right downtown and so the cautions and the conditions that would have to be in place for that to be developed would need to be very stringent, but I think it is prudent and the city should be looking at those opportunities.
Public Safety
In 2013, Juneau police seized nearly $2 million in illegal drugs and drug money. What can the Assembly do to curb drug use in Juneau? The Assembly's responsibility it to fund a police force that enforces the law and also to help fund and get block grants for services for people who are trying to not do those things anymore. We work with the community development block grants. There's an advisory committee that helps give out funding for services for people who need the services to try to stop doing those activities. Those are the things that the Assembly has control over. Community policing. I love the idea of the Coffee with a Cop, having people come and meet police officers and work together on those challenges that the city faces. I think in general, we have such a great community and so many people volunteering their time to serve this community on boards, on committees, on teaching people violin, on volunteering at Little League. There are so many people volunteering their time. I think we have a great community and working together we can meet those challenges.
Voter Turnout
Voter turnout in Juneau has been abysmal for several years. The city has not seen more than 50 percent of voters participate in a municipal elections in 20 years. As a prospective city official, what can be done to increase civic engagement?
One thing is to publicize that you can vote two weeks in advance. I've made small cards up I'm giving out to everybody I know. You don't have to wait until the last day to vote. You don't have to wait until Oct. 7. You can start voting on Sept. 22. You can vote at City Hall. You can vote at the mall. It's very convenient. You can do it when you're thinking about it. You don't have to wait for the last day. So that's one thing we can already do right now, which is get out the word – you can vote early. You don't have to wait until the last day.
Another thing is to consider consolidating elections. Why do we have a municipal election in October and a state election in November? I don't know all the ramifications of those things, but it's hard for people to get to the polls. Let's maybe let them go to the polls once instead of twice in the fall. That's just an idea.
Another idea is work with other communities to lower the voter registration age to 16. Register kids in school, have a whole curriculum on civic engagement, on voting and where they can actually vote – not a fake vote, not a pretend vote, but an actual real vote where their voice matters and start the habit of voting early. So those are things we can do to encourage people to vote.
Southeast Footwear
XTRATUFs or Bogs? XTRATUFs. I bought my first pair of XTRATUFs and I remember it was a big purchase. It was very expensive. And I love them and I'm an XTRATUF fan.
View the other candidate profiles