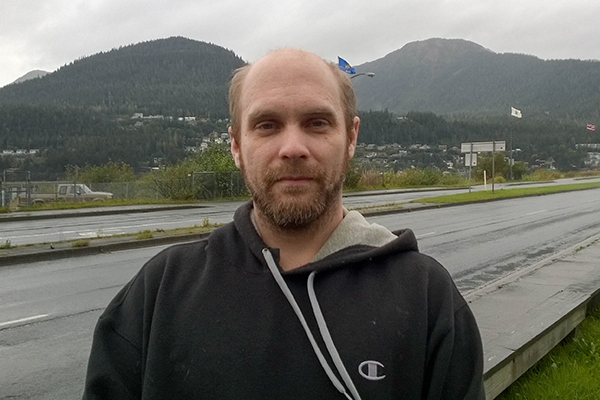 Kory Hunt
Age: 36
Family: Wife, Amanda Hunt
Occupation: Accountant for Alaska Department of Environmental Conservation
Current Community Involvement: None
Hobbies/Interests: Computers, guitar
Previous government experience: None
Positions on Juneau Issues
Housing
According to a 2012 Juneau Economic Development Council report, the capital city needed to add about 700 fair market homes or rental units and nearly 450 subsidized rental units to achieve a healthy housing market. What can the Assembly do to encourage new housing development that meets the needs of Juneau residents?
I think one thing that we need to do is maybe take a look at rezoning. Cause, I know, there're a lot of areas we could use for housing. And I think also, taking a look at property tax might be a good thing. Cause, I know we keep raising the property taxes and that just encourages landlords to raise the rent.
Homelessness
What are your thoughts on a Housing First facility in Juneau, where chronic inebriates can live and access services, such as Karluk Manor in Anchorage? What role, if any, should the city play in pursuing such a facility?
I think that we ought to have a place where anyone that needs shelter can go. But, that sort of thing's not really viable for a permanent solution. So in addition to that, we'd most likely need some sort of support system, a way to get people off of the streets and help them support themselves. … I think the city ought to play a supportive role, but not necessarily take the lead on it.
Downtown Revitalization
Recently a group called the Downtown Improvement Group (DIG) organized a cleanup day in Juneau. What solutions would you offer to make the center of Juneau a better place for residents and visitors alike?
I know every year when the cruise ships come into town, people snap into action and make things look nice. But I think that we should try and keep it nice year round. Downtown is mostly businesses on the sea level. And I think the local business owners should look into keeping their establishments nice, year-round, if possible. The city should probably take the lead on that, and keep the public areas, the parks and public facilities in order, also.
Transportation & Infrastructure
What's your take on the Juneau Access Project (aka the Road)?
I think that's been something we've probably needed quite awhile. Without that, the only way in an out of town is the ferry system or the airport. There are a lot of little towns that Juneau residents would have access to, and the people from those towns would have access to Juneau with a land route out.
And I think the city ought to do what it can for that project. But ultimately it may come down to the state. I doubt that the city can afford to do that all by itself. Sort of a big project.
For years, the city pursued a second crossing between Juneau and Douglas Island. In 2010, Juneau voters rejected a local bond measure that would have paid for the project, and it has not been as high a priority since. Do you support the second crossing, and if so how should it be financed?
I think that having more than one way to get to an island is a very good thing. In terms of safety and as well as convenience. But, that sort of thing can be pretty expensive, building a bridge, and with all the engineering and all the research that has to go into it. So if we were to do that, we would probably have to finance it over a period of time rather than all at once. That's something that I haven't really looked into a whole lot, as far as how to finance everything. It's something that I'm definitely interested in, something I would take a look at.
CBJ Budget
The CBJ's finance experts are projecting multi-million dollar budget shortfalls in upcoming fiscal years. How would you address the shortfalls?

Which city services are your priorities to maintain?
Well, I think that the budget definitely needs to be as close to balanced as it can be. You can't sustain a community with a budget shortfall for very long. So we would need to look at finding ways to cut the budget. But also, look into generating new revenue streams.
There're certain things that the city absolutely has to have, like a fire department, police force. And those, you can't cut anything from the essential services. But there may be other ways to cut the budget. I would have to look at the specific numbers before I could make any kind of determination.
School Funding
For the first time in years, the Assembly this year did not fund Juneau schools to the maximum amount allowed under state law. Do you categorically support funding to the cap? Why or why not?
I think education is a very important thing. But we have a lot of schools, and I think that we might be able to do without some of what we've got at the moment. It's more important to have quality education than to have quantity. I think hiring teachers that can handle the jobs, actually educate the children, the students is more important than — so anyway, I don't think we necessarily have to fund everything to the max. But that is definitely an option.
Economic Development
The Assembly has hired a consultant to come up with a Juneau Economic Development Plan. What ideas do you have to diversify Juneau's economy?
I think that we rely a lot on tourism and that's a good thing, but we need to have other revenue streams as well. I'm not entirely sure what else we can do, but supporting local businesses and encouraging businesses to start and to grow here would be a start.
How do you feel about the city facilitating the reopening of the AJ Mine?
I think that it's not really, or it shouldn't be the city's responsibility to operate a mine. But it should definitely — we should look into letting private companies or investors see what they can do with it. If the structure's already there, and there might be something worthwhile under the ground, then, somebody that's interested should have the opportunity to see what they can do.
Public Safety
In 2013, Juneau police seized nearly $2 million in illegal drugs and drug money. What can the Assembly do to curb drug use in Juneau?
I think that people that use drugs are going to do what they can to get them. They're going to know people that can get what they need. So, the only way to really combat that would be to first stop everything from getting into the city to the best of our ability. But then, also, having enough programs and places for people to go for help, that's important. The main thing is stopping the access to the drugs, and then assisting people in recovering from the use.
Voter Turnout
Voter turnout in Juneau has been abysmal for several years. The city has not seen more than 50 percent of voters participate in a municipal elections in 20 years. As a prospective city official, what can be done to increase civic engagement?
Well, I don't think the problem is really one of awareness. The people in Juneau generally know about what's going on. I hear people talk all the time, giving strong opinions on matters, and then they just don't go out and vote. So I think we need to encourage voters, encourage people who aren't registered to get registered and make it as easy as possible for them to do so. And then, make sure that they understand that their vote really does count. Even if they're sure the way that they're going to vote isn't the side that's going to win, it's still important that they exercise that right.
Southeast Footwear
XTRATUFs or Bogs?
In Juneau, you pretty much have to go with XTRATUFs.
View the other candidate profiles