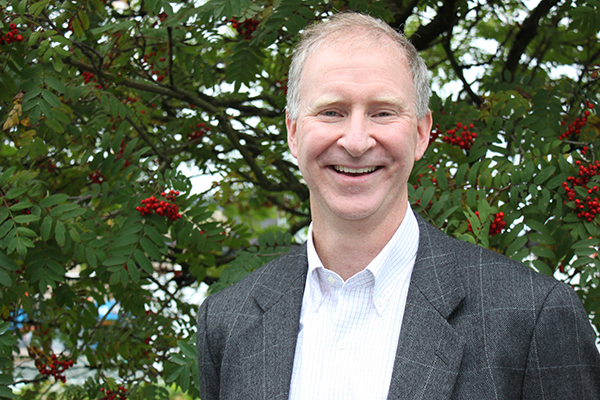 Brian Holst
Age: 47
Family: Wife, Estela. Sons, Brian (16), Samuel (10) and Martin (8). Daughter, Jasmin (11)
Occupation: Executive Director at Juneau Economic Development Council
Current Community Involvement: Works on International Committee as member of the Juneau-Gastineau Rotary Club; part of volunteer group Juneau Junior Achievement Committee; on Juneau's steering committee of the Kennedy Center's program Ensuring the Arts for Any Given Child; volunteer soccer coach
Hobbies/Interests: Soccer, biking, foreign policy issues
Previous government experience: Currently on CBJ-appointed Fisheries Development Committee; currently on Alaska Early Education Coordinating Council
Positions on Juneau School Issues
School Budget
As a school board member, what programs and services will you prioritize at budget time?
The priorities will be centered around student achievement. While our schools are improving over the last several years – on the standardized testing, we've seen our scores improve generally; we've seen the ratings of our schools improve over time as well; we've seen our graduation go up – but I also see that we have performance gaps. While 75 to 80 percent of our students are proficient or better, that still means about 20 percent of our students aren't.
Within that there are many things that we can focus on, but one area that I think is of particular importance is early education. In the primary years, the impact on being able to get our youngest students doing well sooner will have an impact and a payoff to us throughout their entire educational career. The PTRs (Pupil-Teacher Ratio) across the board are probably higher than they we'd like them to be, but especially in the primary years, we need to lower the PTR.
Many kids don't arrive at school ready for school and there's a line there or the responsibility of the school district that typically ends. The school district does support some pre-K education. I'd like to see how we can articulate better with pre-K programs that the state and federal government can support and see what role local government or school district can have in helping more kids to be ready when they get to school. But once they get into kindergarten, we need to increase our support at those levels.
Bullying
Hazing and bullying continues to be an issue in Juneau schools, as evidenced by a recent report released by the superintendent. The district already has strict policies in place to punish such behavior. What else can be done to address the issue?
The policies need to be followed through on, so we need uniform enforcement and people need to understand what the policies are and know what the consequences are. I think what we also need to do is increasingly engage students in coming up with solutions. When talking to students, the overwhelming majority of students don't support hazing in the schools and I think are, in many ways, in the best position to help us have incremental change in improving the situation, making it clear that amongst their peers, that there is no tolerance for hazing. That's a dimension that with increased inclusion of students in that issue, I think we can make some progress. The hazing issue unfortunately has been around since I was a student and it's something that is going to take a big effort on the part of not just the administration but also engaging others if we're going to make it go away.
School Activities
Last year's middle school travel ban revealed a philosophical schism in the mission of the school district. Should the district focus on academics, or preserve a broader mission that includes extracurriculars and strong sports programs?
I don't think it's necessary to choose between the two. We can be focused on academics with room for travel. There is certainly much to be learned when traveling. When I attended school we were able to travel and do our work. It's a reality – especially in high school, which the middle schools will soon get to – if you want to participate in extracurricular activities, you have to be able to manage your time both during the school day and when you travel. It's also important for us to know that it has been a goal of the district to increase participation amongst students in activities and that's positive and we've made great progress. Participation in activities correlates really well with academic performance. In some ways, it may be counterintuitive, but we may actually find that we're increasing academic achievement by allowing carefully structured and well organized opportunities for kids to travel.
Pre-K
Research has overwhelmingly shown that universal pre-kindergarten has huge long-term benefits, academically and for society. Can you or will you do anything to bring universal pre-K to Juneau?
Absolutely. It's something I feel very passionate about and something that I've been working on over the last several years in my free time. I'm a member of the Alaska Early Childhood Coordinating Council, which is really dedicated to understanding how to support children at that age. There's a tremendous amount of research out there that supports that and a business community across the nation recognizes that that is a good return on investment. I think education needs to be viewed in terms of the investment that it is for society, as well as the benefits for individual children. The return on investment of early childhood education is indisputable. We should be investing more and it will pay us back individually for the children, but also for our larger society. We'll avoid costs later on in life. There's a lot of evidence that special education costs during the K-12 years can be avoided if high quality early childhood education is available.
School Choice
Some legislators and Gov. Sean Parnell have tried, unsuccessfully, to lift a constitutional state ban on using public money for private and religious schools. Where do you stand on the constitutional restriction?
I support the position of the Constitution. The argument that the resources should follow the student, while I understand the basic premise behind that, there is a responsibility for the state to educate all of our kids and the most consistent, highest quality education for everyone is if we have strong public education. People should be given the option or be able to choose to educate their kids in private school and religious schools. Three years when I was growing up in New Jersey, my family chose to put us in a private school and that was an option that worked well for our family. So, those are great options, but the role of the state should be in ensuring that there is high quality public education available to all students.
Harry Potter
Which Harry Potter character are you?
That is a tough question because I can't admit being a big Harry Potter fan. However, if I remember any of the characters at all, there's the girl who's the classmate of Harry, Hermione. Maybe more for what she represents for the father of a young girl of being somebody outspoken, strong-willed, independent, independent thinker and certainly a team player. So, I would hope that my daughter would see that as a good example and I would certainly view that as a positive role model for myself as well.
View the other candidate profiles