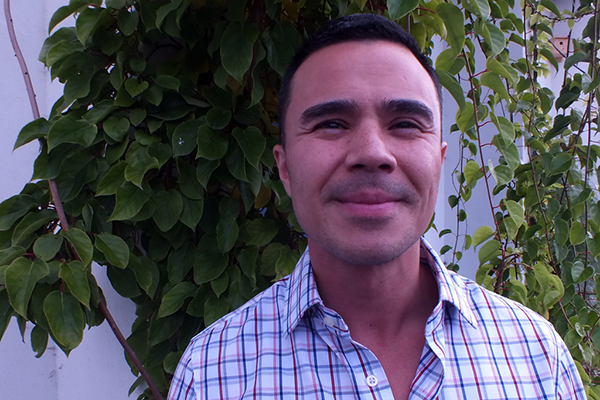 Norton Gregory
Age: 35
Family: Single, no children
Occupation: Housing Services Manager at Tlingit-Haida Regional Housing Authority
Current Community Involvement: Chair, Juneau Affordable Housing Commission, Chair, Sealaska Heritage Scholarship Committee, volunteer for the Every Mile Is Worth It fundraiser race which supports early childhood education.
Hobbies/Interests: All things outdoors – running, hiking, biking, cross country and downhill skiing, camping, fishing and golfing. I also enjoy home renovations/projects, and spending quality time with family and friends.
Previous government experience: Intern for former Senator Frank Murkowski; Chair, Juneau Affordable Housing Commission
Positions on Juneau Issues
Housing
According to a 2012 Juneau Economic Development Council report, the capital city needed to add about 700 fair market homes or rental units and nearly 450 subsidized rental units to achieve a healthy housing market. What can the Assembly do to encourage new housing development that meets the needs of Juneau residents?
For the last five years I've worked for Tlingit-Haida Regional Housing Authority, and for the last four-and-half years I've served on the Juneau Affordable Housing Commission. And between the two positions I've gained a lot of experience in our housing industry.
One thing that's occurring right now at the Juneau Affordable Housing Commission, working with city staff and the city Assembly is we have a (Request for Proposals) that's out for a Housing Action Plan. It's the belief of the Juneau Affordable Housing Commission that the Housing Action Plan is going to be the roadmap for Juneau's future in regards to housing. It's quite possible that we have all the resources we need in our community, but we need a plan to pull all of those resources together, and also to utilize all of the other reports that have already been conducted on our community and our housing situation. And the Housing Action Plan is going to be the plan that hopefully ties all of that information together to help us find a solution in Juneau.
There's been a lot of good work that's been going on in housing here in Juneau. The organization that I work for, the Tlingit-Haida Regional Housing Authority, operates tax credit units. Those are rental units with the option to buy and we're going to start exercising that option to sell those units to our tenants in 2017. So what that does is the tax credit housing provides an affordable mechanism to provide housing in our community. And Tlingit-Haida Regional Housing Authority has agreed to sell these units to the tenants after an initial 15-year compliance period is over. So not only does the tax credit housing provide affordable housing for our community, but it also helps tenants to build equity into a home, whether it be a starter home or a home that they choose to live in for a long period of time. They're already building equity as tenants, so once those homes are conveyed to the tenant and they actually go out and get a mortgage loan, they'll be helping to increase our tax base being that they'll be new homeowners. So that's beneficial both to the tenant and the community, as well as affecting our city budget.
Homelessness
What are your thoughts on a Housing First facility in Juneau, where chronic inebriates can live and access services, such as Karluk Manor in Anchorage? What role, if any, should the city play in pursuing such a facility?
I think the Housing First model is a great model. When I started with the affordable housing commission, Scott Ciambor was the (Juneau Economic Development Council) Housing Projects Coordinator, and he worked with the Juneau Affordable Housing Commission to get the 2010 and 2012 housing needs study rolling. So Scott was instrumental in making that happen. And now Scott is working for (the state) and he's also been really advocating for the Housing First model.
A couple years ago, Juneau sent some folks back to Duluth, MN and Scott was a part of that contingency that went back there. And they went to go and look at Duluth's Housing First model and what was going on there. And something that Scott mentioned when he came back was the citizens of Duluth one day realized that their homeless population was gone and people were quite concerned what happened to the homeless folks that they've seen around town forever. And what had taken place was that they had opened up a Housing First building for these folks to live in.
And a lot of our folks here in Juneau have some issues where they might not be getting the support that they need and they deserve. And the Housing First model would be instrumental in helping those folks to find housing that they can live in, but also find the support and services that they need to deal with any of the issues they might have. Whether it be chemical dependency, alcoholism, some sort of mental disability, it's just important that those people have a place to live and then after that that they get the services they need to improve their lives.
It's really important that the city stay engaged with our homelessness issue. It affects everything from what's going on downtown. Tourism is a major part of our economy, so we want to make sure we're keeping downtown a desirable place to be. And it's important that the city also look at their resources that are available and grants that are available to the city, and also working to coordinate efforts among other agencies that are already in town. Again, it goes back to the Housing Action Plan, and making sure we're coordinating all of the services that we already have here in town, but pulling it all together to make something like the Housing First project happen.
Downtown Revitalization
Recently a group called the Downtown Improvement Group (DIG) organized a cleanup day in Juneau. What solutions would you offer to make the center of Juneau a better place for residents and visitors alike?
I agree with the community that there are some issues downtown. However, there are also a lot of good things going on downtown. I'd like to take for example the work that's been completed by the Goldstein Improvement Co. They own approximately two city blocks downtown and those buildings are in great shape. It's my understanding that over the last year they've invested about a million dollars in those buildings to improve them, so I think that is excellent. We've also got the Walter Soboleff Center that is being built right now by the Sealaska Heritage Institute. That's also another wonderful part of our downtown community. In addition to that we have the seawalk that's gone in. So there's a lot of good work that's going on downtown and I would really like to continue to focus on the good work that's occurring and hopefully that will branch out to the rest of downtown and help to keep downtown on the up and up and be a nice safe desirable place to be.
Transportation & Infrastructure
What's your take on the Juneau Access Project (aka the Road)?
The Juneau Access Project, it's been reviewed by the city attorney and the city attorney has found that the project is legal. The city Assembly has voted that the project is legal. And it's my understanding that the city has also issued a permit for the road. So as far as the Juneau Access project goes, that's a state project, and they're taking the lead on that at this point.
I support all forms of access to the capital city. It's important that the rest of the state have access, whether by road, by ferry, by airplane. In order for Juneau to remain the capital city we must have access, and I support all forms of access to the capital city.
For years, the city pursued a second crossing between Juneau and Douglas Island. In 2010, Juneau voters rejected a local bond measure that would have paid for the project, and it has not been as high a priority since. Do you support the second crossing, and if so how should it be financed?
At this point it hasn't really been an issue over the last couple years. I think that the voters spoke back in 2010, and they didn't support the issue then. I haven't seen much change in our community that would signify that there's been a change, where they would support the road in the future and I would go with the majority and what they support. And if the majority does not support the road, then we'd have to honor those wishes.
CBJ Budget
The CBJ's finance experts are projecting multi-million dollar budget shortfalls in upcoming fiscal years. How would you address the shortfalls?

Which city services are your priorities to maintain?
The budget issues are very real and very important. The city manager and the Assembly have been working to reduce the deficit. It's important that we follow through with the economic plan. We need to revisit the economic plan regularly to keep us moving forward. We must deal with our community budget shortfall so that we can continue to maintain our quality of life.
I need the details of the financial reports that have been provided to the Assembly before I can offer any specific solutions. I would continue to communicate with the public and seek their input in order to help find solutions. The last McDowell Group survey showed clearly that the public does not want increased taxes or fees and that the Assembly needs to keep this in mind as it develops solutions to the budget problems. I can make hard decisions, but I want to make sure that I have all of the information before adopting a solution. I will also read all of my Assembly information before the meetings so that I'm prepared to make those decisions.
School Funding
For the first time in years, the Assembly this year did not fund Juneau schools to the maximum amount allowed under state law. Do you categorically support funding to the cap? Why or why not?
I do support our schools. I support our teachers and our students, and I believe that it's very important that the Assembly ensure that the students and the teachers have all of the funding that they need, so that they can have the resources that they need to continue operating in a healthy manner. Yes. We should support to the cap if possible.
Economic Development
The Assembly has hired a consultant to come up with a Juneau Economic Development Plan. What ideas do you have to diversify Juneau's economy?
I think that we really need to focus on our core businesses that are here. Fishing plays a major role in our community. We need to make sure that we support our fishermen. We also need to support our tourism industry, and make sure that we keep a close eye on any taxes and fees that are charged. It's my understanding that after the 2008 head tax that went into effect, our cruise ship numbers went down. So it's not until this year that those numbers are back to where they were in 2008. So any changes that we make, we need to be very cognizant of how that's going to affect our community. Juneau's a great place to live, we just need to be very careful with any decision that we make.
Housing is a major concern in our community right now, and it's very interesting to watch how those housing dollars when we start to build in our community are spent. When we build locally, with local supplies and local workforces, that money gets recirculated through our economy in the form of building materials being purchased, wages being paid. So it's important that we keep that money local and keep that money recirculating. So housing is one way that little piece out of what's going on here in Juneau.
How do you feel about the city facilitating the reopening of the AJ Mine?
The AJ Mine, it's kind of a contentious subject here in our community. There are several things that we need to take into consideration when we talk about the mine and the first is that we need to have somebody that wants to come in and open the mine. I've yet to see a proposal to open the mine. Should the mine be opened, Juneau owns approximately 60 percent of the AJ Mine. So that would certainly help to reduce the tax burden on our community and our citizens. But the one thing that we have to take into consideration is that we can't open the mine unless we have the guarantee, the assurance that we will continue to have safe drinking water. We cannot affect our drinking water source and as we know that's where a lot of our drinking water comes from in this community. So unless we can maintain or ensure that we are going to have safe drinking water, opening the mine has to come second fiddle to making sure that we have safe drinking water.
Public Safety
In 2013, Juneau police seized nearly $2 million in illegal drugs and drug money. What can the Assembly do to curb drug use in Juneau?
Juneau Police Chief Bryce Johnson was quoted in the Aug. 8, 2014, Juneau Empire regarding this specific matter, or these matters in general. And the Empire reported that the police chief noted that there is an interesting disconnect between the Juneau residents and what they perceive to be the town's biggest issues compared to what the police perceive to be the issues. And it's important that we listen carefully to what the professionals in the industry have to say about these matters, and that we move forward accordingly and making sure that our community understands what our real issues are, because it sounds like there's a bit of disconnect right now.
I think that we really need to make sure that we form strong partnerships with the professional associations and organizations in this community that address those specific issues and that we work with them. They're the professionals and it's important that we listen to what they're saying and that we follow their lead.
Voter Turnout
Voter turnout in Juneau has been abysmal for several years. The city has not seen more than 50 percent of voters participate in a municipal elections in 20 years. As a prospective city official, what can be done to increase civic engagement?
I think it comes down to just making sure that people are aware of the issues that are going on and to let people know that their vote counts, and that when they exercise their right to vote it's their chance to be the boss. And I think that these municipal elections are very important, because each vote counts. There have been some very close races in the past, and I hope folks realize that their vote really does matter in these municipal elections, and it's their chance to exercise their right to tell us what needs to happen.
Southeast Footwear
XTRATUFs or Bogs?
XTRATUFs all the way. I've worn them for years, and tried and true, they keep my feet dry.
View the other candidate profiles