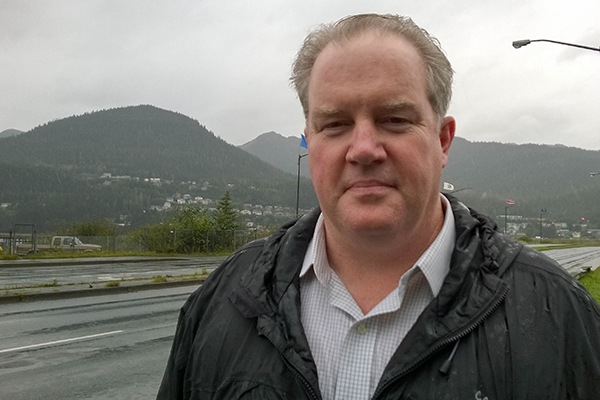 David Fox
Age: 51
Family: Wife, Jennifer; Sons, John, 26, and Daniel, 29; Daughter, Abigail, 21; two grandchildren
Occupation: U.S. Coast Guard civil servant, retired Coast Guard gunner's mate
Current Community Involvement: Former Scoutmaster, former youth football board member
Hobbies/Interests: Hunting, fishing, shooting
Previous government experience: None
Positions on Juneau Issues
Housing
According to a 2012 Juneau Economic Development Council report, the capital city needed to add about 700 fair market homes or rental units and nearly 450 subsidized rental units to achieve a healthy housing market. What can the Assembly do to encourage new housing development that meets the needs of Juneau residents?
I largely think it's up to the Assembly, or in large part, to create an environment where we can start to build good starter homes for families who would like to be here long term.
I'd like to see the Assembly develop some sort of strategic partnership, if you will, for the finance and construction end of things, and see if there are any barriers or what barriers exist and how to adjust those so we can promote those, so we can promote housing. We can make it effective from a cost standpoint, it does cost to bring materials up here. I know that's one the construction industry deals with.
And possibly look at some of the borough land holdings that they have, that the city has, and determine if there's any barriers or anything that — or promote the building on some of that land. Just trying to basically work it from a holistic standpoint. … If we have to go up and out, that's what we have to do. But, just look at all avenues of approach there. But I think the basics are the city working with the folks who are financing and who are constructing. I think that's a really great place to start, 'cause they are the ones with boots on the ground on that.
Homelessness
What are your thoughts on a Housing First facility in Juneau, where chronic inebriates can live and access services, such as Karluk Manor in Anchorage? What role, if any, should the city play in pursuing such a facility?
I think the city should possibly look at doing something like that. Investigating, if you will, into how Karluk Manor does business. How they handle the in and outs, the day to day, and perhaps maybe do some sort of ballot initiative to see if the voters desire that as much as anything else. At least the city would be able to offer an informed choice to the voters if it came to that, as far as where they would put it, what they're looking at, that type of thing. And I think for that, education of the public is a big thing of that.
Downtown Revitalization
Recently a group called the Downtown Improvement Group (DIG) organized a cleanup day in Juneau. What solutions would you offer to make the center of Juneau a better place for residents and visitors alike?
I'd like the Assembly to work with the commission downtown, the downtown revitalization commission. I'd like to see them determine if they can offer incentives to current building holders, if there's something they can do to help them spruce things up. … Obviously they need, not necessarily incentives, but we need to look at ways we can encourage business … all year long, is what we need to look at. Obviously it's seasonal downtown. Very few places stay open. … If there's programs that assist current building owners to get their, you know, to help them get their buildings revitalized, or whatever the case may be.
I think, again, going back to look at that whole approach of just looking at what the commission is, some of the recommendations and then going off of that, I think that's a really great idea. I know they've already done some good work down there to start with.
Transportation & Infrastructure
What's your take on the Juneau Access Project (aka the Road)?
I am pro-road. But I say that, too, I look at it as a three-prong approach. All citizens of Alaska deserve access to the capitol. The road being one of them. But also, we need to recognize the need that the ferries also — they'd need updating as well.
So while I am pro-road, I understand that it should be a combination. If you do the road, you should also look at doing the ferry systems, eventually do the ferry systems as well. And of course the airport access is another way. And communications, as well. I think if you look at it as a combination of those things, or choosing any one of the combination, it will certainly help for the access to Juneau. And conversely, help us get goods up to the interior as well.
For years, the city pursued a second crossing between Juneau and Douglas Island. In 2010, Juneau voters rejected a local bond measure that would have paid for the project, and it has not been as high a priority since. Do you support the second crossing, and if so how should it be financed?
I think it should be financed back through a ballot initiative. I think sooner or later, there is — they will need some access out there. There's some discussion of, as it's called, West Douglas, as it's called, development out there. I know that has come up. Obviously, you can make the road longer, you can look for ways to build out there, and make it profitable to build out there, and those types of things. But sooner or later, it always comes up to having to have a crossing. And I think it's as much looking at it from a public safety standpoint, as it is anything else. If you're gonna, if you want to build around the west side of Douglas over there, I think you're gonna have to have some other type of transportation system to get there, for folks who may need that.
CBJ Budget
The CBJ's finance experts are projecting multi-million dollar budget shortfalls in upcoming fiscal years. How would you address the shortfalls?

Which city services are your priorities to maintain?
An equipment malfunction resulted in no audio for this question. In place of the transcript, this is Fox's response according to the reporter's notes.
Fox says the city should maintain what it has, look for efficiencies and avoid expanding. He says the city needs more revenue, too, and it could come from attracting more young professionals to Juneau.
School Funding
For the first time in years, the Assembly this year did not fund Juneau schools to the maximum amount allowed under state law. Do you categorically support funding to the cap? Why or why not?
An equipment malfunction resulted in no audio for this question. In place of the transcript, this is Fox's response according to the reporter's notes.
Fox says he supports 100 percent funding of schools.
Economic Development
The Assembly has hired a consultant to come up with a Juneau Economic Development Plan. What ideas do you have to diversify Juneau's economy?
An equipment malfunction resulted in no audio for this question. In place of the transcript, this is Fox's response according to the reporter's notes.
Fox says he's following the McDowell Group's work on the economic plan. He likes their ideas.
How do you feel about the city facilitating the reopening of the AJ Mine?
If there is a good, reasonable investigation into it, if you will, I think the Assembly, once it looks at results or proposals, should investigate, should look at it very thoroughly and I think it's a responsibility just to take a reasonable look at it and see if it's something that could work. I know it's a pretty contentious subject, but in the long run, it can be a revenue generator for the city. But the big thing is, is just taking a really close, reasonable look at proposals for opening that up and ensuring it's a good mix for what we do.
Public Safety
In 2013, Juneau police seized nearly $2 million in illegal drugs and drug money. What can the Assembly do to curb drug use in Juneau?
Vigorous enforcement of first time offenders is certainly one way to go. Treatment, treatment centers, treatment programs, any of those things should be consistently funded, should be helped out.
I think, it's a — getting back to — and I keep doing this … things are multifaceted approach to me. … That's kind of a thing, between the treatment, and the law enforcement, and especially treatment for folks who want to do it. I've had members of my own family have problems, distant family have problems, and I can understand the need for them, you know, seeking treatment and wanting help for those types of problems. I think it's a full 360 type enforcement Those programs are often very successful, and I think that's a great thing. And that conversely lessens the law enforcement end of things much as anything else.
Voter Turnout
Voter turnout in Juneau has been abysmal for several years. The city has not seen more than 50 percent of voters participate in a municipal elections in 20 years. As a prospective city official, what can be done to increase civic engagement?
I think consistent education. I know when I was coming up, it was a uh, used to call it civics class. I've had this discussion with several people, and it's a good point of educating at a young age, and saying, "Hey, you know what? This is kind of sort of what civics is about. It's about government, it's about serving your community."
You know, about doing all the — looking at all the benevolent organizations used to be, you know, not a lot of participation in any more. And all those are drivers that would teach young people, "Hey, you know what? You need to participate. Your vote does actually count. Here's where your vote counts."
And being a part of — just not living her, but being a citizen of here, as much as anything else. The other thing from a voting aspect, is, going back to the education standpoint, for anything, ballot initiatives, big contentious items, those types of things, just consistently pushing out to the public, via media as much as anything else, cause that is such a quick and large informer of the masses nowadays. And you can get your word out very accurately and with both points of view, and look up every angle you can and those types of things.
But I think it just a consistent encouragement of people to be involved with their community. And yep, through all those things your vote does actually count.
Southeast Footwear
XTRATUFs or Bogs?
I have Bogs. The XTRATUFs aren't made in America or something nowadays. But I never wore XTRATUFs. I like the Bogs, the form fits better.
View the other candidate profiles