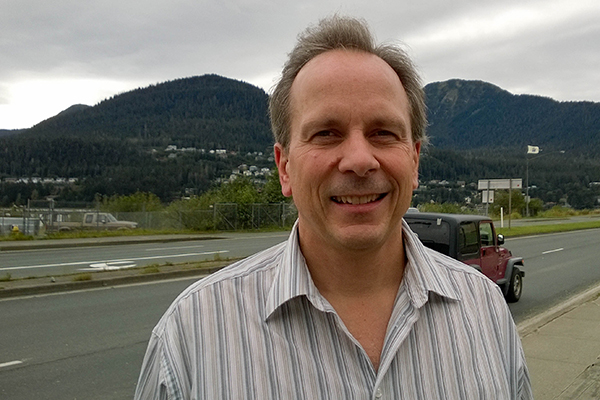 Sean O'Brien
Age: 54
Family: Spouse: Susan Reishus-O'Brien, Children: Brian Reishus (28), Craig Reishus (25), Alex Reishus (23), Thane Reishus-O'Brien (17) and Noah Reishus-O'Brien (15) — All who have attended, or are attending Juneau schools.
Occupation: Currently, Assistant Chief, State Division of Vocational Rehabilitation
Current Community Involvement: Active Juneau Schools Site Council for 15+ years including volunteer of the year at Floyd Dryden, and site council chair within three Juneau schools.  School Board member for 6 years, 2011-present and 2006-2009.  Active volunteer for 8 years as a certified youth swim official.
Hobbies/Interests:
Previous government experience:
Positions on Juneau School Issues
School Budget
As a school board member, what programs and services will you prioritize at budget time?
I think that those programs which best support our kids in the classroom to achieve academic success and specifically go beyond that in becoming graduates and beyond high school are important. There's a whole variety of programs going on in our schools, K-12. I certainly do believe in the current improvements that we're doing to curriculum and professional development for literacy, math and sciences along with music.
Bullying
Hazing and bullying continues to be an issue in Juneau schools, as evidenced by a recent report released by the superintendent. The district already has strict policies in place to punish such behavior. What else can be done to address the issue?
Bullying is a form of abusive behavior, of disrespectful behavior to our kids. It really has to be addressed I think at all levels. Having consequences and having significant consequences is certainly a piece of it. I think also having a culture within our schools that really nip it as much as possible, programs that support respectful behavior and behavioral intervention, which we actually already have quite a few of in our schools already. It really is about an entire walk of life, it's about what's going on at home, what's going on extracurricular activities, what's going on in the school. I think every opportunity that we have to support that at every venue is critical.
School Activities
Last year's middle school travel ban revealed a philosophical schism in the mission of the school district. Should the district focus on academics, or preserve a broader mission that includes extracurriculars and strong sports programs?
In an area, or at a time I should say, which is extremely limited budget resources it's difficult to do it all. I think that a good healthy school system includes both high priority on academic performance and classroom activities and enrichment and still engages our kids to want to come back to school and I think those extracurricular activities, sports are very important to maintain and to build on.
Pre-K
Research has overwhelmingly shown that universal pre-kindergarten has huge long-term benefits, academically and for society. Can you or will you do anything to bring universal pre-K to Juneau?
I think if universal pre-k means that every single child within Juneau has the opportunity to participate in pre-k, we would absolutely love to do that. I know you probably know that we do have some pre-k programs going on right now within our schools and of course we would love to see that expanded and find ways of doing that. There are a variety of options right now, it doesn't cover I think the universal aspect of your question of each and every kid within the Juneau School District. Yes, I certainly support trying to expand that, pre-k as you indicated has a huge positive effect if it's done well at that age group and absolutely has to be supported in every way possible.
School Choice
Some legislators and Gov. Sean Parnell have tried, unsuccessfully, to lift a constitutional state ban on using public money for private and religious schools. Where do you stand on the constitutional restriction?
I believe that our public educational funds need to be spent on our public educational process. There is a place and there certainly is room for a variety of educational options, I support that. We've certainly expanded that in the Juneau School District by including Montessori and being very supportive of the charter school programs, as well as staying at home, the Home Bridge program and so on, those things are really al vital. Choices are critical, however in an environment where we have such a restriction on what revenue and what resources we have for a public educational system I think it's really, really important to prioritize those funds back into the public educational system specifically.
Harry Potter
Which Harry Potter character are you?
That is an interesting question. You know, I don't know. I've watched a few of the movies. I'm really honestly not great with name retention in the Harry Potter series, but I guess the first one that comes to mind would be Harry Potter, if I was so lucky. Sometimes there's a lot of magic that needs to be done in our positions as school board members and maybe some of that magic is a metaphor for part of our role as school board candidates.
View the other candidate profiles