Election News
[display-posts include_excerpt="true" image_size="thumbnail" tag="2018-municipal-election" posts_per_page="3″]
Unofficial results
Mayor
Cody W. Shoemaker: 138
Norton Gregory: 687
Saralyn Tabachnick: 2,745
Beth Weldon: 3,431
Write-In: 21
Areawide
Tom Williams: 2,500
Carole Triem: 3,842
Write-In: 53
District 1
Loren Jones: 4,912
Write-In: 232
District 2
Garrett Schoenberger: 2,152
Don Habeger: 1,693
Emil Mackey: 1,749
Michelle Bonnet Hale: 3,381
Wade Bryson: 2,274
Write-In: 44
School Board
Paul Kelly: 4,067
Elizabeth (Ebett) Siddon: 4,905
Kevin Allen: 3,581
Write-In: 310
Unofficial results PDF
Election night coverage
Sample ballot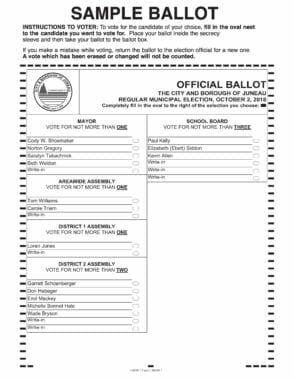 District 1 Assembly
District 2 Assembly
Learn about your candidates for Juneau School Board and Juneau Assembly in this forum moderated by the League of Women Voters of Juneau's Alyson Currey.
Live video streams will be available here, on Facebook, at the Mendenhall Valley Public Library, and on KTOO at 104.3 FM.
The event is free and open to the public, but seating is limited. Doors open at 6:30 p.m. and the program begins at 7 p.m. on Thursday, Sept. 20, @360 in the KTOO building. We plan to spend about 30 minutes with the school board candidates, have a brief intermission, and then 90 minutes with the assembly candidates.
Co-hosted by KTOO, Juneau Empire, and Juneau Votes.
Election News
[display-posts include_excerpt="true" image_size="thumbnail" tag="2018-municipal-election" posts_per_page="5″]