Alaska 2020 General Election
November 3, 2020
Election returns
Election news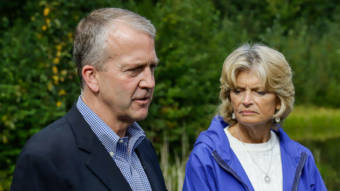 Alaska's Dan Sullivan is among 20 Republican senators who haven't declared themselves with or against the Trump loyalists.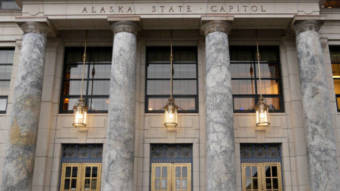 Major differences among Republicans mean Alaskans still don't know who will be in the majorities in both the House and the Senate.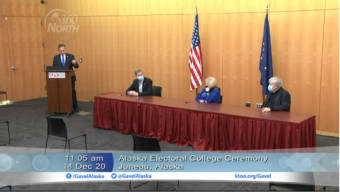 Alaska's electors are casting their ballots for President Donald Trump today.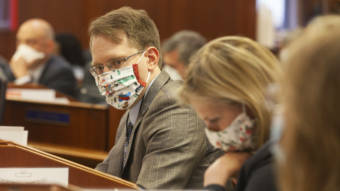 Pruitt and the attorney on the case, Stacey Stone, said they believe the alleged violations changed the outcome of the race. Reached by text, Snyder said there's "absolutely no" merit to the allegations and the Division of Elections was doing its job. 
Juneau-area candidate profiles
House District 33
House District 34
FAQ
Early voting started on Oct. 19 in Alaska, and more than 35,000 Alaskans have already returned their absentee ballots. For those who haven't cast their ballots, here are answers to questions you might have about voting this year.
Election timeline
Oct. 19 – Early voting, absentee in-person, electronic transmission and special needs voting begins. Locations, dates and times are posted online.
Oct. 24 – Absentee vote-by-mail ballot application deadline
Oct. 31 through Nov. 2 – Absentee in-person, special needs and early voting available regional elections offices from 10 a.m. to 4 p.m.
Nov. 2 – Absentee electronic transmission ballot applications are due at 5 p.m.
Nov. 3 – Election Day; ballots being returned by mail must be postmarked by this day. Electronic transmission ballots being returned by fax must be received by 8 p.m. Polling places are open from 7 a.m. to 8 p.m.
Nov. 10 – Election official start counting absentee and questioned ballots
Nov. 13 – Deadline to receive absentee ballots postmarked by Election Day within the U.S. and U.S. territories.
Nov. 18 – Deadline to receive ballots postmarked by Election Day from outside of the U.S.
Nov. 25 – Target day to certify the general election
Have a question about voting in the general election? Fill out the form below and we'll do our best to get you an answer before Election Day.
General questions
Who can vote?
U.S. citizens age 18 years or older and who are registered to vote in Alaska at least 30 days before the election can vote.
How many different ways can Alaskans vote?
There are three main ways: absentee, early in-person and in-person voting on Election Day.
Can a person vote twice?
It is illegal and a felony to vote twice in Alaska.
Is there assistance for voters in languages other than English?
Yes. There is assistance available in several Alaska Native languages, as well as in Spanish and Filipino.
How can Alaskans learn more about the candidates and ballot measures this year?
Alaska Public Media is hosting debates between the U.S. House candidates and the U.S. Senate candidates. In addition, Alaska Public Media and KTOO hosted debates in eight of the 39 legislative races that have more than one candidate, which are available online.
Alaska Public Media published articles about Ballot Measure 1 and Ballot Measure 2.
Individual public media news organizations have been covering races in their districts. KTOO has an election guide for Juneau's legislative candidates. The Anchorage Daily News published an election guide that covers the congressional candidates and the legislative candidates in Anchorage and the Matanuska-Susitna and Kenai Peninsula Boroughs.
COVID-19
Do I have to wear a mask or facial cover when I vote in person?
The Division of Elections strongly recommends voters wear facial coverings while they're inside a polling place and in cities where facial coverings are required.
Have there been any changes to voting options because of COVID-19?
No. The state has not changed or made adjustments to voting options other than precautions related to COVID-19. Vote-by-mail, early voting, absentee in-person, special needs and electronic transmission voting will continue to follow the timelines established by state law.
How is COVID-19 changing the election?
There will be more safety precautions at polling locations, including keeping voting booths further apart for social distancing. Since more voters plan to vote absentee, it will be longer before the results are known.
Voting in person
What type of identification do I bring to the polling place?
Voters must show one form of ID. You can use your voter ID card, driver's license, state ID card, passport, military ID card, birth certificate, hunting or fishing license. Voters may also use an original copy of a utility bill, government check, bank statement, paycheck or another government document to verify their name and current address.
What happens when I don't have ID?
If an election official can't verify your identity, you will vote with a questioned ballot.
What if my name isn't on the register?
You will have a questioned ballot and will need to complete a questioned ballot envelope. After you vote, the ballot is placed in a secrecy sleeve and sealed inside the questioned ballot envelope. The questioned ballots will be returned to the election supervisor for review and will be counted by the Questioned Ballot Review Board.
The Division of Elections had problems finding poll workers in seven rural precincts in the primary election. Has that been fixed for the general election?
Division Director Gail Fenumiai said there is at least one election worker for each precinct. But the state is still looking for more workers in northern, western and southwestern Alaska. If there are shortages on Election Day, voters will be asked to fill out absentee ballots in person on Election Day, so their votes will still count. The division also has worked to fix a problem that prevented many voters in Mertarvik from voting in the primary. They will vote using absentee ballots on Election Day.
Early and absentee voting
What's the difference between early voting and absentee in-person voting?
In communities where the trained election officials aren't available to check whether voters are registered, Alaskans can still vote early at locations listed on the Division of Elections website. It's just not called "early voting." It's known as "absentee in-person voting."
One difference between the two is that all early voting ballots cast by Oct. 29 will be included in the election night results. Early voting after Oct. 29 will be counted seven days after Election Day. All absentee in-person ballots also won't be counted until seven days after Election Day, along with all other absentee ballots.
What's different about early voting?
It's a lot like voting on Election Day but done in the 15 days before the election. A trained election worker at an early voting location has a voter sign their name and provides a ballot. The early voting locations are in Anchorage, Fairbanks, Juneau, Nome, Palmer and Wasilla.
When and where can Alaskans do early voting?
There's a list of locations on the Division of Elections website, which also includes the days and times at each location.
Is it too late to apply to vote absentee?
Not yet. The deadline to request an absentee ballot is Saturday, Oct. 24. The state Division of Elections must receive the application by then, so Alaskans who want to apply by mail should send in their applications as soon as possible. Alaskans with a driver's license or state-issued ID can apply online.
With COVID-19, how many more people are planning to vote absentee?
Many more than in any previous year. There have been at least 120,419 applications so far, equal to more than a third of the total number of votes cast in Alaska in the last presidential election. The absentee ballots already returned equal roughly 10% of the 2016 total statewide vote.
Do absentee voters need a witness?
No, not this year. A judge ruled that absentee voting witnessing is not required due to concerns about the pandemic. The Alaska Supreme Court allowed that decision to stand. But voters must still sign and provide the personal identifier on the envelope.
Is there anything different about the absentee ballots?
The ballots are identical to those for voters casting ballots in person. Absentee voters must sign the envelope provided with the ballot and provide a personal identifier — either their voter number, driver's license number, date of birth or the last four digits of their Social Security number.
Will voters have a chance to correct a mistake if they fail to sign and provide an identifier on their envelope?
While municipal elections in Anchorage and Juneau allow voters to fix mistakes, state law doesn't provide for this. A lawsuit was filed to try to allow this, but a judge ruled against it. Voters will be notified if their absentee ballot was rejected within 60 days of the election results being certified. Since the target for certifying the results is Nov. 25, this will be in late January.
What's the deadline for mailing an absentee ballot?
The envelope must be postmarked by Election Day, Nov. 3. Voters can ask at their post office for their envelopes to be postmarked in person. If they don't do this, the U.S. Postal Service sends mail across Alaska to Anchorage to be postmarked. So on or the day before Election Day, voters should ask a postal clerk to postmark the envelope.
If I applied for an absentee by-mail ballot, do I have to vote by mail forever?
No. Applications for absentee by-mail ballots are only valid for the calendar year.
U.S Senate Debate
Sen. Dan Sullivan and Al Gross
U.S. House Debate
Rep. Don Young and Alyse Galvin
State legislature debates
Senate District B (Fairbanks/North Pole):
Republican Robert Myers, independent Marna Sanford and independent Evan Eads.
House District 1 (Fairbanks):
Republican Rep. Bart LeBon and Democrat Christopher Quist.
House District 28 (South Anchorage/Hillside/Girdwood):
Republican James Kaufman and Democratic-nominated independent Suzanne LaFrance.
House District 15 (JBER):
Republican David Nelson and Democrat Lyn Franks.
Senate District N (South Anchorage):
Republican Roger Holland and Democrat Carl Johnson.
House District 25 (South Anchorage):
Republican Mel Gillis and Democratic-nominated independent Calvin Schrage.
House District 27 (East Anchorage): Democrat Liz Snyder (Republican Lance Pruitt declined to participate).
House District 31 (Homer/South Kenai/Kasilof):
Republican Sarah Vance and independent Kelly Cooper.
Elections Archive