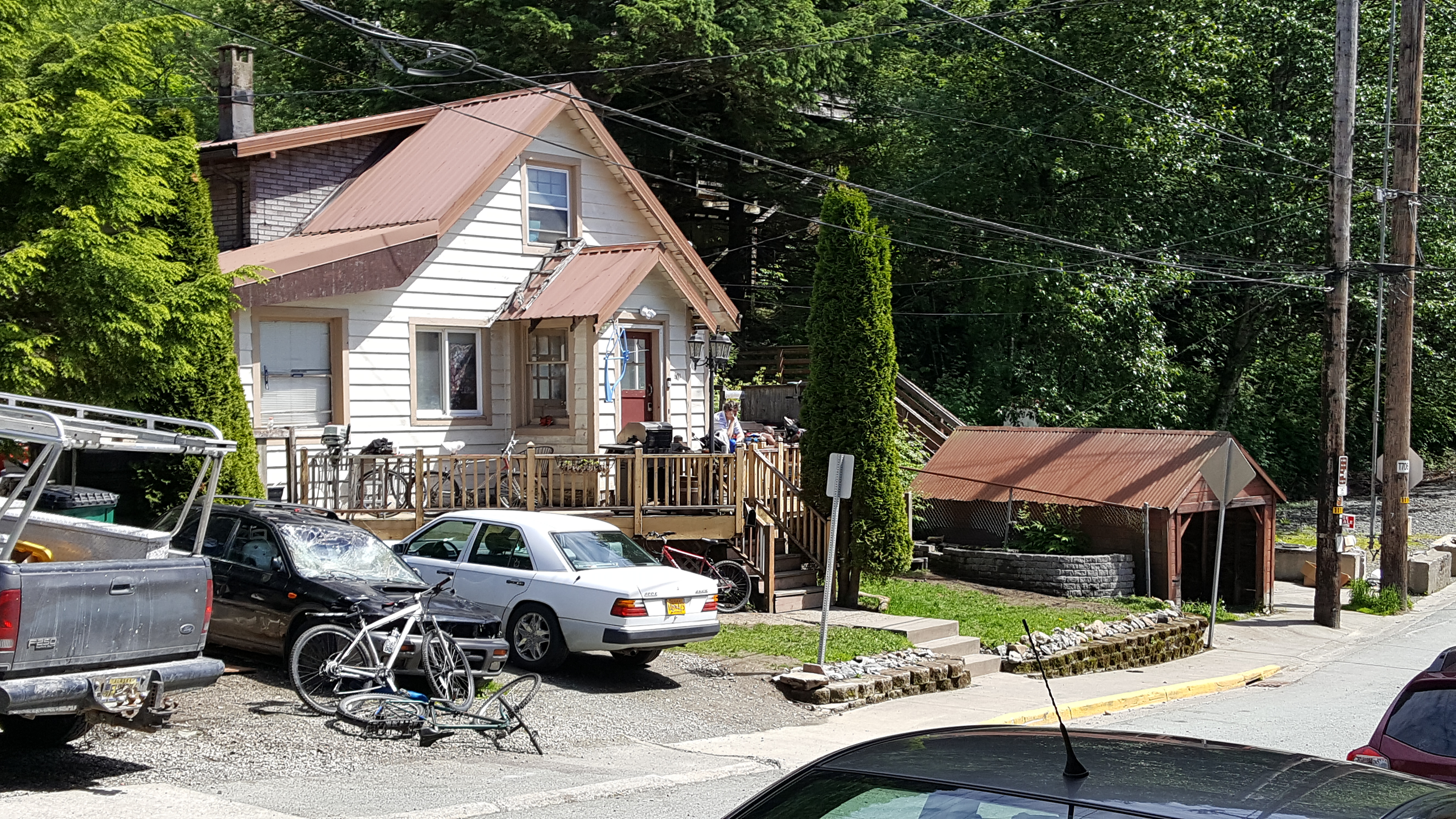 A legal conflict between the mother-son owners of a Harris Street "problem property" in downtown Juneau complicates one owner's cleanup efforts.
Co-owner Camilla Barrett's power of attorney David D'Amato explained Tuesday night the legal issues surrounding 401 Harris Street at an Uptown Neighborhood Association meeting at Holy Trinity Episcopal Church.
More than 60 community members attended the meeting with questions for representatives of the Juneau Police Department and the City and Borough of Juneau.
Jacqueline Tupou's family owns the Arctic Corp building, which until recently housed the Juneau Community Charter School.
She said the building will install 12 new cameras outside the building to deter crime.
"The neighborhood is really, really concerned about these problems," Tupou said. "We've tried to be a good neighbor and put in lots of good cameras because sometimes good neighbors involve having good cameras, and that's kind of where we're at with our neighbors there."
Tupou's building sits across the street from the house at the center of the neighborhood's concerns.
The Harris Street house is owned by Juneau resident James Barrett and his mother, Camilla Barrett, who lives in Washington state.
In recent years, the residence has become a regular fixture in the city's police logs.
Juneau police have logged more than a hundred incidents — ranging from parking complaints to drug activity — at the address since the beginning of 2017.
In June, a confrontation between a neighbor and visitors to the home escalated into gun shots.
No one was injured, but neighbors Tuesday were visibly frustrated with what they believe is a lack of response from police.
Police responded to a noise complaint July 6 near the property, which led to three arrests outside the house.
Neighbors asked police at the meeting why all the calls, search warrants and arrests associated with the home have not been enough to shut it down.
Juneau Police Chief Ed Mercer understood their frustration, but said police must build a solid case to convict anyone.
Receiving 911 calls doesn't help them unless they can get good evidence.
"We need good witnesses, we need people to say 'that person did that' … If we were able to build a solid case on it, we would move forward with it," Mercer said. "I know it's frustrating, I know it's scary."
Camilla Barrett pays D'Amato to be her power of attorney and to make decisions on her behalf regarding properties she owns in Juneau.
Camilla Barrett hired D'Amato in 2016 to help address problems with some of the Barretts' other properties nearby — the Bergmann Hotel and two rental homes.
He oversaw the eviction of tenants from those properties, but told neighbors Tuesday that it appeared some of them had merely moved in with James Barrett.
After the meeting, D'Amato rushed to catch a flight but speaking by phone from the airport said that his goal is to get 401 Harris Street cleared out in the coming months.
"We cleaned up the Bergmann; we cleaned up the rental houses; we got the lot squared away," D'Amato said. "We've done tremendous, tremendous work in the last 18 months. We still need to get this one done. … We'll get this done, I'm not worried about it."
Camilla Barrett previously attempted to file for legal guardianship of James in court in December 2017, D'Amato said, due to his health problems and concern that he could not take care of his property. The case was dismissed in February.
Now they're trying to another legal tactic, called partition — a kind of divorce between property owners, but not quite.
"The problem is, right now, two parties have half of a cake and they say we can't agree on how to eat or distribute this cake," he said.
The judge will decide whether one party buys the other out or the property will be sold and the profits split.
D'Amato is confident the partition will be successful. Then several steps will be taken to legally evict and remove James Barrett and the other people living at the house.
Camilla Barrett wants to see the property cleaned up just as badly as the neighbors do, D'Amato said.
James Barrett could not be reached for comment.
The Uptown Neighborhood Association will hold a follow-up meeting Aug. 7.