"We're in the middle of a S.W.A.T. team!" Alison Talley said that warning prompted her to look outside Holy Trinity Episcopal Church on Friday. She saw several police officers dressed in body armor and armed with rifles.
In a press release, Juneau Police Department said the officers served a search warrant on a home in the 400 block of Fourth Street.
Officer Jason Van Sickle said the department wouldn't comment on the search because it's part of an open investigation.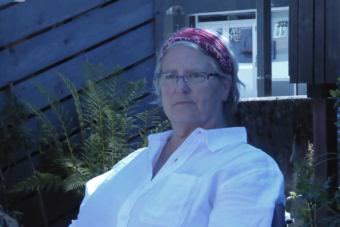 The next day, Monica Ritter stood in her front yard, down the street from the house. She's co-founder of the Uptown Neighborhood Association. She's lived in this neighborhood for 24 years and she said over the past four years she's heard neighbors complain more and more about criminal activity in the area. Lately, they've been worried about the house that police searched and one right next door.
"All I know is from what the neighbors see and hear, and the phrase, 'Those two houses.' Keeps coming up," Ritter said. "… The police officer has said at our meetings that they're working on surveillance and working on the case that involves illegal activity coming and going out of those two houses."
Ritter said she and Joanie Waller started the Uptown Neighborhood Association in October last year because they wanted to have a closer relationship with their neighbors and the city.
She said there are roughly 100 people on the association's email list and they're actively trying to add more neighbors.
"So, we're hoping that whoever owns the property where all these negative happenings are going on will have to be held accountable and have to clean up their properties – physically and human activity-wise," she said.
James Barrett lives on Harris Street, across from the two homes. He said he and his mother, Kathleen, own them through Breffni Place Properties, a limited liability company. Barrett said the police search was about stolen property, and he has had some problems with the tenants. He declined to provide further comment.
City records show the Barretts' company also holds ownership of the Bergmann Hotel, which the city condemned for safety hazards in March. The hotel is less than a block from the house police searched Friday. City residents have complained about criminal activity inside the hotel for years.