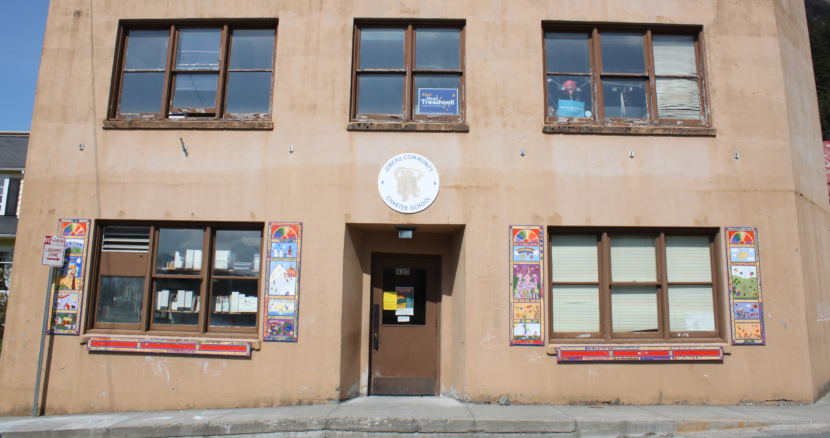 With the help of parents, professional movers and a dozen or so football players, the Juneau Community Charter School moved desk by desk into Juneau-Douglas High School this week.
The school has operated out of the Arcticorp building on Harris Street for about 20 years. It's an aging building with a growing list of maintenance issues.
With more than 90 students from kindergarten through eighth grade, the school has been looking to move for some time, according to Principal Caron Smith.
Safety and security have become a concern as crime continues to be a problem in the neighborhood. When David Means, the school district's outgoing director of administrative services, brought up the idea to move into JDHS, Smith said they jumped at the opportunity.
"It is definitely more than time to be out of the Arcticorp building," Smith said.
Smith took over as the school's first principal last year. While cleaning out her office recently, she said she found documents related to plans to move into the Marie Drake building 10 years ago. Others detailed a potential move to the building that now houses the Juneau School District administrative offices.
The school will move into five classrooms in the north wing of JDHS. It will share certain facilities like the cafeteria, gym and home economics classroom with JD students and staff.
"Everybody is going in in good faith knowing that the first year there's going to be challenges and we can't just base everything on a few bumps in the road," Smith said.
Smith said the charter school will start earlier at 8:30 a.m. to simplify pick up and drop off. The high school will still start at 9:15 a.m.
The charter school signed a five-year lease with the school district with an option to renew after three years.
The $130,000 per year lease is the same amount they paid in the Arcticorp building.
"They're all Juneau-Douglas kids and they all deserve to be in a really safe and, you know, caring environment and I think that's what we're getting with this location and so I'm really excited," Smith said.
Smith said she hopes to be completely out of the Arcticorp building by Monday.
She looks forward to settling into the new space and making it feel like home for the charter school before school starts again on Aug. 20.