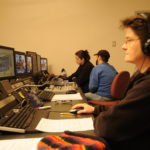 Those of us who have a job here believe that KTOO is a terrific place to work.  We offer our employees a competitive benefits plan, a family-friendly work environment and extraordinary opportunities for personal growth and professional development.
KTOO is a community licensed public media organization with a statewide mission of public service and a reputation for leadership and innovation. KTOO operates 360 North, a statewide television service similar to C-Span, as well as a full-service production house. KTOO's radio stations – KTOO News, KRNN, and KXLL Excellent Radio – are members of the regional organization CoastAlaska and the Alaska Public Radio Network. We operate from well-equipped facilities in downtown Juneau, Alaska, the state capital and one of the most beautiful and scenic small cities in the country.
Operations Manager (posted 7/29/2016)
Regional Development Director, CoastAlaska (posted 6/7/2016)
News Editor, Alaska's Energy Desk (search reopened 7/6/2016)
KTOO and CoastAlaska are Equal Opportunity Employers.  We are committed to diversity in hiring.  Read our Diversity Policy here.