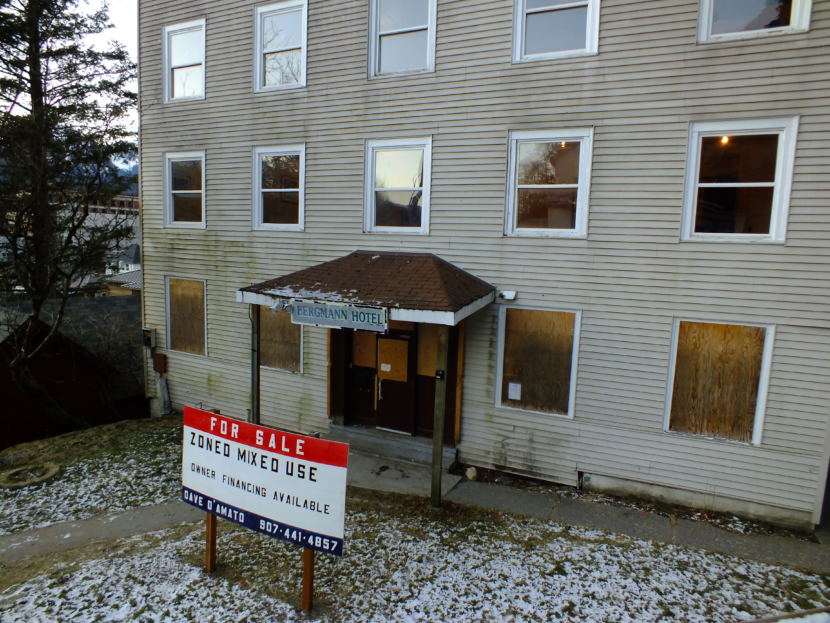 Downtown Juneau's Bergmann Hotel is now fit for human occupancy.
"I'll show you one of my favorite sentences in the last month and a half," said David D'Amato as he checks his smartphone for an email he received from a city building official.
D'Amato is a representative for Breffni Place Properties LLC, which owns the Bergmann Hotel.
"'The condemnation order is hereby lifted,'" D'Amato reads. "'I will remove the condemnation placard on Saturday, December 30th, 2017.'"
D'Amato said all of the required repairs to the Bergmann Hotel have been completed. They include repaired or replaced sprinkler heads, repaired doors and windows allowing for an emergency exit, fire caulk applied to possible penetration spots in the walls and ceiling, and a repaired fire alarm system. D'Amato also temporarily covered a stairwell skylight that had broken glass.
"As a family, we're really proud of it," said Maureen Barrett-Smith, daughter of Breffni Place Properties owner Camilla Barrett of Washington state.
"I think that's a really big point," Barrett-Smith said. "We're really proud of being able to come in and kind of interject ourselves into the situation and be able to bring it back. I mean, the building is in good shape. It's looking good, and it's getting clean. Dave's been a godsend. So, we're really pleased with where we're at."
But the historic building will not be opened to tenants anytime soon. It's up for sale.
"Our intention is to guarantee to the city and the public that the bones of the building are great and that anybody can move forward without any reservation about windows, doors, roof, foundation, rest of that," D'Amato said. "This is going to be a good shell for somebody to paint their new design for this part of town in."
D'Amato said the new owners can do what they want.
At the very least, he hopes they will restore the original cedar shake siding that's been covered up.
"At some point, this looked old to some people's eyes. That stuff is still right underneath here," D'Amato said as he tried peeling back some of the vinyl siding that's covering the cedar shakes.
D'Amato has a background in homelessness and public health issues in Anchorage.
When he first arrived in Juneau, he said social service providers asked him not to close the building because it was the residence of last resort for those with medical or psychological issues.
"At that time, Camilla took on, I think, the saintly burden of allowing all of that to go on," D'Amato said. "She lost of ton of money over the course of that assistance that she was providing to the city and to the homeless community."
D'Amato said the Bergmann wasn't really supported in a way that he thought was most helpful for the homeless population.
"I was not happy with what I was seeing down here, and I wish that we would've gotten more support from the folks who we were serving and I wish the people who were here to be served by those homeless providers were better served," D'Amato said.
D'Amato said Camilla's oldest son, James Barrett, became seriously ill a few years ago. He said Barrett's physical ailments affected his mental functioning and his ability to manage his mother's properties. He also believes Barrett may not have been forthcoming to his mother about the residents placed at the Bergmann and the hotel's condition, the now-demolished Gastineau Apartments, and two small rental houses between the hotel and the Holy Trinity Episcopal Church.
D'Amato said those houses were a haven for drug activity.
Juneau Police officers served search warrants there in August. D'Amato already has two potential buyers interested in fixing them up.
A new manager was hired in August 2016 to turn the Bergmann Hotel's image around as it carried the stigma of a place for illegal activity. D'Amato said the manager hired an unlicensed handyman who attempted to repair the sprinkler system. But, instead, part of the second floor was flooded and the entire building's water was shut off.
Then last March, the Bergmann was condemned by the City and Borough of Juneau over health and safety hazards. That new manager, Charles E. Cotten, Jr., was arrested last October for allegedly dealing methamphetamine. He's currently awaiting trial in U.S. District Court.
The Bergmann Hotel was built in 1913. It's been listed on the National Register of Historic Places since 1977.