Here's a look back at the capital city's biggest stories of 2017.
State budget woes trickle down
State officials continued slashing budgets, cutting Alaska Permanent Fund dividends and closing a gap between state spending and revenue with savings.
Gov. Bill Walker vented at a July press conference.
"The process is broken. There's no question, the process is broken that we use in Alaska on budgeting. I've heard from many Alaskans that are frustrated with how long it takes for something to happen, how long it takes for the budget to be passed. Last three years, we've gotten right up to the edge of a government shutdown. At the very last, it doesn't, but we have to send out notices to thousands and thousands – tens of thousands – under the contract. Teachers get pink slip notices. We can't do the uh, the Alaska Marine Highway System can't put out a ferry schedule because we don't know where the funding is going to be or not. It's just a, a terrible way to, terrible way to run a state."
The membership of the Alaska Legislature isn't changing much in the upcoming legislative session, and with elections in the fall, lawmakers are poised to continue drawing down state savings again without a sustainable budget.
The contraction in state government is catching up with the capital city.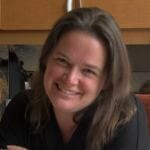 "Juneau really bore the brunt of those losses," analyst Meilani Schijvens said, addressing the Southeast Conference in September. "If you look at Juneau, they had their third largest population decline in the history of that community, because they're really ground zero for state jobs and state wages."
Fall enrollment numbers in Juneau schools are down. The city's municipal budget is down.

One area where Juneau's outlook is bright is in tourism. The city completed a $54 million cruise ship dock expansion to accommodate bigger ships, better. Seasonal passenger counts are projected to grow by about 50 percent to about 1.5 million people in the next decade.
Teens set Project Playground ablaze
At Twin Lakes in April, smoke billowed and flames roared as a beloved, community-built playground burned to the ground.
Kala Burras was 11 at the time and had watched the fire crews put out the blaze at Project Playground.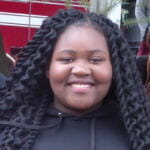 "It was really important because I liked to play on it every day and it was just really fun to play on it and now that it's gone, it's really sad," Burras said.
No one was injured. Local authorities charged two 13-year-old boys with arson. They recently received the juvenile justice system's equivalent of a guilty verdict. The state is seeking supervision and restitution. Specifics are confidential.
Insurance, fundraising and community labor are expected to cover a new and somewhat improved Project Playground. The working timeline calls for a contractor to do major construction in June and smaller scale community construction in August.
A rough year for the Barretts
In March, the city condemned the historic Bergmann Hotel over health and safety issues, leading to the mass eviction of about 50 residents.
The hotel was one of several properties owned or controlled by James M. Barrett, his mother Camilla Barrett, aka Kathleen Barrett, or limited liability corporations they control.
In August, heavily armed police kitted out in body armor served a search warrant on a downtown home the Barretts own. A few weeks later, James Barrett was temporarily detained as police executed a search warrant on his downtown home. Authorities did not publicize charges or arrests after either search.
"So we're hoping that whoever owns the property where all these negative happenings are going on will be held accountable and have to clean up their properties – physically and human activity-wise," Monica Ritter said after the first raid. She's a co-founder of the Uptown Neighborhood Association.
Meanwhile, the city's lawsuit to recover demolition costs is still pending for another condemned downtown property the Barretts own: the Gastineau Apartments.
The trial date in Juneau Superior Court has been pushed back repeatedly, and is now scheduled for Feb. 26.
Move along…
Juneau's indigent and homeless population endured several forced displacements, though new social services also came online.
The Juneau Assembly adopted an "anti-camping" ordinance in February. It empowers police to cite people sleeping on private property in downtown areas between midnight and 7 a.m.
More people lost their homes with the Bergmann Hotel's closure, including Chris Clark. At a temporary shelter, he said he lost his rent money — and a lot more.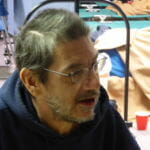 "I paid $750 and they're not giving me that money back. I'm not only homeless. I'm homeless with AIDS and I have no clothing, no medication, no anything. I have nothing," Clark said.
Later, a tent village sprung up on the vacant subport lot downtown. The Alaska Mental Health Trust owns the land and served the campers with trespass notices. It cleared the camp in September.
Also in September, apartments for 32 of Juneau's most vulnerable people opened. Juneau's Housing First complex provides permanent, supportive housing, and features an on-site clinic.
Mariya Lovishchuk helps manage the project.
"The idea is just having housing, nice housing, in itself is a stabilizing force in people's lives," she said. "And what we know from other projects is that even though people don't have to participate in services, they participate a lot more than when they have to do it as a condition of something."
This winter, the city also opened a new emergency warming shelter for especially cold nights. There are temporary cots for up to 20.
More 2017 news of note
---
Jeremy Hsieh is the news director of KTOO. Follow @jmlhsieh