Update | 8:49 a.m.
The Legislature passed a budget that avoids a state government shutdown Thursday night.
The part of the budget directly controlled by the Legislature includes $4.1 billion. The spending plan avoids cuts to school funding. It sets permanent fund dividends at $1,100 – about half of the amount set under state law.
Bethel Democratic Sen. Lyman Hoffman said both House and Senate negotiators gave ground to reach a compromise.
"No one got what they fully wanted," Hoffman said. "We had to concede. They had to concede. And we came up with this compromise package."
The budget closes a $2.5 billion gap between what the state spends and what it raises in taxes, fees and oil royalties. It does this by drawing money from the Constitutional Budget Reserve.
The House narrowly approved drawing money from this reserve, with only one vote to spare.
North Pole Republican Rep. Tammie Wilson voted against both the budget and the reserve draw.
"We could have really made a difference this year," she said. "Instead, I think we spent more time looking for more revenue, instead of how we could get our house in order."
But Anchorage Republican Rep. Charisse Millett said it was important to avoid a shutdown.
"Nobody's happy tonight," she said. "Nobody. Nobody in the other body, nobody on this body. I think that we can all breathe a sigh of relief to know, though, that we're giving the state of Alaska the confidence that there won't be a government shutdown. My son just left for commercial fishing. One of the last things he said: 'Mom, don't let me down.'"
Lawmakers also passed a bill that adds restrictions on opioid prescriptions. Its goal is to reduce the number of drug overdose deaths.
But the Legislature didn't pass a plan to balance budgets in the future. And they also failed to agree on a capital budget.
Original story | 5:19 p.m. Thursday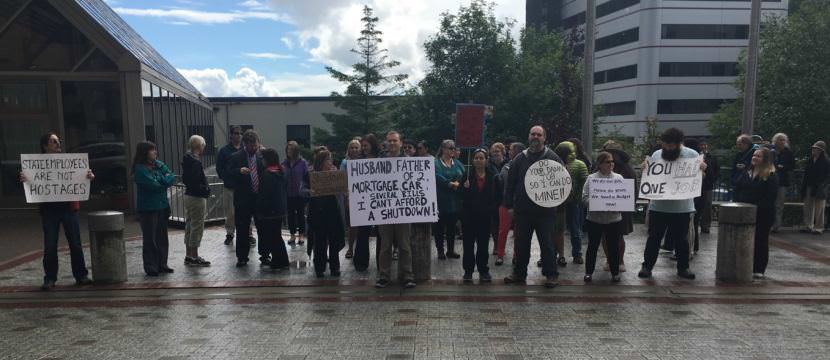 State lawmakers are working on a budget compromise to avoid a government shutdown that could be completed as soon as tonight.
The outline of an agreement became clear Thursday afternoon. The primary source of school funding would not be reduced. Alaska Permanent Fund dividends would be cut in half, to $1,100. Future state purchases of oil and gas tax credits would end. And the $4.2 billion budget includes a cut in state government spending of $129 million, or 3 percent.
A conference committee of House and Senate members agreed to these pieces on today. Homer Rep. Paul Seaton said both chambers got some things they wanted.
"There are a number of items that are House," Seaton said. "There are a number of items that are Senate. And so this is very much a compromise budget. … And we want to prevent a shutdown to the state that would be very costly, very disruptive, really hard on the economy of the state as well."
Both chambers were waiting on members to return to Juneau to vote on the package.
To close the $2.5 billion budget gap, the state would draw from the same piggy bank it has used in other years. It's known as the Constitutional Budget Reserve, or CBR.
But drawing from the CBR isn't a sure thing. It requires three quarters of the members of both chambers supporting the draw. That means at least eight members of the Republican House minority caucus must back it.
Anchorage Republican Rep. Lance Pruitt expressed misgivings about the compromise. He didn't spell them out.
"I felt there was a different direction that we should go," Pruitt said. "But obviously, there's a lot of other moving pieces here and so – I'll leave it at that."
The CBR draw would allow the state to avoid tapping earnings from the permanent fund for the first time, in order to close the budget gap.
Both sides gave up something. The House majority didn't get a $1.7 billion deposit into the public education fund, which they hoped would pay for future school budgets. And the Senate majority agreed to a higher level of spending than it had sought.
If the compromise passes, it would avoid the first state government shutdown in Alaska history.
Permanent Fund Dividend office worker Bradley Johnson led about 30 state workers across Fourth Street from the Capitol in a protest against a shutdown. He said they wanted to send lawmakers a message.
"I find it better to expect the worst and then have a, you know, hopefully have a better outcome," Johnson said.
The compromise doesn't address the fact that the state government only brings in about 40 cents for every dollar it spends. For the second straight year, the House and Senate failed to agree on changes that would balance the budget in the future.
And time is running out. There isn't enough in the CBR to cover a similar budget gap next year.
Even if they agree on the operating budget, the Legislature's work isn't done. The two chambers haven't agreed on a bill intended to curb overdose deaths from opioid drugs. And they haven't agreed on a capital budget to fund roads and other infrastructure.
There are key differences over the capital bill. The House included more money for permanent fund dividends, which would allow PFDs to be the full $2,200 mandated by state law. It's not clear when lawmakers would meet to resolve their differences. The second special session must end by July 15.