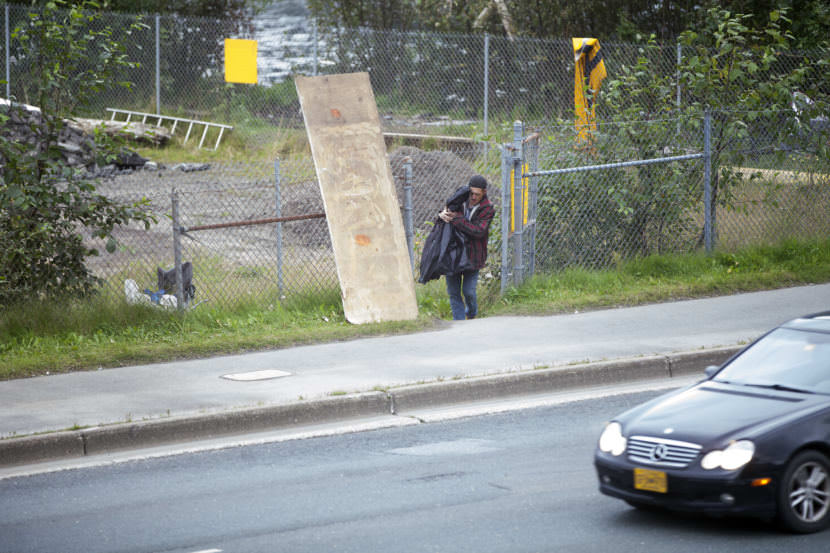 Authorities cleared a downtown homeless encampment without incident this week. This comes as the City and Borough of Juneau looks to develop its strategy for tackling its homeless crisis.
Tents began sprouting up this summer on the former subport property off Egan Drive that's owned by the Alaska Mental Health Trust. The Trust Land Office posted a trespassing notice two weeks ago and Tuesday was the deadline to vacate.
Police reported clearing the remaining people from the homeless encampment without incident.
"I think it went very smoothly," said Wyn Menefee, acting executive director of the Trust Land Office. "We were very pleased to see that we had cooperation from all the campers that had been on the property. Most of them had already moved off and as of about 10 a.m. we had just two remaining camp groups that were in the process of packing and by noon they were off the property."
His office last month closed on the sale of an adjacent parcel for $1.3 million to Juneau Hydropower. The energy startup has plans for a district heating and cooling plant.
Social care agencies were also on the ground during Tuesday's sweep by police. The nonprofit Polaris House donated a van and driver to help people move their belongings, A case worker from the Juneau Alliance for Mental Health, Inc. also assisted.
This comes as a city task force is working to craft a strategy to tackle the community's homelessness crisis – Juneau's homeless population is the third largest in the state.
Some ideas are short-term: a sanctioned winter campground and a warming station for when temperatures drop below freezing.
Polaris House's Executive Director Bruce Van Dusen said campgrounds, whether sanctioned or not, are not a long-term solution.
"Providing camping space for persons that are homeless is not a way to end homelessness," Van Dusen said. "If we continue to provide supports and services that allow people to stay homeless then we're going to continue to have a homeless problem."
Nonetheless, City Housing Officer Scott Ciambor said several city-owned sites are still under consideration by the city's task force.
"They didn't necessarily settle on the idea that they liked the idea of a winter campground anyway but they just wanted to talk about it some more," Ciambor said.
Additionally, the task force is looking at similar models to Juneau Housing First, a 32-unit apartment complex, slated to open next week. That will house some of the community's most vulnerable homeless residents.
Initiatives like these, ones that help provide a roof over one's head, are finding favor on the task force, he said.
"What they were more enthusiastic about was getting more details on the Juneau Coalition on Housing and Homelessness proposals," Ciambor said, "so I'm getting some additional details on each of those."
Those proposals include rental assistance for people unable to keep up with payments. Another model is scattered site housing which would be city-subsidized rentals scattered throughout the community. All of these proposals would cost money. The scattered site housing program could cost about $12,000 per unit, per year.
The city has also applied to the board of the Alaska Mental Health Trust Authority to fund a full-time coordinator for homeless services for the next three years. That request is being considered at the authority's board meeting this week.
As for the displaced, a few have ended up at the Glory Hole downtown shelter and soup kitchen, though none wanted to comment.
Editor's note: Scott Ciambor's spouse is a CoastAlaska employee.
KTOO's building sits on land leased from the Alaska Mental Health Trust Authority. KTOO has also applied for and received occasional grants for special reporting projects from the authority.