Updated | 5:23 p.m. Thursday
Miss Alaska USA Alyssa London arrived in Juneau on Thursday afternoon, making a stop at Sandy Beach in a series of visits to Juneau area schools.
— Tripp J Crouse, KTOO
---
Original story | 10:19 a.m. Thursday
Miss Alaska USA encourages pride in heritage, education in Ketchikan visit
Miss Alaska USA Alyssa London was in Ketchikan this week, visiting Fawn Mountain Elementary School on Wednesday.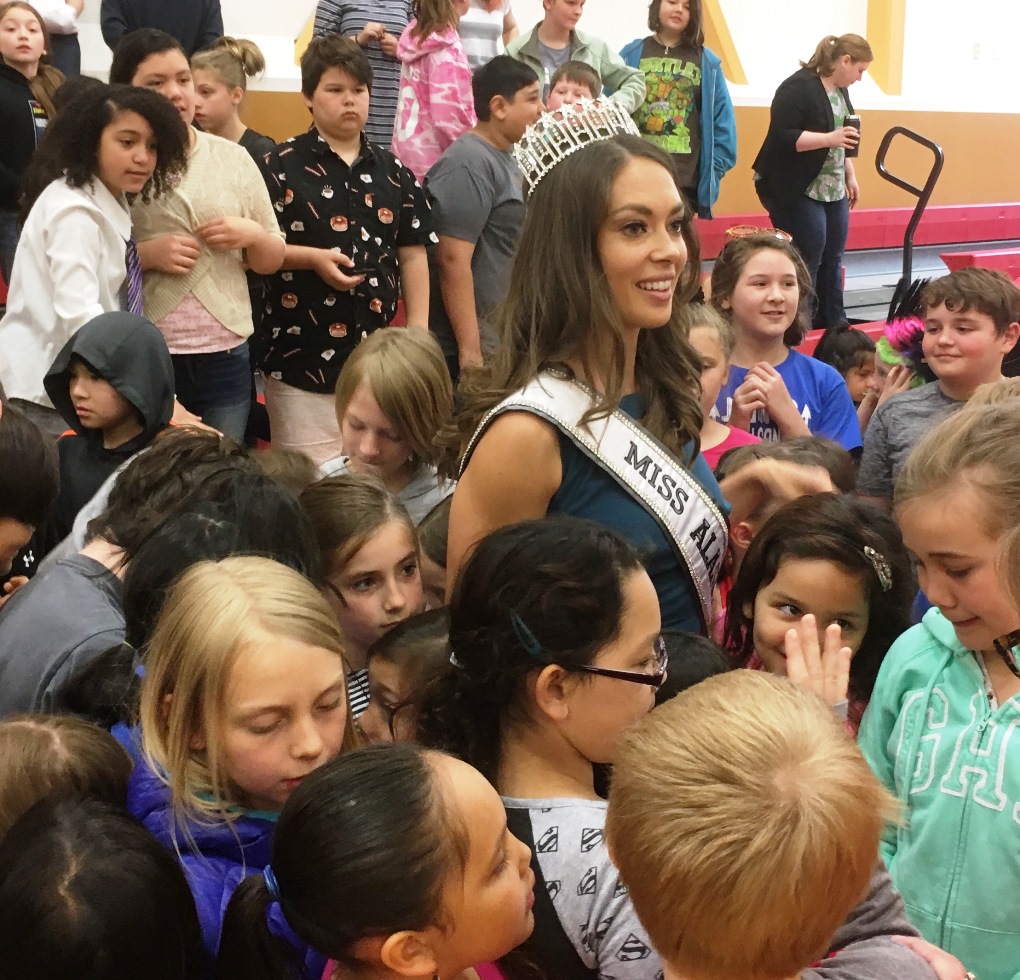 Miss Alaska USA Alyssa London dropped by a handful of classrooms at Fawn Mountain Elementary School, wearing a formline-design robe trimmed with fur along with her dress, high heels and sparkling crown.
London is the first Tlingit Miss Alaska USA, and she brought a message of pride to the kids at Fawn Mountain, which has a large population of Alaska Native students.
"What I did at Miss USA was wear my clan crest, killer whale, on my pageant gown, and some people told me not to do it, but I decided to do it anyways," she said. "I think people liked it and I ended up making top 10."
"I think that when you are proud of who you are, where you come from, people applaud that because it shows confidence," she said, telling students in Teresa Varnell's classroom that she wanted to show her pride throughout the pageant.
One young boy in the class had a question for London.
"Is there a Mr. USA?" he said.
"I don't think so," London replied. "That's not fair. Maybe you should start one."
London talked again about pride in her Native heritage speaking a little later in the school gym to an assembly of Fawn Mountain students. She also talked about the value of education.
"Every day you're going to school you're investing in your future," she said. "Even if you don't know what your
future is going to be when you graduate high school or graduate college, that's OK. You're learning about yourself and your passions and you're learning about having a work ethic and the importance of working hard, and that's going to open doors for you down the line."
London took questions from the audience, and several students asked about her crown.
One wanted to know whether she was a queen.
"I'm a representative of Alaska. They gave me this crown, so I can be queen of Alaska," she said, laughing.
Another student wanted to know whether London's feet hurt in her high heels. She said she practiced walking in high heels for the pageant, and now it's one of her special skills.
"People might think it's easy to walk on that stage, but it's not. It's kinda slippery," she said. "I actually did runway training in New York. I've done 10 hours of runway training in 5-inch heels, so I can stay in these babies a long time."
London placed in the top 10 during the Miss USA competition, which took place May 14 in Las Vegas. She was the first Miss Alaska USA to place in the top 10 in about three decades.
— Leila Kheiry, KRBD-Ketchikan