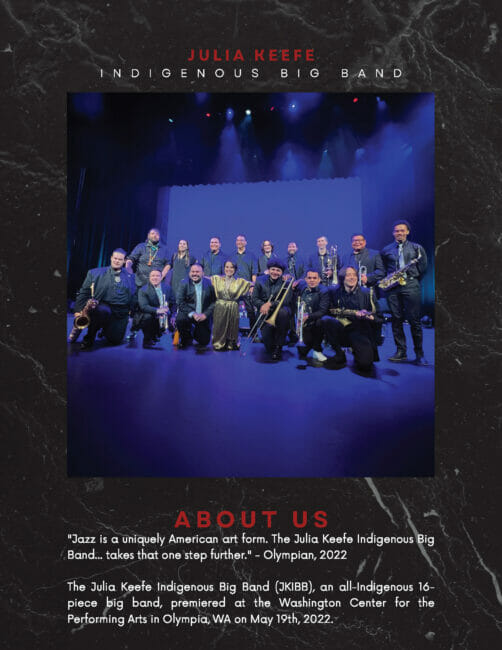 On today's program:
Julia Keefe Indigenous Big Band – Performing tonight!!!

Indigenous jazz musicians, ensembles, and big bands have their place in the contemporary jazz world as well as in jazz history. There were small ensembles and big bands on reservations across the US in the first half of the Twentieth Century and several Indigenous musicians who ascended to celebrity with jazz as their medium.

Since time immemorial, songs have been the vessels for prayers and stories for the Indigenous people of the Americas. The goals of JKIBB are to celebrate and continue that tradition, to compose and perform new music inspired by traditional melodies, and to create a community of like-minded peoples from all backgrounds to uplift the next generation of Indigenous jazz musicians.



Alaska State Museum – VISCERAL: VERITY, LEGACY, IDENTITY – Alaska Native Gut Knowledge and Perseverance

Opening May 5, 4:30 – 7:00 pm, lecture with artist Sonya Kelliher-Combs, Sven Haakanson, and conservator Ellen Carrlee at 6:30 pm

Visceral: Legacy is a further interpretation of Sonya's solo exhibition themes through objects that she and fellow gut enthusiast and Alaska State Museum conservator Ellen Carrlee chose from the museum's permanent collection. As a guest curator, Sonya brings the richness of her childhood in Nome, her international career as an artist, her life in Anchorage, and her insights as a person of Iñupiaq, Athabascan, and European heritage.

These three galleries will be open through the summer 2023 season, augmented by special workshops and lectures, and closing in mid-October 2023.



Juneau Artist's Gallery Kelsey Hoke Martin – Featured Artist for May

Originally from Charlotte, North Carolina, Kelsey Hoke Martin, artist and owner of K.Hoke Contemporary, made the move to Juneau with her family in 2020 just as the world was starting to shut down because of COVID. Once landing in Alaska, she found artistic inspiration everywhere, "I almost feel like Alaska was always supposed to be home. Moving to Juneau just blew the doors open on my creative outlook; every turn here is breathtaking," K.Hoke said.
Volunteer Andy Kline hosts the conversation. Juneau Afternoon airs at 3:00 p.m. on KTOO and KAUK with a rebroadcast at 7:00 p.m. Listen online or subscribe to the podcast at ktoo.org/juneauafternoon.
Guests:
Julia Keefe, Indigenous Big Band
Qacung, Artistic Director of Aak'w Rock
Sonya Kelliher-Combs, Artist
Sven Haakanson, Curator of Native American collections at the Burke Museum
Ellen Carrlee. Alaska State Museum
Kelsey Hoke Martin, Artist at Juneau Artists Gallery
Jayne Andreen, President, Juneau Artists Gallery
Subscribe to the podcast: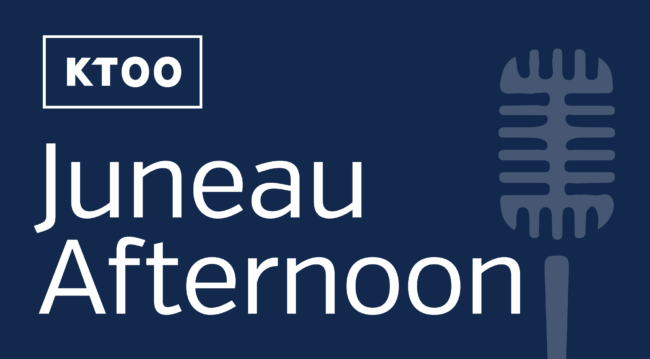 Juneau Afternoon is a production of the KTOO Arts and Culture Team.
Bostin Christopher produced today's show with help from Erin Tripp.