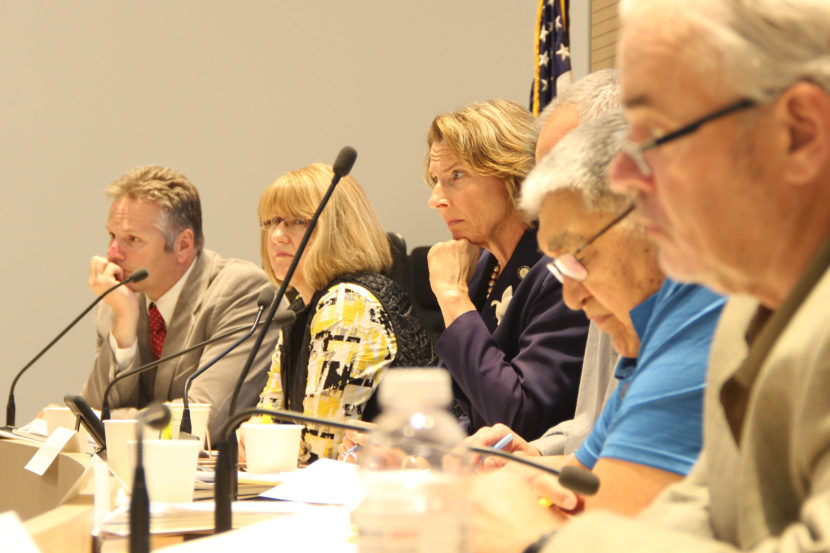 Gov. Bill Walker is making the case that his new gas line plan will get the project off the drawing board and on to Alaskan soil. But it's not hard to find skeptics who say Walker is just creating more paperwork.
For the final story in our series Pipeline Promises, Elizabeth Harball talked to the Walker's critics.
---
As a new energy reporter in Alaska, it didn't take long for me to notice that even though state leaders are always talking about the gas line, there's something left unsaid. I mentioned this to Larry Persily, a gas line expert who now advises the Kenai Peninsula Borough.
HARBALL: It seemed to be this unstated truth that a lot of people don't believe this is going to happen. This may not even materialize …

PERSILY: Right, oh yes. Even a couple years ago when [Alaska LNG] looked like, hey! People were still like, "Oh, it won't happen."

HARBALL: Right, and being a new Alaskan …

PERSILY: Do you have a dog yet?
No dog yet. That being said, this new Alaskan had to learn why so many people think the governor's plan is doomed.
Skeptics like Persily see big forces working against the project. The biggest is the market: This is an expensive project aimed at supplying a product, gas, that today is plentiful and cheap.
"Prices for the commodity are down, the project is one of the most expensive energy projects ever in the history of the world, so that alone would make a lot of people skeptical," said Persily. "They look at the price tag, look at what you are going to get for the project at the end and they say, 'That's not going to happen, turn the TV back on.'"
Lousy market conditions help explain why the big oil companies are stepping back from the effort to build the gas line. And this plays into another big issue skeptics bring up — one that became clear as I walked into Anchorage Republican State Sen. Cathy Giessel's office. We spoke sitting between stacks of cardboard boxes. Oil-dependent Alaska can't afford the legislature's sleek new building, so lawmakers are moving.
The governor argues Alaska's dire fiscal situation is one reason to charge ahead. Giessel said it's a reason to be cautious.
As much as she's like to see the project built, she said, "We have a significant budget challenge right now and I think that we can overplay our hand and find ourselves in an even worse fiscal predicament if we act rashly."
Giessel said she's not sure the state has the capacity to manage the project and she's not sure how much it's going to cost to build that capacity. She also said more state control means the state is taking on more responsibility for the project's risks, as well.
This idea of risk brings us to the other reasons people are skeptical, which have to do with Walker's plan in particular. That plan, in brief, is for the state to bring in money from outside investors rather than relying on the oil companies to pay for most of the gas line. State leadership may also mean some part of the project may not have to pay federal taxes. In late August, energy analyst David Barrowman of Wood Mackenzie told lawmakers that in theory, elements of Walker's proposal could be a promising way to bring the project's total cost down.
"Currently Alaska LNG, in terms of global competitiveness, is quite challenged," Barrowman said. "But there are levers that can be used."
Those levers, he said, are exactly the ones Walker is trying to pull to reduce the project's price tag — attracting third party investors and avoiding some federal taxes. But the next day, the legislature's energy consultant, Nikos Tsafos, took his turn before lawmakers and tore into Walker's plan.
"You usually want to take over economic projects, not uneconomic projects," Tsafos said.
One of Tsafos' critiques is the idea of outside investors. The oil companies — BP, ExxonMobil and ConocoPhillips — worry their investments in a gas line wouldn't pay a high enough return to be worthwhile. The governor argues that instead, the state can find outside investors, like pension funds, that would require less of a profit on the project and finance it more cheaply.
In an interview, Tsafos said he's not sure investors like this actually exist.
"I mean borrowing money — everyone borrows money," Tsafos said. "The idea that somehow the state of Alaska has discovered that by borrowing money the project could be made cheaper, that doesn't make any sense, right?"
Tsafos said he's looked at other projects around the world and can't find many examples of the kind of investors the governor has in mind backing LNG projects, much less at this massive scale and this early in the game. And Tsafos doubts they'll accept less profit in return for their investment than the oil companies.
Walker also wants to make the pipeline cheaper by getting out from under some federal taxes. A lot of the state of Alaska's projects don't pay federal taxes because they benefit the public. The governor argues if Alaska leads the way, it can make a case that part of the project won't owe the IRS a check.
But Walker's skeptics argue that because this project will involve private interests — potentially some of the wealthiest companies in the world — the IRS may not approve of this idea.
"This is not a school or a highway for general public use," said Persily. "This is really a private undertaking where 95 percent of the gas is going to go not just outside of Alaska, but overseas."
After hearing all this skepticism, I started to wonder, what's the downside? What if the project doesn't work? Will the state lose billions of dollars? Will I have to pack up my bags and move back to Washington, D.C.?
Everyone told me, calm down. Walker is taking one step in what's going to be a very long journey. Will it cost money? Sure, and that's important to pay attention to at a time when every dollar for the gas line is one that doesn't go to other state services.
But Persily said it's nothing compared to what the state has spent on this project in the past.
"Looking at the hundreds of millions the state has spent in the last 10 years, the billion the companies have spent in the last 10 years on this — if that's what it takes to put this to rest … if that's the political price of all this, maybe that's the way we've got to go," he said.
Persily gives Walker's plan a 10, maybe 20 percent chance of working. But he's not losing any sleep over it.
Meanwhile, Walker will spend the next year making a case to the public, lawmakers and the market in hopes of proving his skeptics wrong.