As the state of Alaska takes the lead in the effort to build a natural gas pipeline from the North Slope, it finds itself taking responsibility for what would be one of the largest, most complex projects in the world.
The man in charge is Keith Meyer, the new president of the Alaska Gasline Development Corp.
This week, Alaska's Energy Desk is digging into the gas line project in the series, Pipeline Promises.
Today, Rachel Waldholz introduces us to the man with the plan.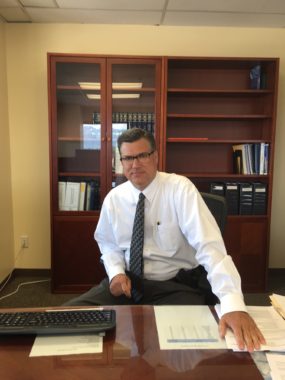 To hear Keith Meyer tell it, this gas line project should not be that hard.
Back in June, when Meyer was about two weeks into his new job, he was called up to testify before lawmakers. And he said it's always puzzled him that Alaska's gas line has had so much trouble getting off the ground.
"Yes, it's a big project," he said. "[But] it's not the biggest pipeline, it's not the highest pipeline, it's not the largest diameter pipeline, it's not the largest LNG plant."
It's not an engineering problem at all, he said. "This project, I think, where it suffers, is not technical complexity. It's the paperwork."
That's right. The project that's eluded the state and some of the world's largest oil companies for some four decades? It's a paperwork problem.
That take left many people wondering – who is this guy?
"I consider myself a gas guy," Meyer said, in an interview at AGDC's offices just after he was hired.
Meyer has a vaguely 1950's vibe: salt and pepper hair, hipster glasses. He says things like, neat and by golly.
He's worked on pipeline and natural gas projects for more than 35 years, and said he's known about Alaska's project since the very first day of his career, back in 1980.
"And I remember at that time thinking, as a young buck in the industry, wow, that is a neat project," he said. "You know, someday I might get to work on a project like that…So I was thrilled at the opportunity to be the one to bring it home."
Meyer comes across as supremely confident he can bring it home.
But he inherited a project in flux. Earlier this year, Alaska's three partners – ExxonMobil, BP and ConocoPhillips – told the state they likely wouldn't move the project forward on the expected timeline.
The state decided to take over – which puts Meyer, and AGDC, in charge.
His first challenge is tackling the project's Achilles heel: its price tag.
"Right now it's high cost," he told the Legislature in June. "So now our focus has to be on how do we get the cost reduction. How do we get the cost down?"
Meyer's answer: re-imagining the project's financing.
The existing project structure is pretty simple. The state is in a four-way partnership with the oil companies. Each party puts up their $10 to $15 billion – and voila! Project financed.
But with our partners headed for the exits, how does Alaska finance the project on its own?
Meyer said – we don't have to.
He wants the state to quit acting like a deep-pocketed oil major and start acting like a scrappy pipeline company. You don't pay for the project yourself. You bring in outside investors. You put together a deal. That's what he means by "paperwork."
"This is significantly different than the way it was done [to date]," he said. "However, it's very similar to the way most of the pipelines in the US have been built and also the way most of the LNG facilities now have been built."
Gov. Bill Walker has ruled out dipping into the Permanent Fund, the state's $54 billion piggy bank. Meyer said the project also wouldn't rely on general obligation bonds — the state's everyday credit card, used for expenses like highway projects.
Instead, the state would rely on project financing. Essentially, AGDC will go out and try to secure customers — perhaps utilities in Japan that want to buy gas, or the North Slope producers themselves, who would pay to ship their gas down the pipeline. If the state can lock down long-term contracts, it can take those contracts to the bank — or, more likely, to private equity firms — using the contracts as the foundation to secure loans or investors for the first stage of the project.  Once construction is underway, Meyer said, other third-party investors might want a piece of it, such as pension funds, insurance companies, infrastructure investors.
If that sounds pretty complicated — well, it is. But Meyer has some experience in this.
His calling card in the natural gas world is his work on Cheniere Energy's Sabine Pass import terminal in Louisiana in the mid-2000's.
"Keith played a huge role in one of the more important players in this remarkable period for energy," said Wall Street Journal reporter Gregory Zuckerman, who wrote about Cheniere Energy in his 2013 book, The Frackers. "He was part of this effort to import natural gas when it seemed like the country needed it."
Cheniere Energy managed to do pretty much what Meyer is proposing in Alaska: it didn't own any gas, it didn't have deep pockets, but it locked in contracts with big companies that wanted space in its terminal and used those contracts to go out and get financing to build the project.
Zuckerman said Meyer gets part of the credit for that, for promoting the project and making the case to investors.
"He was among the people that concluded some of the best agreements and contracts for Cheniere, according to people close to the matter. So he would be a good person to pull that off," Zuckerman said. "The challenge, obviously, is that these are really expensive projects. And the energy business, as we've learned over the last few years, can change dramatically."
That's what happened to Cheniere. The Sabine Pass project was put together in the mid-2000's, when the U.S. thought it was facing an energy shortage. Then the fracking boom swamped the gas market. Cheniere's value plunged. The company only saved itself by turning its import project into an export project. By then, Meyer had left the company.
There are major differences between the projects. LNG import projects are by definition simpler and cheaper than export projects. And the Sabine Pass import project was also much smaller than Alaska's project – something like the difference between financing a Kia and a Tesla.
I asked Meyer if he had ever put together project financing for something the size of the Alaska LNG project, which is estimated to cost at least $45 billion.
"No one has," he said.
In other words, financing the project as it currently exists would be unprecedented.
Meyer's goal, of course, is to keep the project well below $45 billion, through a combination of cheaper financing, the potential tax benefits of state ownership, and, perhaps, building it in multiple phases.
But he said he's under no illusions about the challenges. Alaska's project is big. It's expensive. He's confident there's a growing market for natural gas, but there are a lot of LNG projects competing to fill that demand.
But, he said, if Alaska waits, the competition will only get worse.
"We're fighting with some of the biggest companies in the world, some big countries," he said. "And, by golly, we've got to get out there and fight for this Alaskan project."