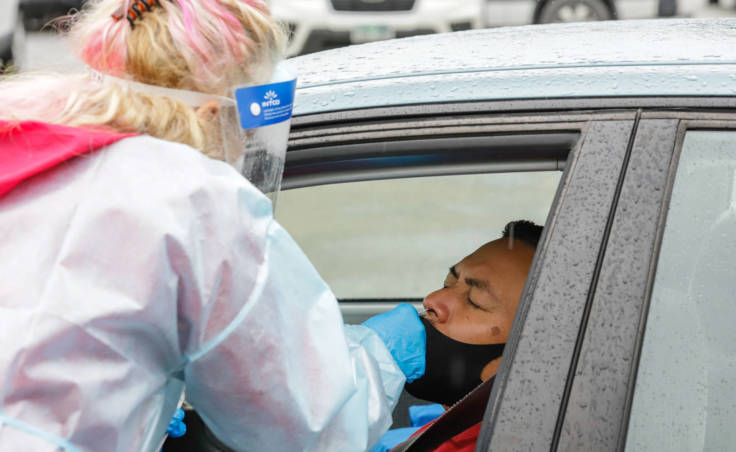 The state's previous record was 1,095 COVID-19 cases in a day.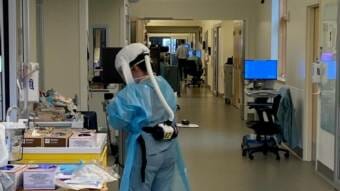 Nurses at the Alaska Native Medical Center say aside from long hours and the emotional toll of seeing Alaskans dying from the coronavirus, they're also dealing with people doubting their intentions.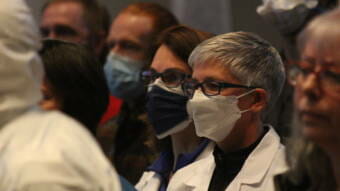 Gov. Mike Dunleavy painted a stark picture of the state's COVID-19 woes as a surge in cases of the Delta variant put hospitals in crisis mode.
Vaccination rates by region
Vaccination complete
One vaccine dose
Unvaccinated people
Under 12 (no vaccine authorized yet)
| | |
| --- | --- |
| Alaska | |
| Aleutians East Borough | |
| Aleutians West Census Area | |
| Anchorage Municipality | |
| Bethel Census Area | |
| Bristol Bay plus Lake and Peninsula | |
| Denali Borough | |
| Dillingham Census Area | |
| Fairbanks North Star Borough | |
| Haines Borough | |
| Juneau City and Borough | |
| Kenai Peninsula Borough | |
| Ketchikan Gateway Borough | |
| Kodiak Island Borough | |
| Kusilvak Census Area | |
| Matanuska-Susitna Borough | |
| Nome Census Area | |
| North Slope Borough | |
| Northwest Arctic Borough | |
| Petersburg Borough | |
| Prince Of Wales-Hyder Census Area | |
| Sitka City and Borough | |
| Skagway Municipality | |
| Southeast Fairbanks Census Area | |
| Valdez-Cordova Census Area | |
| Wrangell City and Borough | |
| Yakutat plus Hoonah-Angoon | |
| Yukon-Koyukuk Census Area | |
Data from Alaska DHSS (Chart by David Purdy/KTOO)
---
Regional alert levels
| | Alert level | Cases in last 14 days | Per 100,000 |
| --- | --- | --- | --- |
| Anchorage Region | High | 4548 | 1573.9 |
| Fairbanks Region | High | 1434 | 1475.9 |
| Juneau Region | High | 410 | 1290.4 |
| Kenai Peninsula Region | High | 648 | 1099.5 |
| Matanuska-Susitna Borough | High | 1660 | 1547 |
| Northwest Region | High | 605 | 2230.6 |
| Other Interior Region | High | 277 | 1192.1 |
| Other Southeast Region – Northern | High | 98 | 480.3 |
| Other Southeast Region – Southern | High | 187 | 946 |
| Y-K Delta Region | High | 478 | 1841.6 |
| Southwest Region | High | 304 | 1075.2 |
Alert levels according to data from Alaska DHSS (Chart by David Purdy/KTOO)
---
Resources
COVID-19 numbers
News and information from state agencies
For Juneau
---
Questions
---