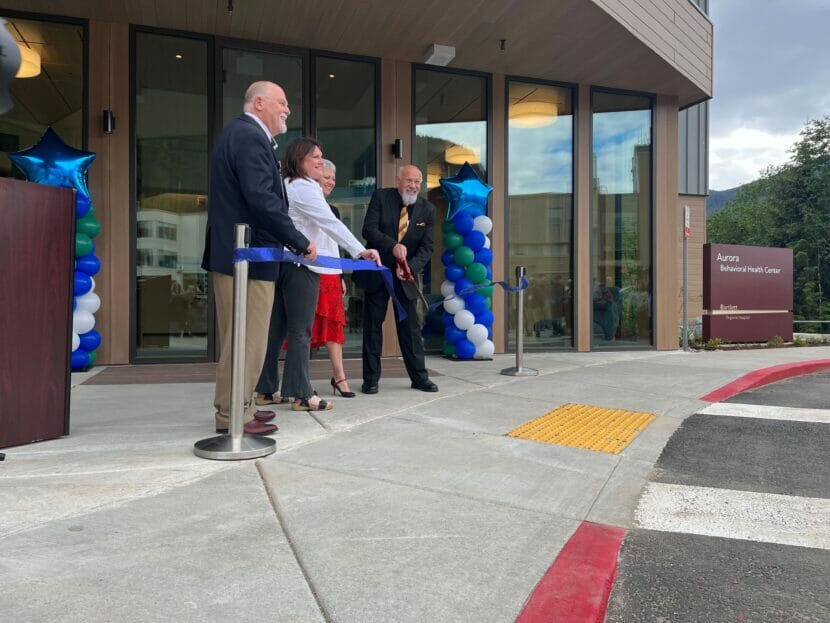 Bartlett Regional Hospital is opening a new center for people experiencing mental health crises in the coming months.
The center, which is on the Bartlett campus, means that patients who urgently need care won't have to leave Juneau to get it.
The Aurora Behavioral Health Center comes amid a growing mental health crisis in Juneau, including wait lists for services for young people. 
Jennifer Carson, Bartlett's interim executive director of behavioral health, said a recent Department of Justice review of youth mental health care in Alaska shows a large gap, with many young people having to leave their communities or even the state for treatment. 
"We know that kids are in crisis. And so we're hoping to be able to fill that. We know that there's nothing else like this in the state right now," she said.
Starting this fall, the center will follow a model called Crisis Now for addressing acute mental and behavioral health needs. Carson said the model is designed to improve on problems that are too common with other approaches — like patients waiting for months on wait lists, getting sent far from home, or ending up in prison. 
"The plan is that law enforcement can do a nice soft handoff to our team, to help the individual come in and then get the therapeutic services that they need," Carson said on Juneau Afternoon this week.
Aaron Surma, with the National Alliance on Mental Illness in Juneau, said the center will better serve people who urgently need help.
"You see five feet in front of your face, right? You're not thinking long term. And so I think a service that matches the mindset just makes sense," he said. "Long term service doesn't match the way you are when you're in crisis."
The center's crisis stabilization center will be open around the clock and staffed with nurses, clinicians and social workers. It will offer emergency stabilization services for adolescents and adults in emergency mental health situations, according to the website. Those stays average around 18 hours.
The center will also offer short residential stays for people who need more care. The residential center will have seven beds that overlook Gastineau Channel. 
Carson said the stabilization center and residential program will open first in early fall for youth aged 12 to 17.  She hopes the services will be open to adults in late fall. 
According to the Alaska Department of Behavioral Health, Aurora Behavioral Health Center's services fall under Medicaid coverage, and private insurance coverage is case-by-case.