The President's Own U.S. Marine Jazz Band rocking out on KTOO's Juneau Afternoon. Band members: Ryan McGeorge on trombone, Greg Ridlington on saxophone, Tyler Lindsay on trumpet, Chris Rose on drums, Eric Sabo on bass, Alan Prather on guitar and Russell Wilson on keyboards.
It may have been Friday the 13th, but if you're a music lover, it was your lucky day on Juneau Afternoon.
The President's Own U.S. Marine Jazz Band was live in our studios. This is the band that plays for the President of the United States at the White House and at other diplomatic functions, featured in this year's Juneau Jazz and Classics spring festival.
Also on this program:
Zuill Bailey, an internationally known cellist and artistic director for Juneau Jazz and Classics.
And rocking out at the Juneau Public Library. A kids concert performed by the Nagoonberry Band.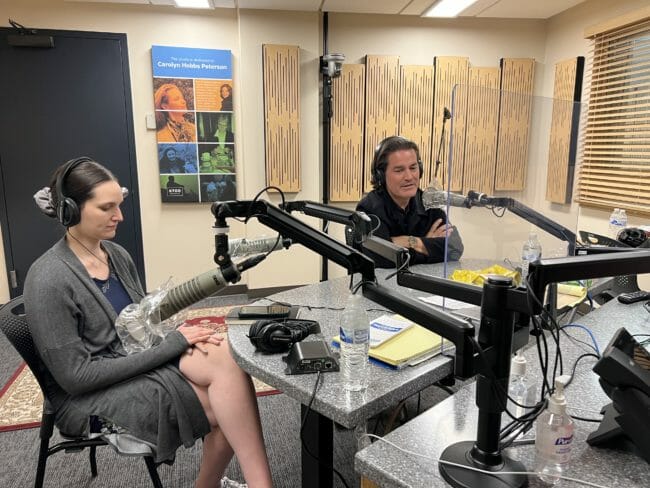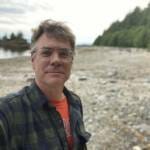 Andy Kline hosted Friday's program. You can catch Juneau Afternoon, Tuesday through Friday, live at 3:00 p.m. on KTOO Juneau 104.3.  The rebroadcast airs at 7:00 p.m. on KTOO. You can also listen online at ktoo.org.
For more information about Juneau Afternoon or to schedule time on the show, email juneauafternoon@ktoo.org.
Guests: Band members: Chris Rose, Alan Prather, Eric Sabo, Russell Wilson, Ryan McGeorge, Tyler Lindsay and Greg Ridlington
The President's Own U.S. Marine Jazz Band was one of the crowd pleasers at this year's Juneau Jazz and Classics Festival. Trombonist Ryan McGeorge even wrote a song for the group's Juneau tour called Malamute Strut, inspired by his Alaskan sled dog, who lives with McGeorge in the Washington D.C. area but seems to be full of Alaskan attitude. Greg Ridlington, who plays saxophone and is also leader of the group, explains some of the history of the band, going back to presidents John Adams and Thomas Jefferson.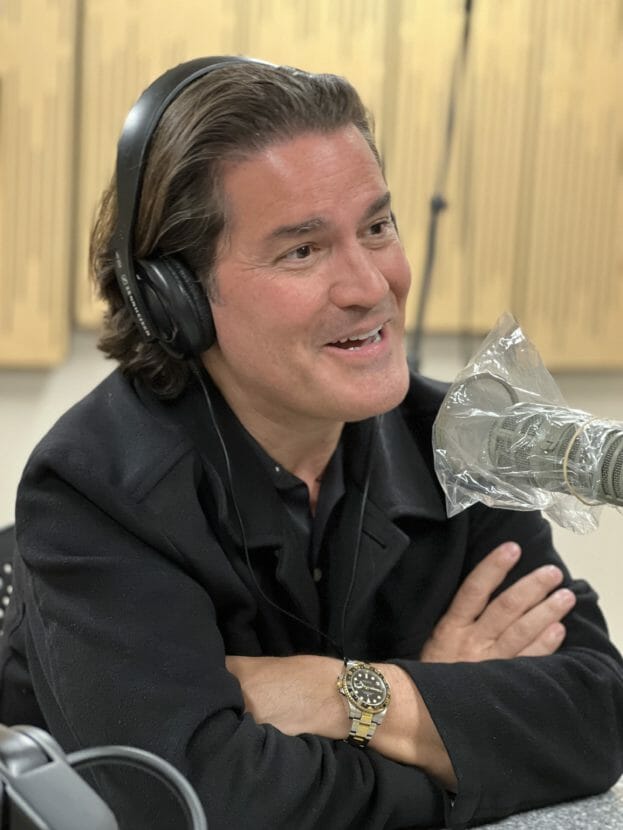 Guests: Zuill Bailey, cellist and artistic director for Juneau Jazz and Classics
It's only fitting that classical performers in the Juneau Jazz and Classics Festival improvise like their jazz counterparts. But Zuill Bailey wasn't expecting that to happen with the concert schedule. Due to flight scheduling problems, two of the members of the Arianna String Quartet wound up stuck in St. Louis and didn't make it in for two of the quartet's scheduled performances on Monday night. So the two members who did arrive, teamed up with Zuill Bailey on cello, to form a trio. With only a half hour to learn new music, Bailey tells the story of how the ad hoc trio pulled off their one-of-a-kind performance.
Guests: Margaret Luedke, Juneau Public Libraries Programs and Marketing Coordinator
There's a lot of excitement at the Juneau Public Libraries this month which has begun offering a new digital service called Hoopla. Library cardholders can download an app and use it to check out e-books, videos, music and other media, 24-7. Also on Saturday, May 21st, there will be no shooshing at the Mendenhall branch of the library, where a group of students in the Nagoonberry music program will play a kids rock concert at 3:00 p.m.