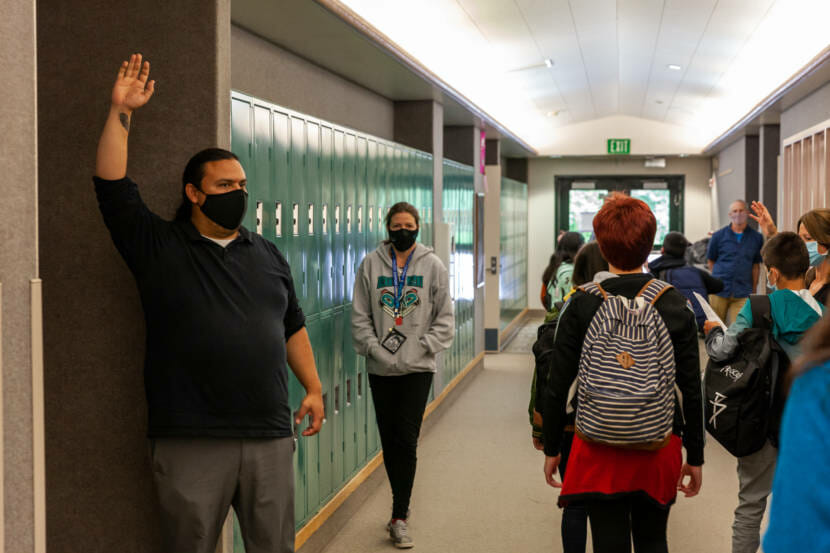 Masks are optional again at Juneau schools. The district's board of education held a special meeting Tuesday night to address the issue.
The Juneau School District had gone back to requiring masks at the beginning of the week, after just a few weeks of loosening the mandate.
In the announcement on Saturday, the district said it was because the Centers for Disease Control and Prevention had increased Juneau's community risk level.  
Families were sent emails and texts on Saturday, saying that the Centers for Disease Control and Prevention had increased Juneau's community risk level. The CDC updates its metric once a week.
After a more careful examination, Superintendent Bridget Weiss said that might not have been the best way to make mask policy decisions in schools.
"We've learned a lot since Friday about that metric and what it means," she said. "That CDC metric is really out of alignment with our local metric and health conditions."
Weiss said the CDC metric actually includes other Southeast communities outside of Juneau.
The change caused fallout from the community and disrupted learning at the beginning of the week. Some students still chose not to wear face coverings. They sat in the commons instead of their classrooms on Monday and Tuesday.
At the special meeting Tuesday night, board president Elizabeth Siddon explained what caused the switch over the weekend.
"The current mask policy was adopted in March of 2022," Siddon said. "Its implementation included a trigger that if the CDC community level went to high, that masks would be mandatory in Juneau School District facilities."
Before taking action, the board heard more than an hour of public testimony from students, parents and educators. Some students were concerned that without the protection of masks, they might lose out on prom and graduation. They said they wouldn't mind wearing masks for the rest of the year if it meant they could keep their end-of-year traditions.
Several parents wanted masking to be a personal choice, saying they had pulled their kids out of school when it became a requirement again. 
Teachers reported the disruptions in their classrooms early in the week and how they were still responsible for kids who were learning in the commons. Others were concerned about the health risks for certain educators and special needs students.
After more than an hour of public testimony from parents, students and educators, the board voted unanimously to bring back a mask-optional policy. 
The policy calls for masks to be optional in JSD buildings, with a few stipulations. People who are in contact with another person who is identified as "high risk" for severe disease can be required to mask up around those individuals indoors. The same goes for people who've been exposed to someone with COVID-19.
Superintendent Bridget Weiss has the authority to require masks in those situations. She says she's sorry for all the confusion.
"It's really frustrating and disappointing to all of us that we made it this far without having this kind of experience to then have it now," Weiss said. "I am so apologetic to everyone. I'm sorry that our community, our kids, and our staff are experiencing this."
The new mask-optional policy went into effect immediately following Tuesday's vote. 
Editor's note: This story has been updated with additional information from the board of education's special meeting.