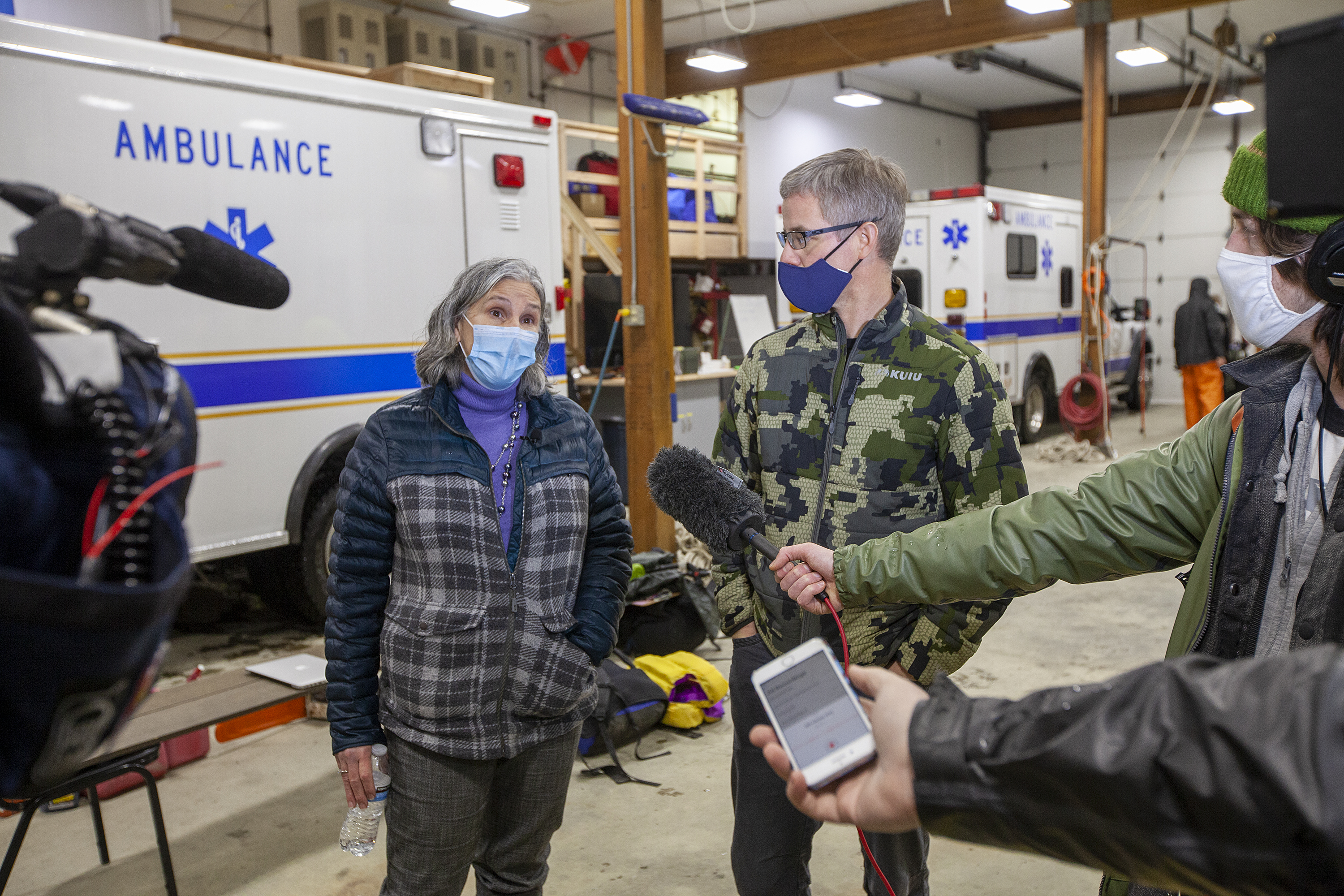 Updated story — Dec. 4, 5:00 p.m.
After a second full day of combing beaches and debris from a landslide for any sign of two missing Haines residents, search and rescue teams are still hopeful they'll find the two alive.
Interim Borough Manager Alekka Fullerton says the tight-knit community is working together to respond to the disaster, but it's a strain.
"Someone asked me earlier if I knew the two people missing and of course I know the two people missing," she said. "One is one of my youngest daughters best friends and … it's hard."
The search for Jenae Larson and David Simmons was delayed at first light Friday because poor weather prevented search flights from taking off.
State geologists arrived on the ferry Friday morning. It was the first ferry into the community after devastating rain and landslides earlier this week. The team says their first priority is to find out which areas are stable enough to search, and which aren't.
Help has poured in from all over the state. City officials say they've had crews and equipment sent from Juneau, and they've heard from Gov. Mike Dunleavy's office several times.
"The Minister of Transportation from the Yukon has offered to send down equipment, because as you know we're only 40 miles from the Canadian Border. And so they've offered to bring heavy equipment down to help us as well. They haven't because we've told them to hold off, we're still in a position where there's still damage being done," she said.
Fullerton says one of the hardest things to handle this week has been the "overlapping emergencies." The town needs help dealing with flooding, mudslides and search and rescue operations, but they're also worried about the ongoing pandemic. Everybody who came into the town from the ferry was required to get a rapid test for COVID-19 before they could get to work.
"We have zero active cases of COVID right now and bringing all of these outside resources into our town, we're very worried about introducing COVID here as well," she said.
Meanwhile at least 50 households have been evacuated.
Volunteers gathered Friday at the Haines Public Safety Building, which is being used as an Emergency Operations Center. They say they'll show up again on Saturday around 7:00 a.m., waiting to be told what to do and where to go to continue to help.
Original story — Dec. 4, 10:30 a.m.
Light snow fell early Friday morning as the search continued for two Haines residents missing after a mudslide crashed through residences along Beach Road.
Haines Fire Chief Al Giddings says over one hundred volunteers have reported to the Public Safety building to aid in the search and community recovery.
Two teams searched debris that washed onto miles of shoreline north of the slide. Juneau Mountain Rescue and two dog teams stand by at the slide site, waiting for the green light from geologists to begin the land search.
Meanwhile, Haines Harbor and the Coast Guard will be on the water.
"They're going to start looking at the foot or the toe of the slide area," said Giddings. "And they may have to pull them logs away to clear the feature area."
A Coast Guard boat with four crew is scheduled to arrive in Haines Friday morning.
The state ferry LeConte is also on its way up from Juneau. It's the first ferry to sail to Haines since the landslides and is loaded with equipment to help with relief efforts. It's also carrying the state geologists needed to assess the slide area for ground crews to begin searching.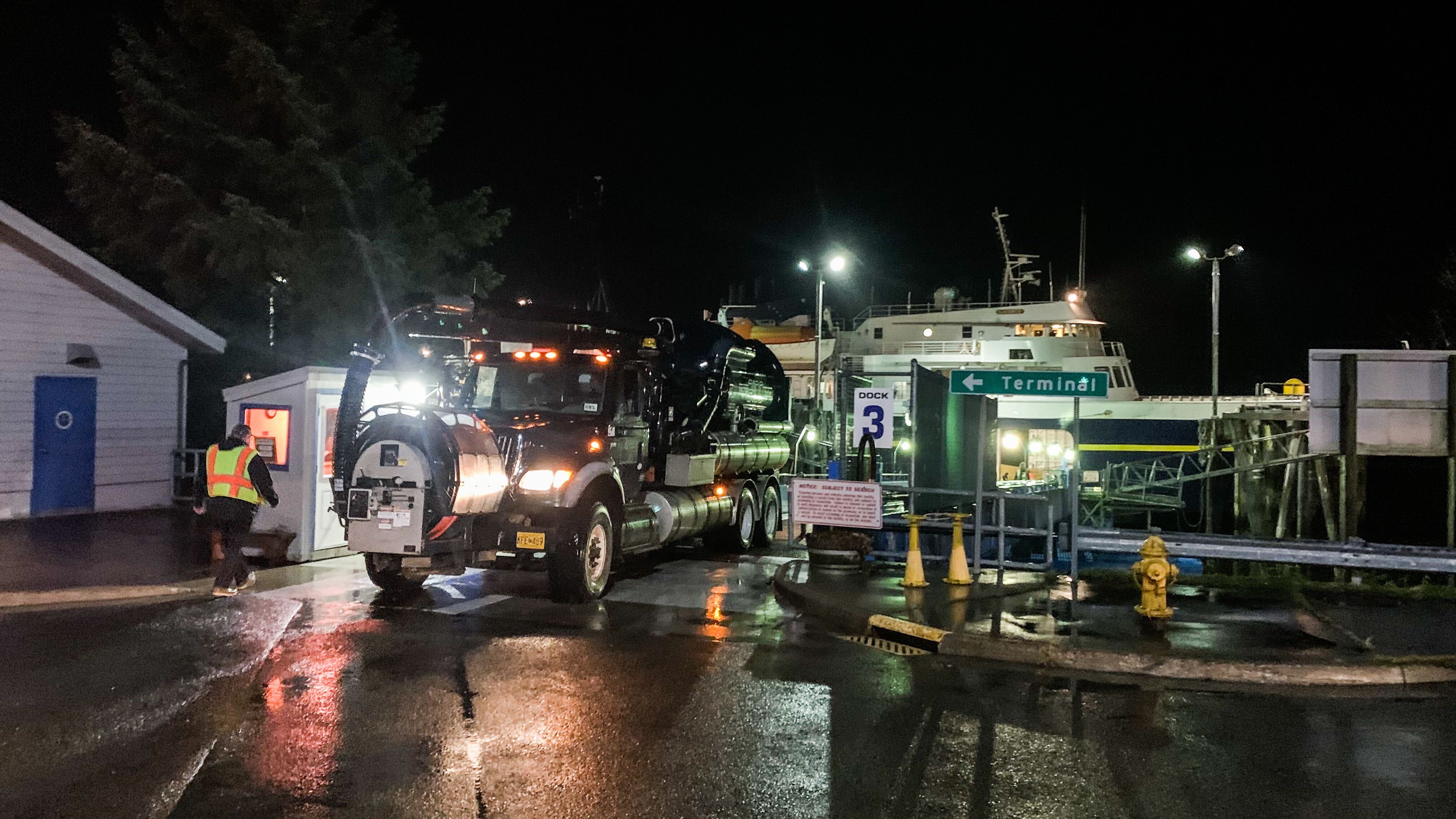 This story has been updated.