Updated at 7:40 p.m. – This update was written by KTOO and Alaska Public Media's Andrew Kitchenman
All nonresident travelers to Alaska will be required to have a negative test for the coronavirus before they arrive in the state beginning on Aug. 11. 
Gov. Mike Dunleavy announced the change at a news conference on Tuesday. 
"We're not trying to make this difficult, for folks to come here, we just want to make sure that we're taking care of Alaskans first," he said.
Since early June, Alaska has asked nonresidents arriving at airports in the state to have negative tests before they arrive. But it has allowed them to be tested at the airports. 
Dunleavy said the state would continue to offer the tests to Alaskans leaving from and arriving back in the state. But it would no longer offer them to non-residents. Dunleavy said the state is still working out how it would enforce the new testing requirement. 
The governor said the non-residents' tests would need to be taken within 72 hours before arriving in Alaska. 
In explaining why he made the change, he pointed to the pressure on testing and personal protective equipment.
"When the cases were lower than they are today — not just here in the state of Alaska, but across the globe, you had less of a restriction on supplies of testing materials and things like PPE," he said. "We need to use that for our own folks."
 Right now, the state allows non-residents to quarantine themselves for 14 days if they don't have a negative COVID-19 test result. 
But, when asked if that would continue, Dunleavy said the state will instead focus on requiring tests. 
"If you come to Alaska, you should have a negative," he said. 
Dunleavy also said his administration will announce changes later this week to the procedures it requires seafood industry businesses to follow.
Original story
Gov. Mike Dunleavy's latest COVID-19 press conference is scheduled for 5 p.m. today.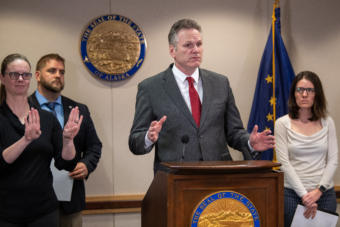 The governor, Alaska Department of Health and Social Services Commissioner Adam Crum, and Chief Medical Officer Dr. Anne Zink have been holding these briefings almost daily since March 10.
They've shared updates on the number of people in the state with confirmed cases, announced public health mandates, and explained the administration's strategy and rationale.
State health officials reported 137 new cases of COVID-19 by Monday, 110 residents and 27 non-residents.  So far, 2,729 Alaskans have been sickened with the virus, 621 non-residents who are in the state; 22 people have died.
Gov. Dunleavy's administration has imposed several public health mandates that have reshaped daily life across Alaska to combat the spread of the virus. Those mandates and other Alaska-specific COVID-19 resources and information are available at coronavirus.alaska.gov.
You can watch today's press conference live on this post, the governor's Facebook or Livestream pages.