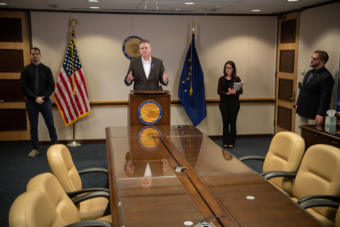 Watch an archived version of this press conference on the governor's Facebook or Livestream pages.
Gov. Mike Dunleavy on Tuesday confirmed the state's first coronavirus-related death.
The person who died acquired the disease out of state and died in Washington state, but is an Alaska resident, Alaska Chief Medical Officer Dr. Anne Zink said.
In a later press release, state officials said the person was from Southeast Alaska and died on March 16 in a health care facility in King County, Washington.
Dunleavy announced the death at a news conference Tuesday evening. He underscored that Alaskans must stay away from each other to slow the spread of the virus.
"You've got to stay away from others," he said. "Two weeks is what we're asking. We believe that in this two-week period, we can do so much to combat this virus. We want to do it with your help."
By Tuesday evening, there were 43 known cases in the state, up from 36 a day before. More than 1,600 Alaskans have now been tested.
Zink appealed to Alaskans to maintain their social distance and to not consider themselves exceptions. Now is the time to make a difference, she said.
Zink said "this is our chance to act," or Alaska will become overwhelmed by the virus.
"Please, just for two weeks: Stop what you're doing. Stay away from each other," she said.
In addition to the person who has died, another Alaskan with COVID-19 was in the critical care unit on Tuesday at a hospital in Juneau.
Zink also said two more people in Fairbanks and one person in Sterling tested positive for the virus.  Another positive test for a person in Ketchikan was identified later in the evening. 
This story has been updated.