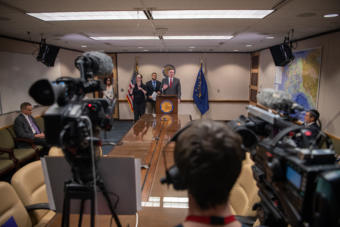 Update — On July 28, 2020, Alaska Gov. Mike Dunleavy announced that starting August 11th, nonresident travelers to the state will be required to have a negative COVID-19 test.
Alaska Gov. Mike Dunleavy's administration announced on Monday that anyone entering Alaska from out of state must self-quarantine themselves for 14 days and monitor for symptoms.
The mandate goes into effect at 12:01 a.m. on Wednesday.
"Arriving residents and workers in self-quarantine should work from home unless you support a critical infrastructure," Health and Social Services Commissioner Adam Crum said at a news conference on Monday.
The administration also ordered all businesses in the state where people are within six feet of each other to close, including nail salons, hair salons and massage therapy locations. The order goes into effect at 5 p.m. Tuesday, Crum said.
Dunleavy's administration issued the new mandates Monday in response to the ongoing coronavirus pandemic. The administration also ordered that Alaskans stay six feet away from each other unless they are part of the same family unit, banning gatherings of more than 10 people.
The number of known coronavirus cases in Alaska had also grown to 36 by Monday, up four cases from the last announcement on Sunday, according to Dunleavy.
Alaska Chief Medical Officer Dr. Anne Zink said Monday the four new positive tests are from Anchorage, all related to travel outside the state.
"There's going to be changes in the way we live," Dunleavy said. "We're doing that now."
This story has been updated.