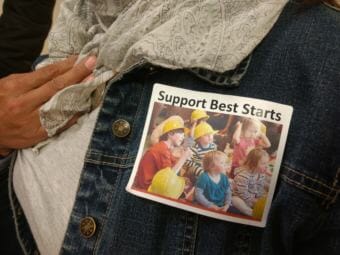 An advisory vote asking Juneau voters to support raising property taxes to expand child care inched closer to being placed on the ballot.
The Juneau Assembly signaled Monday it had no serious objections to putting the question to voters in the fall.
The measure would ask voters whether they'd support raising property taxes to secure $2.8 million annually for child care subsidies.
One of the backers of the "Best Starts" initiative is Kevin Ritchie.
"The Assembly has the authority to do it on their own," the former city manager said. "But in an area where something has not been a traditional city service and it's a very substantial issue, I think it makes sense to go to the public and we need the discussion with the public in any event, and so I think this is a healthy thing."
Previous initiatives to expand child care capacity through sales tax revenue or direct funding stalled in the past two budget cycles.
Child care advocate Joy Lyon applauded the Assembly's momentum on putting the question to the people in October.
"When we come together in Juneau to solve a problem, amazing things can happen — look at Project Playground," she said. "When the whole community, I think, does understand that child care and early childhood is not going well in Juneau. It is a problem that needs to be fixed and we have a solution, we're ready and we need to get rolling on it."
The Assembly hasn't specified when it will discuss the ballot measure next month. The deadline for placing it on the Oct. 2 ballot is in August.