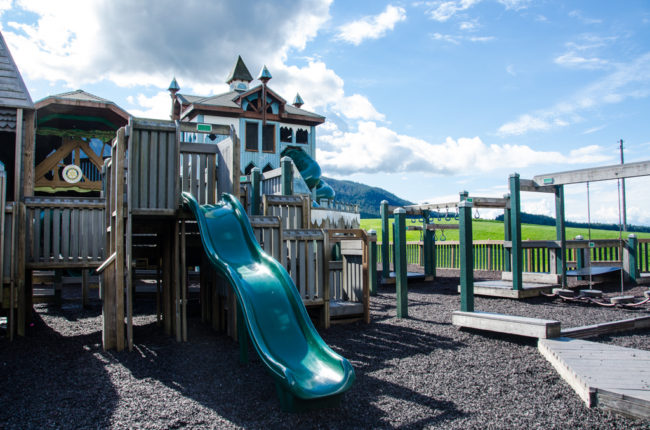 Construction begins next week to rebuild a beloved Juneau playground more than a year after it burned down. The project should wrap up in September.
Contractor Carver Construction will begin preparing the Project Playground site this week. The west end of the parking lot and shelter at Twin Lakes will close beginning June 4. Family Fishing Day will proceed as normal on Saturday, June 2.
The public bathrooms and beach will remain open and accessible throughout the project. The city asks that the public be mindful of closures and detours on the walking path.
The original play structure was built in 2007. It was destroyed by arson in April 2017. Much of the construction costs are being covered by insurance money, but the city had to come up with the $100,000 deductible.
A community committee has been working with the city to solicit donations and fundraise. More than $350,000 has been raised.
"We could have just gone with the insurance funds that the city had and made no changes, but we went for some pretty hefty changes from a safety and accessibility standpoint," said committee Chair Mike Goldstein.
Plans for the new playground include two 30-foot ziplines, improved lighting and surfacing and an artificial turf field.
Goldstein said there are still plenty of inscribed fence pickets available for families and individuals to purchase. The pickets will help pay for special safety surfacing to make the playground more accessible, rather than the typical shredded rubber surfacing used in the past.
"I think we might be somewhere in the order of about $50,000 shy of getting 100 percent of the safety surfacing that we wanted," Goldstein said. "That's after a lot of generous donations from communities, people and businesses, folks from all over the state and outside."
Volunteers are invited to sign up online for the community portion of the build from Aug. 8 to 12.