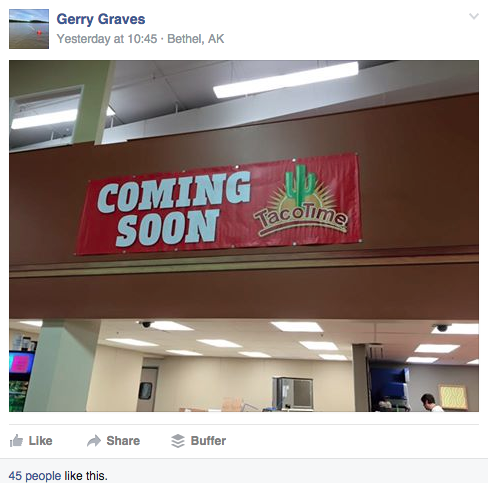 A national fast food chain is opening a new restaurant in Bethel.
Taco Time announced its new location with a sign at the Alaska Commercial Company store, also known as the AC store. KYUK in Bethel reports the grocery store will be home to the new franchise.
Store managers say negotiations to open the new restaurant were completed about eight months ago, although an opening date has not been finalized.
Taco Time was started in Eugene, Oregon 1960s and specializes in Mexican fast food. They have over 300 locations in the U.S. and Canada; Ketchikan is home to the only Alaska franchise.
The only other fast food chain in Bethel is Subway. In 2012, Bethel had a Taco Bell truck delivered by plane and helicopter after rumors circulated that the franchise was opening a location in Bethel. They never did.
Editor's note: We previously reported that the Bethel Taco Time would be the state's first; in fact, Ketchikan is home to one of the franchises. We regret the error.