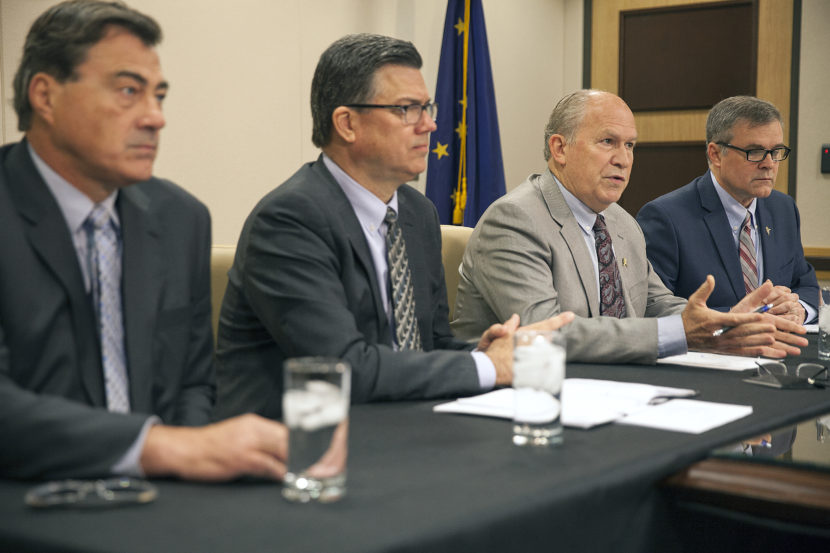 -
Alaska Gasline Development Corporation has opened new office but not yet announced it.
-
Newtok had hoped President Obama would declare a major disaster on its behalf before leaving office. A disaster declaration would have unlocked federal relief funding that could be used for relocation.
-
Brad Snow and his girlfriend Lilly Allen were living on the Yukon River when writer John McPhee came through. Snow and McPhee spent four days together in a canoe.
Rachel Waldholz, Reporter, Anchorage

Rachel Waldholz covers energy and climate change for Alaska's Energy Desk. Before coming to Anchorage, she spent two years reporting for Raven Radio in Sitka, Alaska. She studied documentary production at the U.C. Berkeley Graduate School of Journalism, and co-produced the short film A Confused War. Her work has appeared nationally on NPR's Morning Edition and All Things Considered, as well as on Marketplace and Here and Now.

Rashah McChesney, Reporter, Juneau

Rashah McChesney is a photojournalist turned radio journalist who has been telling stories in Alaska since 2012. Before joining Alaska's Energy Desk, she worked at Kenai's Peninsula Clarion and the Juneau bureau of the Associated Press. She is a graduate of Iowa State University's Greenlee Journalism school and has worked in public television, newspapers, and now radio, all in the quest to become the Swiss Army knife of storytellers.

Elizabeth Harball, Reporter, Anchorage

Elizabeth Harball comes to Alaska's Energy Desk by way of Washington, D.C., where she reported for Environment & Energy Publishing's ClimateWire, a job that gave her the opportunity to hear about climate change from coral reef scientists, lobbyists, wildland firefighters, congressmen, coal plant operators and coastal homeowners, among many others. Originally from Kalispell, Montana, Elizabeth is a graduate of Columbia University Graduate School of Journalism.

Elizabeth Jenkins, Reporter, Juneau

Elizabeth Jenkins calls both Tennessee and Alaska home. In 2013, she studied radio storytelling at the Salt Institute for Documentary Studies and interned at KFSK in Petersburg the following summer. She also spent a year in Juneau working as a reporter for KTOO. Elizabeth has produced stories for This American Life, Reveal, NPR, Here & Now and KUOW. When she's not making media, she's out on the trails in Southeast.

Eric Keto, Digital Media Producer, Anchorage

Since graduating from Ithaca College with a degree in television and radio production, Eric Keto has spent time producing travel videos across the Pacific Northwest, managing a team of editors and shooters in Portland, and searching for the most colorful Alaskan characters to profile.

Zoë Sobel, Reporter, Unalaska

As a high schooler in Portland, Maine, Zoë Sobel got her first taste of public radio at NPR's easternmost station. From there, she moved to Boston where she studied at Wellesley College and worked at WBUR, covering sports for Only A Game and the trial of convicted Boston Marathon bomber Dzhokhar Tsarnaev.

Annie Feidt, Managing Editor, Anchorage

Annie Feidt has spent more than a decade as a producer, reporter and editor at Alaska Public Media. Her reporting has taken her to remote checkpoints on the Iditarod Trail, searching for polar bears on the Chukchi Sea ice, and on the Eklutna Glacier with scientists studying its retreat. Her stories have been heard nationally on NPR and Marketplace.

Jennifer Pemberton, Editor, Juneau

Jennifer Pemberton's experience as an English teacher, environmental reporter and corporate communications manager converge in her role as Alaska's Energy Desk editor based in Juneau. She comes to us from Utah Public Radio, where she hosted a monthly program about water issues and taught science communication classes at Utah State University.