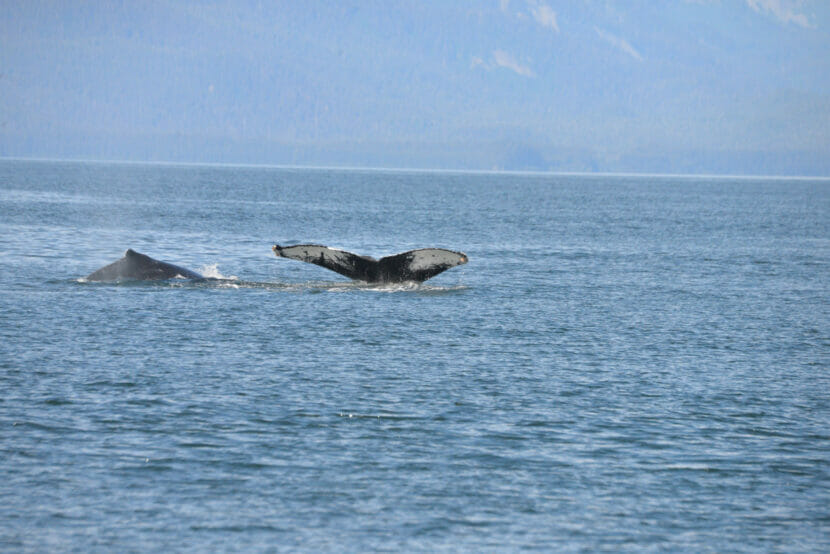 The body of a local humpback whale calf named Tango was found Friday evening on the shore of Hump Island, about 10 miles northwest of Auke Bay. NOAA is still investigating what happened to Tango, but a post-mortem exam on Saturday revealed injuries consistent with a vessel strike. 
Mandy Keogh, who coordinates NOAA's response when whales get stranded or struck, described collisions between boats and humpback whales in Southeast as "fairly common."
"Unfortunately, vessel strikes with humpback whales do occur," she said. "You can not see a whale until you are very close to them, or until you unfortunately might run into them."
Keogh said Tango was born this year to Sasha, a local whale who visits Juneau in the summer. A statement from NOAA said Sasha had been seen near Juneau over the weekend and did not appear to be hurt.
Keogh said NOAA received two reports of vessel strikes in the days before Tango was found. Biologists searched for any animals that were acting unusual or showed signs of injury.
"In total, we found about 10 animals, and none of them had any evidence of any injuries," she said.
Koegh said she doesn't yet know if those reports are related to what happened to Tango. They also cannot say what kind of vessel struck Tango, but Koegh says all vessels operating in Alaska should be following NOAA's guidelines for operating around whales. 
"These are legal requirements that vessel operators have to undergo whenever they're around a humpback whale within Alaska. And that includes maintaining certain distances," she said.
The guidelines, which call for vessels to stay 100 yards away from whales and to avoid disturbing their normal activities, can be found on the NOAA Fisheries website.