At a Coast Guard change-of-command ceremony on Thursday, about 30 active-duty Coast Guardsmen gathered with some retirees, friends, and family under a tent at the Juneau docks. Young service members, wearing light blue uniforms and white caps, stood at attention while officers sent one officer off and welcomed another to town. 
Senior Chief Boatswain's Mate Sean Crocker, the officer in charge for Station Juneau, said he didn't want to come to Alaska when he was younger. But now he's going to miss it. 
"It's a little more bitter than sweet. And it's not because I'm going to miss all the amazing fishing, hunting, boating," he said. "For me, it's going to be the people."
The ceremony marked a passing of the torch from Crocker to Chief Boatswain's Mate Nicholas Sedberry, who will now direct the 25-person Station Juneau. 
Capt. Darwin Jensen, commander of Sector Juneau, said that in Crocker's two years of service, his unit conducted 90 search-and-rescue operations. Still, Crocker's wife couldn't make the ceremony. Their daughter graduated from kindergarten that morning. 
"Even more important," Jensen said.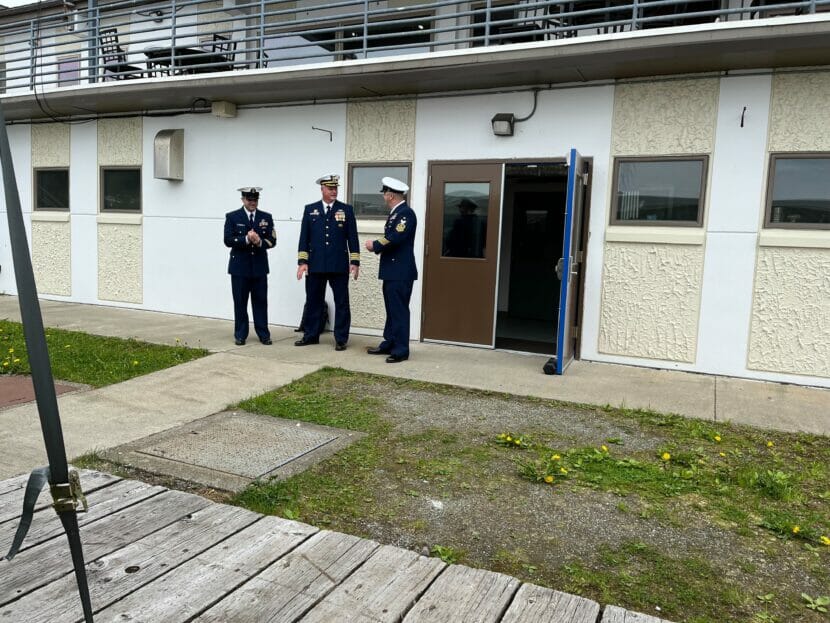 That's how the Coast Guard is in Juneau – part of the community. 
"You don't see a huge Coast Guard base down here. There's Coast Guard here, there's Coast Guard there," said former Coast Guard captain Ed Page, who founded the Marine Exchange after he retired. "We're more integrated in the community."
While the Coast Guard is not as visible a presence in Juneau as some other Alaska military communities, it is large. A Curious Juneau reader wanted to know just how large — and how much the Coast Guard contributes to Juneau's economy.
'A major footprint'
Coast Guard members in Juneau might serve in the local unit — Station Juneau — or they might be involved or in regional or statewide management. Sector Juneau manages activities in Southeast, and District 17 runs the Coast Guard for all of Alaska. Both have their administrative offices in Juneau's federal building.
Lt. Catherine Cavender works in waterways management for Sector Juneau. She says there are about 150 Coast Guard members in Juneau altogether and 270 throughout Southeast.
Like Page, she points to the lack of a base in Juneau, Coast Guard members live in houses and apartments all over town — they get their cars fixed, hair cut, and buy groceries at the same places everyone else does.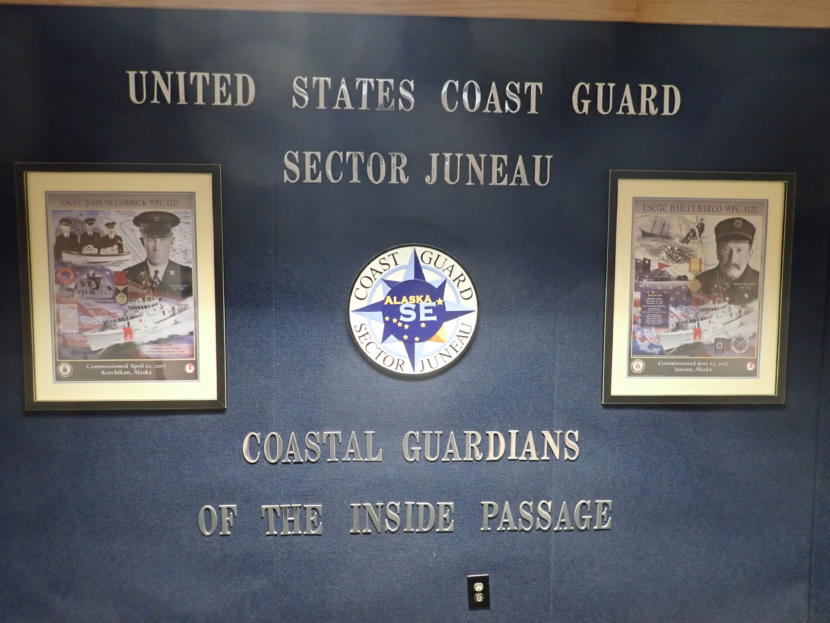 And they face the same challenges finding housing as the rest of the community.
"I lived in a hotel for four months before I was able to move into my rental," Cavender said.
Meilani Schijvens of the research firm Rain Coast Data says that as of 2019, Coast Guard members had more than 400 dependents living in Juneau, too.
"It's a major footprint. And then we also have people who work for the Coast Guard who are not active duty," she said. "It does end up being a significant economic driver in the community."
The Storis years
Damon Stuebner works at the state library. He made a documentary about the Coast Guard cutter Storis, which was based in Juneau in the 1940s and 50s.
He says that in the past, the Coast Guard's presence was a lot more visible.
"If the ship had to leave for an emergency situation, the first officer of the ship — the executive officer — would call around to the Imperial and the Red Dog and say 'Is my crew there? Get them out,'" he said.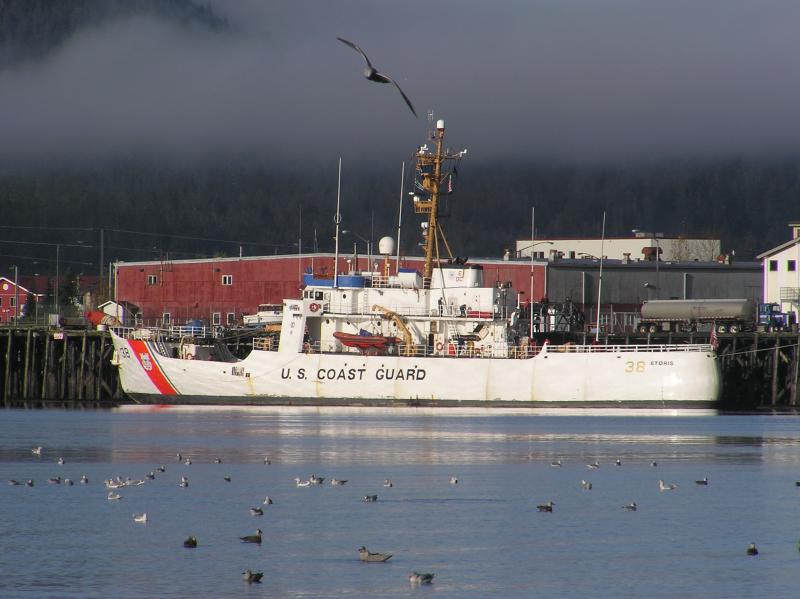 Stuebner says the movie theater even used to have a red light that would start flashing to tell Coast Guardsmen to report for duty, right away.
The work was different then, too.
"When the Storis was based here in Juneau, she did a lot of the normal things as what you would expect from the Coast Guard to do," Stuebner said. "But what they also did was what was known as the Bering Sea Patrol. This was a series of duties of transporting teachers to rural villages along the coast."
Stuebner said the Coast Guard also delivered mail, groceries and supplies to coastal villages. 
"When statehood came around, then those duties dramatically shifted, and a lot of that burden went to the state," he said.
Stuebner says that the Storis – which was stationed in Juneau from 1948 to 1957 before moving to Kodiak — even had a pitbull mascot named Red Dog — rumored to have been "acquired by suspicious means from the Red Dog Saloon."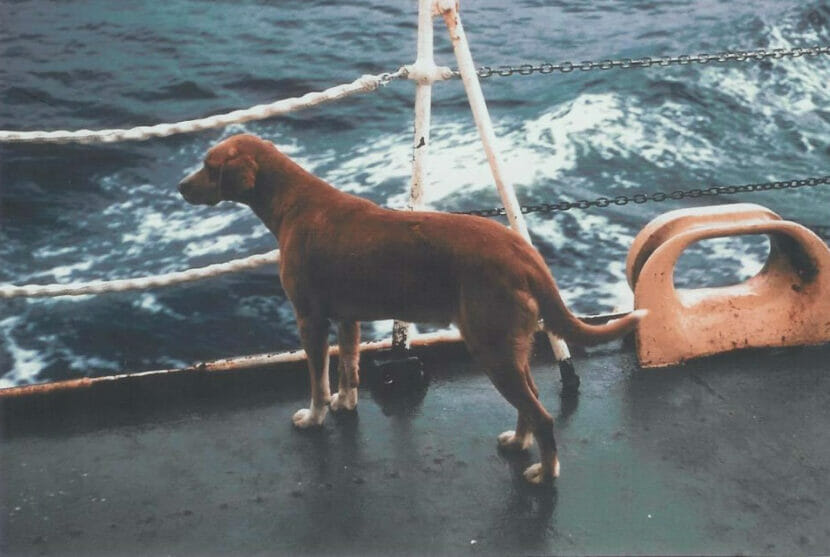 A Swiss Army knife
What does the Coast Guard do now? A lot of things, says Page.
The Coast Guard served in certain combat situations like Vietnam and Bahrain, said Page, but typically, those serving don't face violence of that sort. 
"It's a different type of service. It's not just 'Well, there's a war, fight it.' There's a war all the time," he said. "The war is in protecting the environment, the war is saving lives when the vessel sinks."
Joe Geldhof, a maritime lawyer, said the Coast Guard rises to its many roles in Juneau.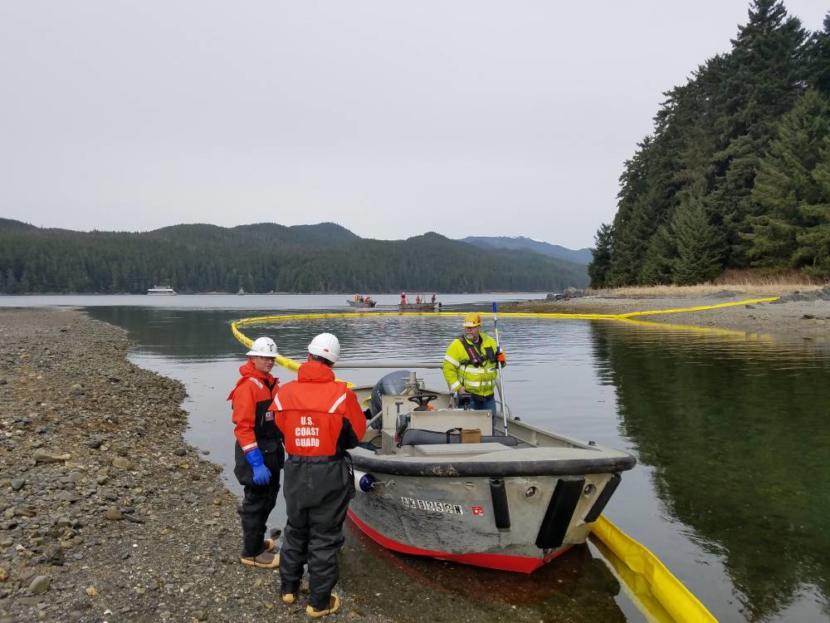 "It's kind of like a Swiss army knife — it's got a lot of tools," he said. "And they do extremely well." 
Sector Juneau has a huge area of responsibility — from Dixon Entrance to Icy Bay. Geldhof says that between the size and the amount of work, it's a lot for one group to take on. 
"I would say the Coast Guard is a reflection of all the disparate activities that they're required by law to undertake," he said. "Fisheries enforcement, drug interdiction at some point — you might conclude if you really study it, that they have too many tasks."
They keep coming back 
Cavender has served one year in town so far, with two more to go. One of her favorite parts of being stationed here? Fishing. 
"I did catch a king salmon from the beach, which I'm very proud about," she said.
It's a new hobby that she started here. She says Juneau is a nice place to be stationed.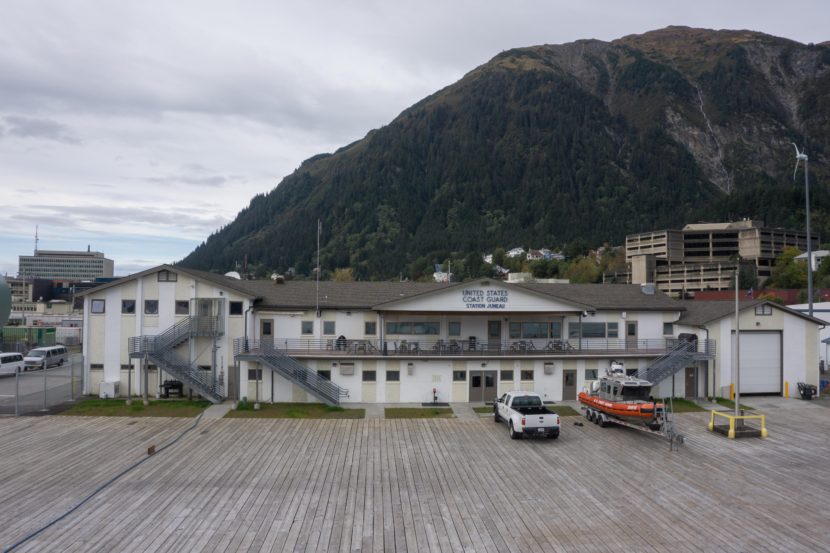 "People definitely come back here for their last tour, or come back here and know that they want to retire here," she said. "It's really rare to see people retour so heavily in one spot."
She said the town can feel like home to a lot of servicemembers, who integrate more into the community than they would elsewhere. 
Jensen, who commands Sector Juneau, says servicemembers look for opportunities to come back once they've been stationed here. He's on his third tour in Juneau.
---
---
Curious Juneau
Are you curious about Juneau, its history, places and people? Or if you just like to ask questions, then ask away!