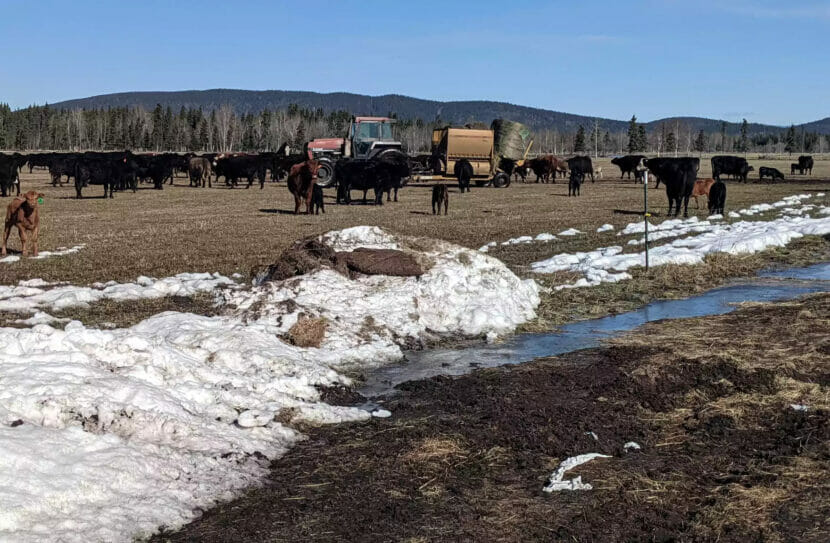 Cool temperatures during April have delayed breakup and greenup, and that in turn will delay Alaska farmers from getting their crops in the ground. That means farmers are facing the likelihood of a below-average harvest, for the third year in a row.
It also means that when Delta Junction farmer Scott Mugrage sets out every morning to feed his livestock, he has to throttle-up when he steers his tractor into the muddy field, some of which are still submerged, to scatter hay for hungry cows and calves.
Mugrage grows hay and feed for his 600 head of cattle, and he sells the rest to livestock owners around the state. But he worries he may not have any surplus this year, because cooler-than-average temperatures last month kept his fields mostly covered with snow until the last week or so. And he says unless it warms up quickly, it'll take at least a couple more weeks before the meltwater soaks in and the mud dries enough to begin planting hay and barley.
"We're a long way from planting this year," he said in an interview Wednesday. "You know, the next step is going to be getting enough heat in that soil to sprout any crop, to start with."
Delta-area UAF Cooperative Extension Service agent Phil Kaspari says the presence of all that snow and slush on fields in the area means farmers aren't going to be able to get those plants in the ground anytime soon.
"We normally like to be in the field really making good progress around May 10th," he said. But this year, "that isn't going to happen."
Kaspari says grains like barley should be planted by May 25 to mature enough for a good harvest. And also because that's the cutoff date for farmers to be eligible for a full crop-insurance payout, if the growing season turns out poorly — again.
"Last year, with all the snow we had, a lot of guys didn't get started until the 22nd, 23rd," he said in an interview Wednesday. "And we had that late-July frost and then that early-August frost."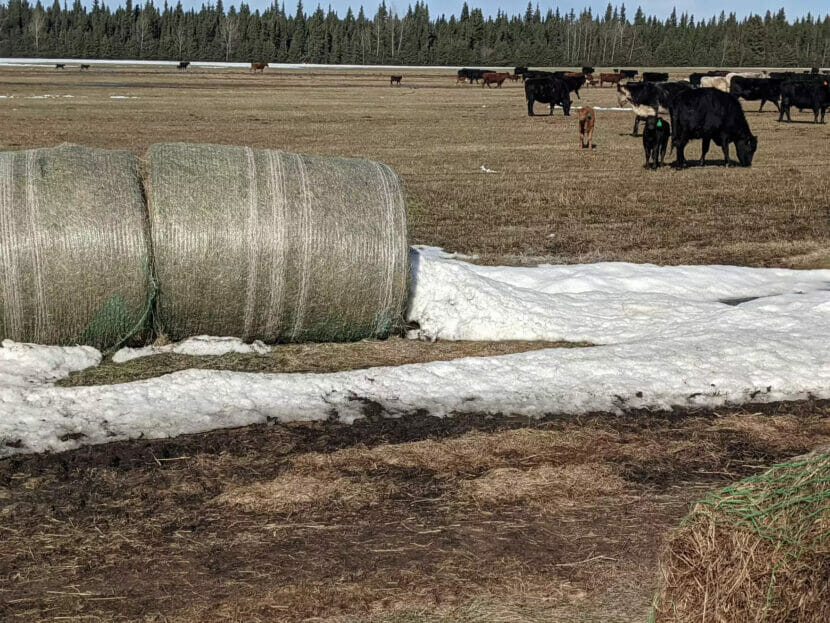 Mugrage says farmers were already dealing with problems left over from the pandemic, like a sluggish supply chain and high fuel and fertilizer costs. He says if cool weather persists and farmers fall farther behind on planting, they face the prospect of a third consecutive year of potentially poor harvest.
"When we have these late plantings, we hope we have an extended late fall or something," he said. "But we really haven't had those either!"
A late spring warmup doesn't mean the growing season will extend later into the fall, says Rick Thoman, a climate specialist with the University of Alaska Fairbanks's Center for Climate Assessment and Policy. But he says this summer's long-term forecasts suggest it'll be warmer than usual in the Interior.
"The odds tilt to significantly above-normal," he said in a Tuesday interview.
Thoman says forecasts call for near-normal rainfall through August.
He understands why farmers would like temperatures to warm up as quickly as possible. But he says gradual warming is better, to reduce the chances of flooding.
"With the deep snowpack, with the very cold April, were we to have temperatures in the 70s — which at this time of year is entirely possible — that would be a real recipe for serious breakup flooding," he said.
Mugrage is president of the Alaska Farm Bureau, and he says farmers around the state are dealing with the same problem. He says he's encouraged by higher temperatures over the past few days in the Interior that've melted most of the snow on his fields. And he's glad to hear the warmer-than-usual summer forecast.
"We can still get there this year," he said. "I mean, we may be late, but maybe we'll have a fall that will make a bountiful crop."
That's a hope shared by all of Alaska's farmers and livestock producers. Meanwhile, there's livestock to be fed, and Mugrage says he'll continue to use last year's harvest to keep his cows contented.