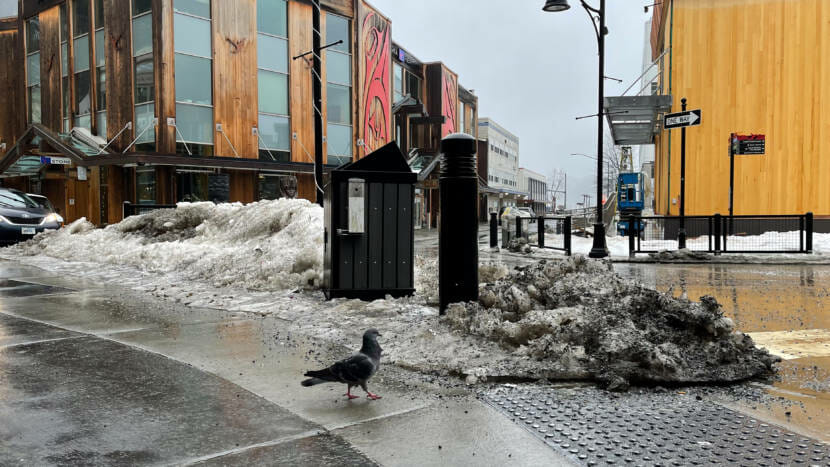 A warm, wet tropical front is bringing heavy rain and high winds to Juneau and much of the Southeast this weekend.
A high wind warning is in effect until midnight, with 60-mile-per-hour gusts and power outages possible.
Meteorologist Nicole Ferrin with the National Weather Service says intense rainfall is not unusual for this time of year.
"But this our first big rain event we've had in quite a while. We're not exactly looking at flooding concerns, but it is a substantial amount of rain," she said.
Ferrin does expect ponding water in some neighborhoods and roadways. And temperatures will drop as the front passes, which could create dangerous icy patches.
Juneau has had relatively little snow this winter, which might be a good thing. Seasons that switch back and forth between snow and rain can be more hazardous.
Ferrin says this time last year, Juneau had several feet of snow when heavy rains hit, which contributed to roofs collapsing downtown.
"We're very lucky that we don't have the snow on the ground," she said
Tom Mattice, Emergency Programs Manager for the City of Juneau, agrees. He says the bare ground left at lower elevations will slow down potential avalanches, and the sizes of potential slides will be smaller.
Still, he's raised today's urban avalanche danger to "High," and he said small avalanches and mudslides are likely.
"The odds are good with the amount of rain and the warming that we'll see some activity," he said.
Though buildings downtown will be relatively safe, Mattice says hikers should avoid the Flume and Perseverance trails for now.
Rain will continue throughout the weekend. But as temperatures drop, snow is possible starting Saturday night. Those cooling temperatures will also bring the avalanche risk back down throughout the day on Saturday.