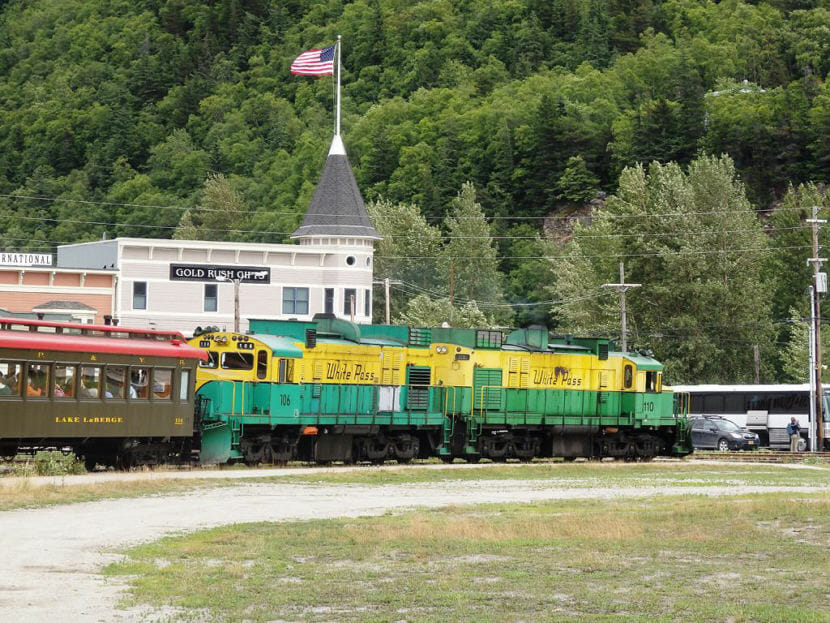 White Pass and Yukon Route Railroad will resume service this summer to Fraser, British Columbia, and Carcross, Yukon after three years of pandemic-related shutdowns. The railroad is Skagway's largest employer, with about 170 workers.
White Pass Executive Tyler Rose says they have a lot of infrastructure work to finish before the season starts, but that should be completed in time.
"You know, we're very pleased. I mean, obviously, coming off 2022 and 2021, and before that, things look very positive right now," Rose said.
The official schedule shows one-way passenger service to Fraser will run daily from early May through early October with continuing or return service being fulfilled by bus companies. Service to Carcross and Bennet will begin at the end of May and wrap up in mid-September.
Carcross-based business owner Bonnie O'Connor, who runs the Matthew Watson General Store with her husband, says they are excited to see the increase in visitor traffic.
"I think we all enjoy seeing that train rumble into town every day. You know, when you hear the whistle up the lake, you will see people rush out to the street, buy popcorn, sit on the bench, and watch it come in. It's a nice moment that we all share. So yes, from a business standpoint, it's, it's really great to be for us and great for all of the businesses in Carcross," O'Connor said.
She says her business met its goals for last year, but it was still only a third of what they saw in 2019. She says finding employees this summer is going to be extra difficult.
"Staffing is one of the biggest hurdles for all of us. Yeah, every business in town, and you know, that, it, it just gets wrapped up in a whole load of lack of available housing. The price of gas, you know, for people who might have considered commuting from Whitehorse to work in Carcross it's — it's unthinkable the way things are now," O'Connor said.
Skagway Mayor Andrew Cremata says White Pass returning to Canada will also be good for his community.
"Being able to take thousands of people over the border into Canada on the train is going to alleviate a lot of the congestion here in town. I also think it's wonderful for people living in Carcross. And for people living in the Yukon. It's going to be a big boost to their economy," said Cremata.
He says he expects a return to pre-pandemic cruise ship visitor numbers, or possibly more this summer.
The railroad will offer a combination train and bus service to Whitehorse, Yukon Territory from the end of May through the middle of September. They also plan to offer daily round-trip summit tours all summer. It is still unclear when they will offer Chilkoot Trail return trips as the trail remains closed due to extensive flooding last fall.