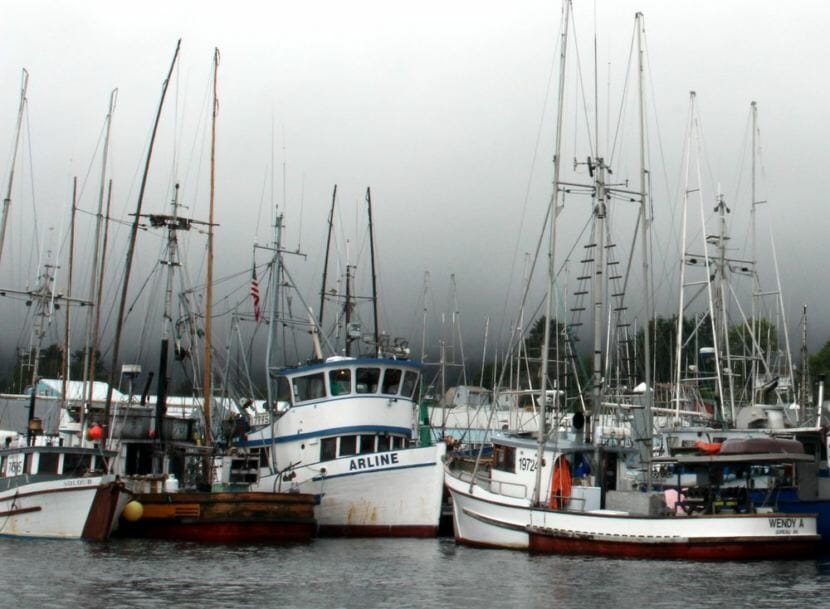 Southeast trollers turned out at a Jan 10 Sitka Assembly meeting to voice concerns about a court case that could shut down commercial salmon trolling in Southeast Alaska. The lawsuit is about Washington killer whales and Alaskan king salmon. Fishermen and representatives from the Alaska Trollers Association asked the local assembly to consider contributing $25,000 to their legal defense fund.
The Seattle-based environmental group Wild Fish Conservancy wants to stop the Southeast troll fisheries, which they say harm an endangered population of orcas. The group has argued the government failed to adequately address the impact of Alaska's king salmon harvests on Southern Resident Killer Whales, whose population in the Puget Sound area of Washington has dropped to critically low levels.
And in December, a federal judge in Washington issued a report that puts the fisheries at risk of closure. The Alaska Trollers Association is a defendant in the 2020 suit against the National Marine Fisheries Service.
Sitka fisherman Matt Donohoe is the president of the Trollers Association. He says they object to the report and expect their legal expenses to increase.
"Anyone claiming that Southern Resident killer whales are starving because Alaska trollers were taking food from the mouths of their babies would be laughed out of court. That's what we thought," Donohoe said. "Yet a judge is recommending that the historic Southeast Alaska troll fishery, which for 100 years has never closed, will shut down this winter. If that happens, the industry will die, and so will a large part of Southeast Alaska's economy."
Around a dozen fishermen asked the assembly to help with the organization's legal defense fund. And it's not just trollers. Linda Behnken leads the Alaska Longline Fishermen's Association– both her group and the trollers drafted a report outlining research into the decline of Southern Resident orcas. She said the lawsuit ignores a large body of science, which indicates that pollution, not fisheries, are the biggest threat.

"Everything they eat is coming out of waters that are polluted. They're struggling with habitat issues, they're struggling with what's been done in the world around them. They're in Puget Sound," Behnken said. "It's not even fisheries, let alone the fishery is 1000 miles away up here, and that our fishermen have worked for years to keep the resources up here healthy, to keep our rivers clean, and to take care of the whole ecosystem and to now have this overreach by an area that's not done their job to take care of that habitat, I think, really illustrates who else will be at risk if this lawsuit perseveres."
When it came time for the assembly to consider the proposal, there was support, and some said they'd be interested in giving more than $25,000. Assembly member Chris Ystad, who is a fisherman himself, said he saw it as an investment.
"I think the Sitka troll fleet produces more than $25,000 in tax revenue every year to the city. So I don't think it's too much for them to ask for some of that back to fight their battles," Ystad said. "It's an investment for us to make sure that the troll fleet is still able to operate."

Assembly member Crystal Duncan suggested calling for other Southeast communities to throw in money, noting that like Sitka, communities of Craig and Petersburg had donated to the fund previously.
"I'm just wondering, if this is a Southeast wide problem, rather than us take and elevate that number beyond $25,000…I guess the question is have we reached out to say, 'Here's what has happened since. Here's how much we're requesting of Sitka. Can you match that?" Duncan said.
She also wondered whether the assembly would be setting a precedent that would lead other industry groups to request money to help with legal fees. Sponsor Thor Christianson didn't take issue with that.
"I am hard pressed to think of [an] event that has threatened to wipe out a huge portion of our economy in one fell swoop," Christianson said. "That is the definition of emergency. So if somebody came forward with a similar issue, yes, we would discuss it."
And then there was a question of where the money should come from. City Administrator John Leach and municipal attorney Brian Hanson said the Fisheries Enhancement Fund could likely be used. But Mayor Steven Eisenbeisz preferred the money come from the city's general fund. As for whether the assembly could offer more than $25,000, Eisenbeisz noted that while no one at the meeting spoke against the measure, the assembly had received some negative feedback in their inboxes.
"It's it's going to be shocking to the people in this room, it was actually kind of surprising to myself, that the assembly actually had a lot of pushback in our emails from donating even this amount," he said. "I didn't expect that. But it's, for better or for worse, what we saw. So I think we should start here. And then as things develop, keep an eye on the pulse on that. From the people in this room and the strength of the people in this room, I have no doubt that we will be continued to be informed on that."
The Sitka assembly didn't take a vote at the meeting. Assembly members Christianson and Kevin Mosher, who co-sponsored the discussion item, said they'd bring an ordinance to the table for the assembly to vote on at the next regular meeting, Jan. 24.