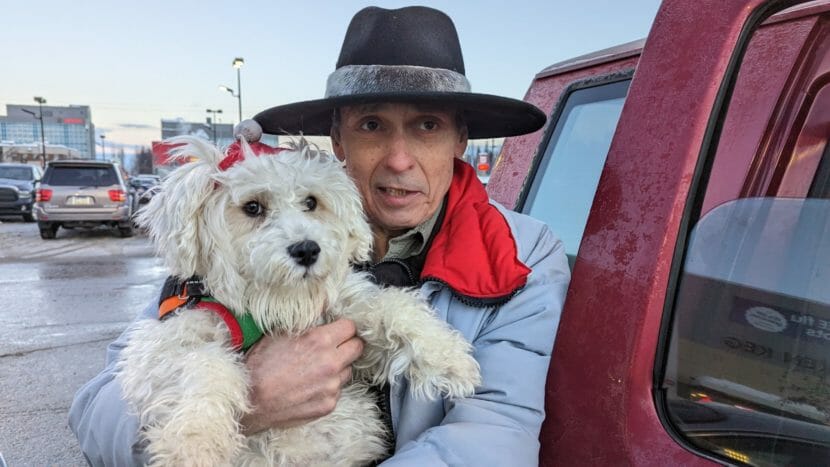 Bobby Superb left the Carrs Safeway in Midtown Anchorage last week, awkwardly carrying an armful of loose groceries: a jug of juice, some pastries, a bag of tamales and two bananas.
"Just a few items. I avoid getting a bag because they charge for it. Just, you know, odds and ends, the last of my money," he said.
Superb said he's a retired merchant mariner and school teacher on a fixed income. He said he's eligible for food benefits, but hasn't gotten them because of the state's monthslong processing backlog.
"That was lovely during the holidays, to be left without," he said sarcastically.
You've probably noticed lots of prices going up in the last year – especially groceries. Different analysts have different opinions on what will happen to them going forward. But looking back, the U.S. Bureau of Labor Statistics' reported food prices in November were up 12% compared to the year before.
Superb said it's forced him to eat less.
"Meat products, fresh fruit and vegetables because they're expensive, you know?" he said. "Instead of buying six bananas, I buy two. Instead of eating a whole banana, I cut'em in half, make'em last longer."
He's lost a lot of weight, he said. Even his dog Jersey isn't eating as well.
"Now he eats nothing but plain dog food. I used to mix hamburger with his food," Superb said. "I can't afford his little extras."
A lot of spending habits have changed in the last few years.
"I'm more cheap now," said Ryan Greene, who bought a gallon of milk at the Carrs last week.
Greene said he also cut back on how much meat he buys, from about twice a week to once or twice a month. Now he's buying fewer groceries and more cheap fast food.
"I go to Costco a lot, too, where, that Costco food court — that's the cheapest," Greene said. "That gets me through."
He said he also fasts sometimes.
"It's good that gas is going down, so that helps," Greene said.
Neal Fried is a longtime economist who works for the Alaska Department of Labor. He said he's never seen an economy like this, between pandemic restrictions, massive federal relief efforts and the recovery now.
"I'm glad I'm still an economist during this period 'cause this was one of the most remarkable things to happen and watch and measure that I've ever had happen during all the decades I've been doing this," Fried said.
For about a decade, inflation was about 1.5%, Fried said. For 2022, he said it'll be around 8%.
"Most recessions and dramatic things are surprises. But that was such a fast, quick surprise – and something that we've never, ever had to deal with," Fried said.
Of course, inflation affects pay, too. Are wages keeping pace with price increases in Alaska?
"It depends," said Fried. "I mean, wages have generally increased, but overall, probably not as fast as inflation."