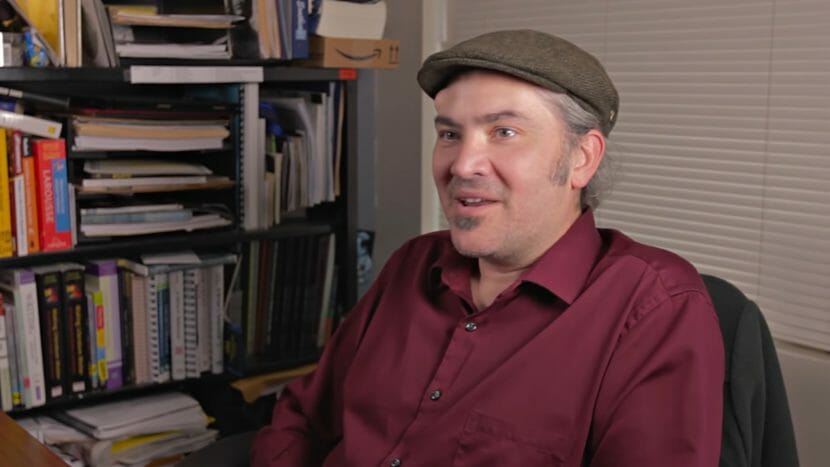 Juneau community members shared dismay after learning that Dr. Sol Neely died earlier this week. 
According to his father George, Neely died Sunday while solo backpacking near Manastash Ridge in Washington. He was 49. 
"He died doing what he loved to do," George Neely said. 
Neely moved to Washington in 2020 with his family after spending more than a decade in Juneau teaching English at the University of Alaska Southeast. 
During his time in Juneau, Neely established himself as a devoted educator and community advocate for criminal justice reform. He worked with the Juneau Police Department to improve community relations and with the Juneau Reentry Coalition. 
"He's such a strong advocate for people that needed advocacy," George said. "He was always for the underdog."
He founded the Flying University, a higher education program inside Lemon Creek Correctional Center. For seven years, he brought UAS students into the facility for collaborative study with incarcerated pupils. Educators and students shared their experiences in the program in a KTOO documentary in 2016. 
"I can't exaggerate what the flying University did, and the role and the impact it had on our community," Neely said during a 2020 interview. 
He called that impact "community alchemy" – the benefits were not only felt by students on the inside, but volunteers who gained a better understanding of the experiences of incarcerated people by being involved. Some of the program's alumni went on to enroll at UAS or other schools after leaving Lemon Creek. 
"Folks are getting out of the prison, they're coming to UAS, they're creating a peer support network, they're working with supportive faculty, staff, and administration," he said. "They're learning how to advocate for themselves in the Capitol building. They're learning how to tell their story."
Understanding one's personal story was important to Neely, who reconnected with his Cherokee identity as an adult, becoming an enrolled member of the Cherokee Nation and a dedicated scholar of Indigenous studies.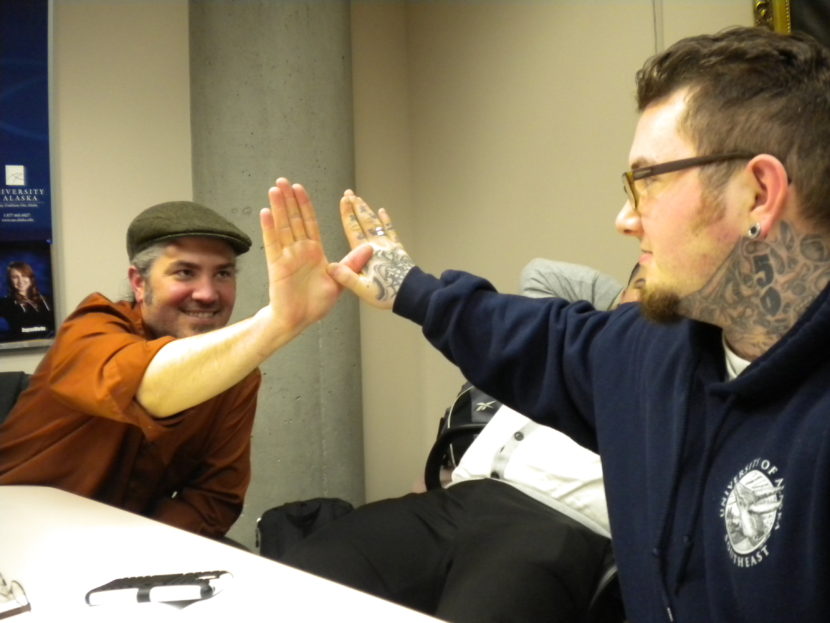 He was also a devoted husband and father. 
"He was such a family man," George Neely said. "He loved his family. He loved being a husband and he loved being a father."
In 2019, Neely, his father and his daughter, Mila, traveled the Trail of Tears from Georgia to Oklahoma to better understand the horrific journey members of the Cherokee Nation were forced to endure due to forced removal from their ancestral lands by the U.S. government in the mid-1800s. The three of them recounted that experience during a lecture at UAS later that year. 
After leaving Juneau, Neely became an associate professor of English at Heritage University on the Yakama Reservation in Toppenish, Washington. 
George Neely said the family is going to the Heritage campus Wednesday for a memorial remembrance. Staff and students can share memories of Neely in a teepee on campus. 
Friends and family say they're also planning a memorial service for Neely in Juneau sometime next month. Those details will be shared as plans are solidified.
This story has been updated to correct the term used for the place of the memorial on campus. Heritage University is on Yakama nation home lands and has a teepee permanently installed on campus.
We invite you to share your memories of Sol Neely with us. We'll publish your comments as they come in.
Like many of his students and colleagues. I wish to share my sorrow and condolences to Sol's family; Geroge, Kerry and Mela. My heart is full of grief. It is an honor to call Sol a dear friend. I want to make a donation What is the best way of sending fa donation? I would appreciate assistance. — Ric Iannolino
SolHis spirit now resideswithin the thresholdof the book. As hewould remind us,"Mark the first pageof the book with a redmark, because in thevery beginning, thewound was invisible."With every old and newbook you pick up to read,rub it until it bleeds, rubit until the goosebumps onyour neck scream: this iswhere you will find Sol,hidden within the pagesawaiting your arrival.-Nathan Block 2022Sol Neely saved my life. That is no hyperbolic statement. I was one of Sol's first Flying University students in Lemon Creek Correctional Center (as an inmate) and his first Flying University student after my release. I had the immense honor of studying literature and philosophy under his tutelage. He truly believed that every prisoner had a story and that no one was reducible to their histories. He believed in me when no one else did. He recognized my potential and responded to it with care and dedication. He did so without the demand or expectation of reciprocity. He gave because he cared, and he cared because the lineage of philosophers he descended from demanded responsiveness and to hold the other up to the highest good.
I remember the first class I had with him (released from incarceration). He stuck his foot into the garbage and wore at as a boot and then wrote A ≠ A on the clock. I asked him why "A ≠ A" and he responded with "Because of time, man. Where the same person you were last year, yesterday, tomorrow?" He really had a poetic way of making a point without pointing it out.Most importantly, Sol always spoke highly about the literal act of respiration and vows. He vowed himself to his wife, Kerry, and his daughter, Mila. They were his purpose for being. On many occasions, Sol invited me to family events, one of them being his daughters first viewing of Star Wars: A New Hope. It gave him immense joy to hear Mila repeat the line "Obi-Wan Kenobi, you're my only hope," for weeks after. On another occasion, fishing for Salmon, with Mila running around and making sandcastles, he said to me, 'This is the life; family, fishing, and philosophy." Another occasion we talked philosophy around a fire with Mila interjecting with, "What is phenomenology?" and "Hey, my cats name is Jean-Paul Sarte". His family was his life, and his dedication to them will forever be remembered.Lastly, in remembrance of Sol, I leave with you one of his favorite quotes from "The Big Lebowski: "It's good knowing he's out there, the Dude, takin' 'er easy for all us sinners." — Nathan Block
One day walking into his Zombie Literature class: The room was dark and a recording of the unnerving Zombi 2 theme was filling the room with an eerie and disquieting ambience. I remember him there chuckling in his signature ivy flat cap and dress shirt with sleeves rolled up, a huge grin on his face, so terribly excited to commence with the discussion we were having that day about zombies, vampires, and other monstrous things that go bump in the night.— Andre BuntonI have never had an instructor so organically and skillfully invite me to investigate, explore, challenge, and deconstruct my own relationship with language and its interaction with my way of perceiving, conceiving of, and being/becoming in the world. I still listen to that Zombi 2 theme when I'm feeling the need to mix things up and get myself into new modes of thinking…to find the bravery to try on different lenses, listen to different perspectives, to seek out different stories, and to work toward a world that supports and protects a polyphony of different and diverse voices. Thank you Sol. Your impact is greater than you know.
I met Sol this past Summer at a 3-day Indigenizing Pedagogy workshop for the first time. It amazes me how much one person can impact you in such a short amount of time. His kindness, and genuine love of learning and sharing was so inspiring. His esteem for his colleagues at Heritage University was very clear, and he shared proudly about his family. I am grateful for the opportunity to have met him and learned from him. Dogidinh Sol, rest peacefully. Sending love and prayers to his family and friends. — LaVerne Demientieff
Rest In PeaceSolYou made a difference to so many — Kenneth Hoff
I predict Sol will always be one of the most engaging educators I will ever have had the fortune to learn from. Even though I attended his Teaching Composition class remotely, his passion, intellect, wit, and kindness shone through the screen—I always looked forward to his class and walked away feeling inspired and rejuvenated to rethink and refine my own teaching practices, or even how I view/interact with society and language. Truly so grateful for his effect on me, and so devastated that his wonderful mind and heart have left this world. My thoughts are with his family and all those grieving this terrible loss. Thank you, Sol. — Jess Mandeville
I met Sol during an Indigenizing pedagogy workshop at UAF in the Fall of 2022. As an Indigenous faculty member, Sol created and held a sacred space for all of us to share, to learn, and to grow together. His energy, his knowledge, and his light was shared so deeply and freely, he made me want to be more engaged instructor and scholar. He left a remarkable mark on all of us in such a short time, he will be missed. My sincere condolences to his family. — Jessica Black
I only had the pleasure of meeting Sol once, during an indigenous pedagogy workshop he helped to facilitate just this past summer. He radiated light, passion, joy, humor and kindness. I hope that his work and light continues to shine across Alaska and the World so that we can continue to learn from him. My deepest condolences to his family. — Christina Ireton

I would like to give my heartfelt condolances to his beautiful wife and daughter who I had a brief moments with. I explained you them both how I felt so close to him and I learn so much in the short time we had in class. I truly believe he made a mark in so many lives her on Heritage University I know I will miss his teachings and his passion for educating students and doing what he loved. My love and prayers to his wife and Mila who he loved so much and would often speak about her to us. Go with the Creator and teach them a few things about social justice. Fly high my dear Professor I will miss our classes and our time together as a class. — Delaine DeMontiney
Sol was one of the best people I've ever known. I have so many great memories of him. His greatest joy in life was Mila, he talked about her all the time. I was attending his class the semester she was born. He could hardly teach he was so excited.
I remember when Casey Newman, one of our classmates, died in a boating incident, he held class but asked for us all to simply share memories of Casey instead of working on the class material.
One of the funniest memories I have of him was the time he taught an entire class while playing the-floor-is-lava and hopping from chair to chair and walking over the tables.
To this day, because of him, I misspell the word "correspondence" as "correspondance" because he always wrote it like that, explaining that it was a dance between two people. — Guy Unzicker
I am saddened to hear of this great loss. My heart goes out to Sol's family and loved ones. I wanted to especially reach out to Mila. Sol was a great person to know. He had a love of life. — Michele Stuart Morgan
I was deeply saddened to learn of Sol's passing. I have never known a brighter individual with a kinder soul. — Mike Cooper