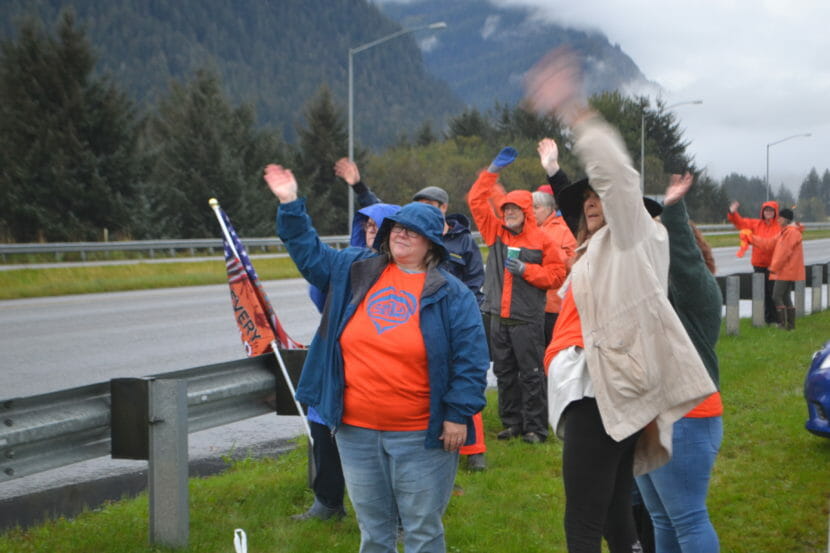 Friday is Orange Shirt Day, a day to draw awareness to the history of Indian Boarding Schools in the U.S. and Canada.
Events are being held across both countries. In Juneau, the day started off with dozens of people drumming and holding banners along Egan Drive as residents commuted into town.
Cars honked their support as they drove by in the rain, while the gathered supporters, wearing orange, cheered and waved.
Bambi and Jessica Kinville-James were there, with the drumming group Litseeni Sháa, or "strong women."
Orange Shirt Day is personal for them, they said.
"We have five kids. They get to stay home, they get to be with us forever," Bambi said. "And they're safe. We're not going to be finding them in the ground somewhere else, or sent off to a different adoption agency just because the state didn't want to deal with them."
Jessica said it's important that their kids have the connections to their culture that were severed in the boarding school era.
"And they're not going to be ripped away from us and told that they can't know their language, they can't know their songs, they can't do what we do as Lingít people, as Indigenous people," Jessica said.
Jamiann S'eiltin Hasselquist, with the Alaska Native Sisterhood, has organized many Orange Shirt Day events for Juneau.
She said days like this matter because even though the boarding school era is over, Indigenous children are still being taken from their families through the foster system and adoption, which she says a continuation of that system.
"And when we understand that system, then we can find the right tools to sort of undo some of those things," she said.
Victoria Ann Johnson is a cultural specialist for Goldbelt Heritage Foundation. She spent part of the day working with young kids at the Juneau Montessori School, which meets in the building of the former Mayflower School run by the Bureau of Indian Affairs.
She brought cards with Ch'áak' (Eagle), Yéil (Raven) and Guwakaan (Deer) on them.
"These were the images that we've learned about in the language, so I figured I could use it this way to explain about Orange Shirt Day, a little bit," Johnson said.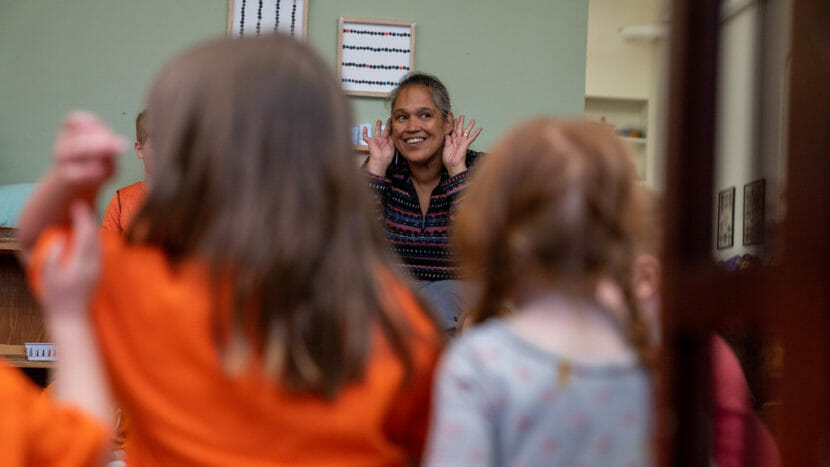 "This one school was where all the Eagles went. And only the Eagles could go to that school," she told the students. "And they got to learn lots. But in this other school over here, only these animals and other animals could only go to this school."
That's how she introduced the concept to kids under five.
"This is something that happened a long time ago. And that's why today, all the animals get to go to the same school … And now that's how we are today in our schools. We're all learning about the different languages, the different people. And that's why we wanted to remember this Orange Shirt Day."
This story has been updated with details from the event at the Juneau Montessori School.