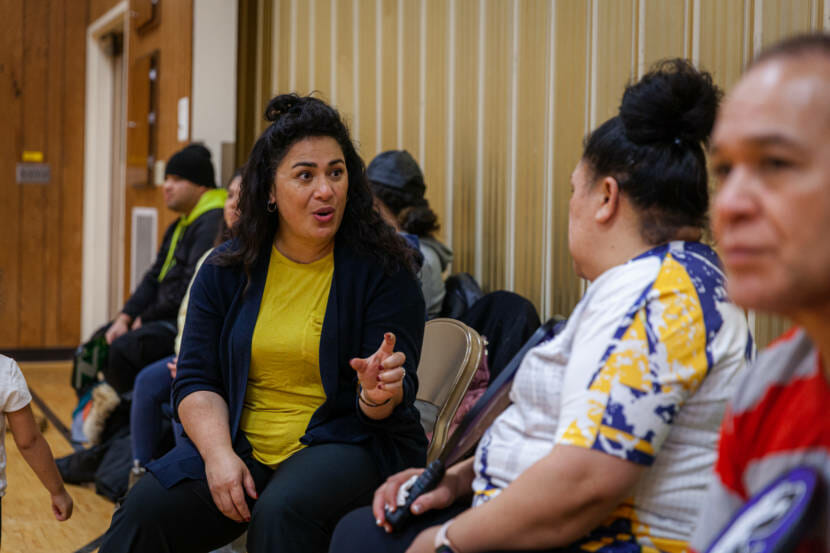 Nearly three weeks after a volcanic eruption cut off communication with Tonga, a statewide coordinated effort to collect food and raise funds for the Pacific Island nation has landed in Juneau. 
Last weekend, two locations of the Church of Jesus Christ of Latter-day Saints will be open for eight hours on Saturday and Sunday to accept donations for Tonga. 
Melehoko Pauu Ma'ake is helping to coordinate the aid drive. She said it all came together very quickly after a got a call from Edric Carillo who works in Sen. Jesse Kiehl's office earlier this week.
She said Kiehl's staff were hoping to make contacts in the Tongan community in Juneau and "they wanted to find out if I can help, you know, find a facility that would be able to house all of the donations here in Juneau." 
Ma'ake and another family member made some calls and within a few hours, both bishops of their local LDS churches called back to volunteer church space. 
"That was just so awesome," Ma'ake said. "Knowing that, you know, that we can have a place like that at the spur of the moment, very last minute in a situation."   
Right now, suggested donations are nonperishable foods like flour, sugar and canned goods. There's also an option to donate at a website set up through the church. Specify "Tonga Relief," in the comment section after donating. 
They're also looking for donations of personal protective equipment to help prevent the spread of COVID-19.  
"Masks, hand sanitizer, any, you know, cleaning supplies, you know would be what is most needed. The latest thing that's going on right now is, you know, COVID has come to Tonga. For them it's a very very big deal because they're a third-world country, they're very poor, so they know they cannot afford to handle a situation if COVID starts effecting and goes out of hand rapidly," Ma'ake said.  
There have been worries of an influx of foreign aid and workers bringing the pandemic to Tonga. Right now, the whole country is on lockdown because the country recorded its first cases of community transmission of the virus.  
Ma'ake says it has been tricky to communicate with her relatives and friends in Tonga because phone and internet connections are inconsistent. And she knows a lot of people in Juneau are still struggling to figure out exactly what's going on and what people in Tonga need. 
This food drive and fundraiser have been a way for them to direct their efforts.
"They're very excited… they're kind of like 'OK Mele, whatever you have in mind, let us know and we'll jump on it,'" she said.   
Ma'ake and several members of her family will be taking donations at the church locations over the weekend and then several members of her family and a few other Tongan families have offered to help pack donations on Tuesday, but they'd welcome more hands to help with that process. They'll be packing at 4 p.m.  
"We'll be packaging it up and delivering it over to Alaska Airlines, and Alaska Airlines will be sending it directly to Anchorage," Ma'ake said. 
From there, Juneau donations will be combined with donations from all over the state. The Polynesian Association of Alaska partnered with Anchorage and the state to collect aid for Tonga. 
Ma'ake says that a larger shipment of goods will be going out to Tonga next Wednesday. 
This is the first official aid drive for Tonga in Juneau, but Ma'ake said she doesn't think this will be the last one. 
"This is going to be a long haul for Tonga," she said. "Livestock … and also agriculture has been devastated by this volcano. Hopefully, the people of Juneau will come together and donate what they can."