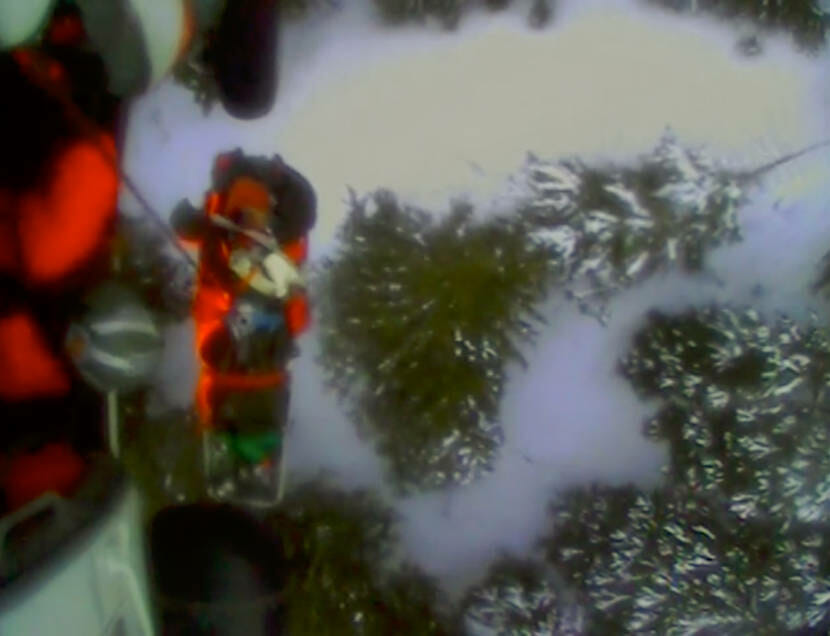 A Haines man was mauled by a bear while backcountry snowboarding near Chilkoot Lake over the weekend. State troopers said he was attacked after encountering a bear den while backcountry snowboarding with two others.
The bear attacked Haines resident Bartek Pieciul on Saturday afternoon while he was climbing a mountainside with a group of friends about 10 miles northwest of Haines. Troopers said the group unknowingly came upon a den occupied by a brown bear sow and possibly some cubs about 1,600 feet above Chilkoot Lake.
Alaska Department of Fish and Game Biologist Carl Koch said it can be very difficult to spot a bear den, particularly in the middle of winter. Although bears are less active during the winter, they aren't asleep the whole time.
"They are very lethargic, their body temperature does drop, but they are absolutely capable of being disturbed in a den site," Koch said. "It's not like they're in this immobile state."
The sow exited the den and mauled Pieciul before leaving the area. The attack left him unable to walk back downhill. The other skiers in the group used a satellite communication device to call for help.
Due to the remoteness of the area and the steep terrain, state troopers requested assistance from the U.S. Coast Guard. A Jayhawk helicopter crew from Air Station Sitka responded to transport the man to a hospital.
The skiers provided GPS coordinates and used brightly colored fabric to signal the helicopter as it approached. The air crew successfully hoisted Pieciul into the helicopter and provided medical care while in transit.
According to Koch, it is unlikely that Fish and Game will try to find the bear that mauled Pieciul because it was acting defensively, not aggressively.
"It would be very tricky to get to logistically and since it's not an aggressive bear we're going to let it well enough alone and probably a good idea for folks to stay out of the area," Koch said.
Troopers said Piecieul is being treated at a hospital in Juneau. He suffered a broken arm, puncture wounds and other injuries. Sources close to him said he is now stable and may be discharged as early as Tuesday.
A GoFundMe page has been created to support Pieciul's recovery.
Editor's note: This story has been updated with more information. 
Correction: A previous version of this story stated Piecieul is being treated at a hospital in Anchorage. He is being treated in Juneau.