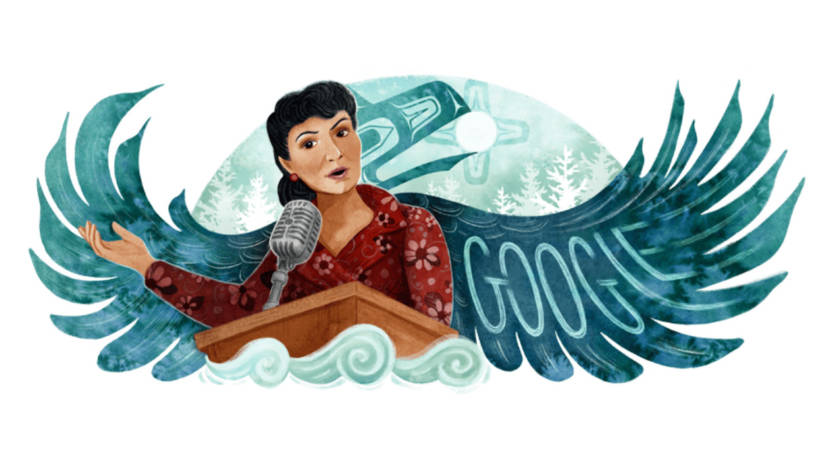 If you need to Google something on Wednesday, you might see a familiar face.
The tech company's Doodle of the day is of Alaska Native civil rights icon Elizabeth Peratrovich. For the illustration, they tapped Juneau-born Tlingit artist and illustrator Michaela Sheit.een Goade who is based in Sitka.
"It meant a lot to work on this project. Elizabeth Peratrovich often doesn't receive the recognition she deserves, and her story is important, inspiring and powerful. To be able to portray this strong Tlingit woman—as a Tlingit artist myself—is a good feeling," Goade told Google. "It means a great deal to be able to represent our Nation in this way and uplift Elizabeth's life and work."
Goade said Peratrovich's 1945 testimony at the Alaska Territorial Legislature inspired her art. She also included elements honoring Peratrovich's lineage — she was born into to the Lukaax̱.ádi clan of the Raven Moiety. Her Tlingit name was Kaaxgat.aat.
"In Tlingit creation stories, Raven was the one who brought daylight to the world. In the Doodle, Raven is holding the sun, which is a reference to this creation story. Similarly, Elizabeth was also a bringer of light to the world," she said.
Peratrovich was born in a time when organizations like the Alaska Native Brotherhood and Alaska Native Sisterhood were fighting to advance the civil rights of Alaska Native people. Because even though Alaska Natives and Native Americans had been granted citizenship in 1924, they were still struggling for equality. 
In 1941, Peratrovich and her husband Roy moved to Juneau but when they tried to buy a home, the seller denied them because they were Alaska Native. Experiences like that sparked Peratrovich's activism for equality for Alaska Natives. And, in the same year, the Peratroviches worked with the Alaska Native Brotherhood, the Alaska Native Sisterhood and lawmakers on Alaska's first anti-discrimination bill.
The bill failed when it was first introduced in 1941, but it passed on Feb. 16, 1945, after Peratrovich's speech at the legislature garnered a passionate reaction from the gallery.
The Anti-Discrimination Act of 1945 was the first of its kind in the United States. In 1988, the Alaska Legislature declared Feb. 16 Elizabeth Peratrovich Day.
Goade said she hoped the illustration helps more people learn about Elizabeth Peratrovich's history and civil rights work.
There are a lot of layers to Goade's illustration. She said this is typical of her art; she wants to pack it with symbols and meaning.
"For a piece like this, it's a little tricky because I had to keep in mind that it had to read well from a distance," Goade said in an interview Wednesday afternoon. "It had to be pretty small in size. You know, on people's phones or small screens. So I couldn't get too detailed."
Goade said she's still not sure how the Google Doodle team found her.  
"They emailed me out of the blue, sometime in September or October," she said.
She's glad they did. Though, keeping her project a secret for a few months was not easy. Especially when she quizzed family members about their connection to Peratrovich. She and Peratrovich are related —though she had a hard time pinning down the exact link. She is related to the family who adopted Peratrovich after her parents died. 
The doodle went live in Alaska around 8 p.m. on Tuesday. Dec. 30 is the 79th anniversary of the day Peratrovich and her husband wrote a letter to the Governor of Alaska calling attention to signs on the Douglas Inn which read "No Natives Allowed." 
They made comparisons to similar signs forbidding Jews from entering certain places in Germany — and how shocked many Americans were at that idea, though similar discrimination against Alaska Natives didn't prompt the same outcry.
Goade said she's gotten a nonstop stream of messages since it was posted.
"It's so great, I've gotten messages from people who are saying they're so proud to be Tlingit or they're so proud to be Native today," she said.
Representation matters and Goade said she's happy to have a role in elevating Peratrovich's legacy. 
"It's really rewarding and affirming to work on projects like this, and to know that people are feeling seen and people who often feel invisible are feeling validated in different ways," she said. "It's a really great feeling."
Goade said Google paid her fairly for her time and work and she was happy with the amount. They're also donating $1.25 million to the National Congress of American Indians. 
According to the company, that funding will be used as cash grants and business training for Indigenous-owned small businesses in the U.S. that have been impacted by COVID-19. 
Editor's note: This story has been updated to include more information from artist Michaela Sheit.een Goade.